Yanks lose lead after rare blip from 'pen, fall in 10
Teixeira supplies all offense, including HR, in return; Kuroda sharp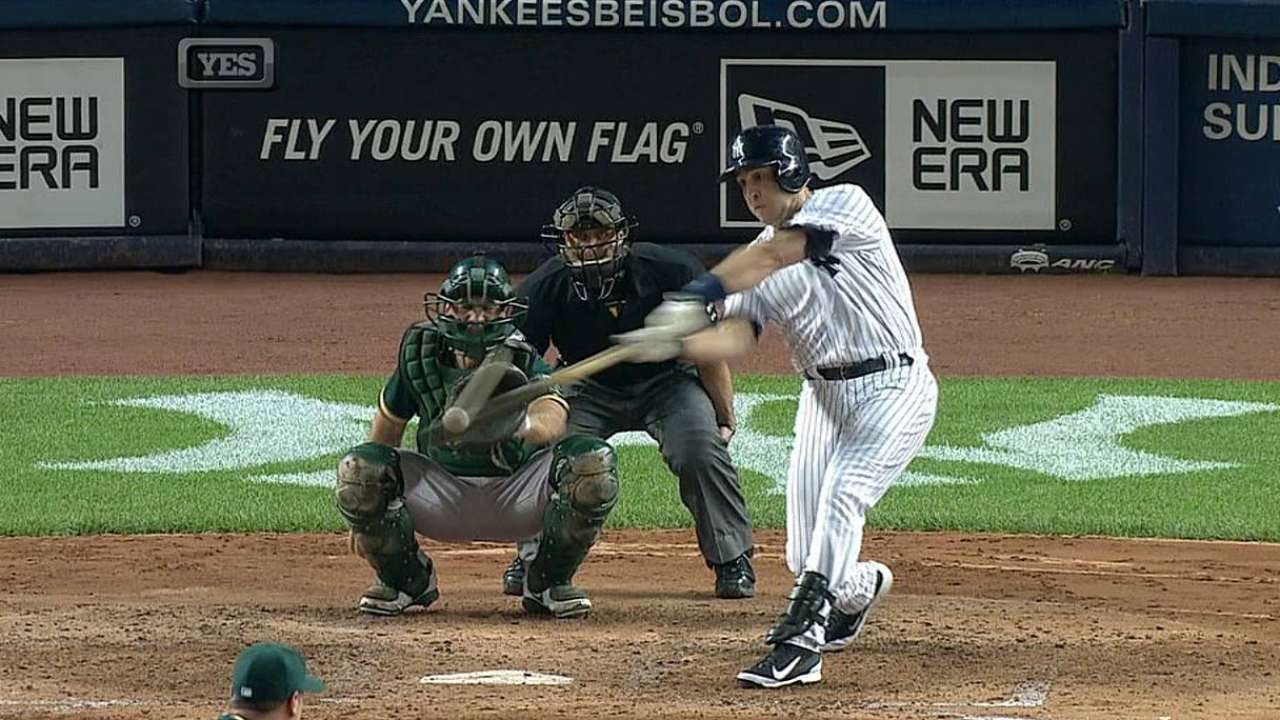 NEW YORK -- The Yankees' bullpen is one area of the club that has deserved to be called a strength from the first day of the season forward, but with the lineup struggling to put runs on the board, it has been forced to operate with a razor-thin margin for error.
Dellin Betances' dominant run was interrupted by Stephen Vogt's game-tying, pinch-hit double in the eighth inning, and Brandon Moss crushed his second homer of the game in the 10th off Adam Warren, lifting the Athletics to a 5-2 victory on Tuesday.
"It's frustrating," said Warren, who was smacked for three runs in a third of an inning. "We're going to have bad nights, but you hate it when it's a close game. We've got to accept that we weren't good tonight and come back tomorrow with confidence that we can get the job done tomorrow."
Moss' go-ahead shot was his 15th homer of the season, a no-doubt blast on a slider that rattled in the second deck. Jed Lowrie added a run-scoring double and Kyle Blanks logged an RBI single off Warren later in the inning, padding Oakland's advantage.
"They've been really good," Yankees manager Joe Girardi said of his bullpen. "They're not going to be perfect, we know that, but they've been a big part of the wins we've had this year, and it's unfortunate."
The Yankees have lost five of their last seven games, and their wobbly lineup is much more of an issue than the bullpen. Mark Teixeira hit his team-leading 10th home run and knocked in another run with a bloop single, the only production that they mustered against Scott Kazmir and four relievers.
"We've just been struggling for the last week or so," Brett Gardner said. "We need to get out of it. Hopefully we'll come in here tomorrow, try to turn the page and get things going, finish up this homestand on a good note the next two days."
Teixeira's homer was the Yanks' only extra-base hit of the night, but even with that pop-gun offensive showing, they were able to carry a one-run lead in the eighth. That was thanks to Hiroki Kuroda's best outing of the season, as he held the Athletics to Moss' first homer and one other hit through 6 2/3 sharp innings.
"Kuroda, early on, was as good as I've seen him," A's manager Bob Melvin said. "Everything was down, and he was getting that low strike. So Moss' first one was huge at the time."
Betances recorded a strikeout to end the seventh but experienced a costly blip in the eighth, walking Alberto Callaspo with two outs and then leaving a 97 mph full-count fastball up to Vogt that was ripped up the gap in right-center field.
"The two-out walk to Callaspo hurt," said Betances, who hadn't allowed a walk in his last 10 appearances. "I was ahead, and I just didn't put him away. From there, I fell behind on Vogt and threw him a good pitch for him to hit. I think the Callaspo at-bat was more frustrating."
"He'd been throwing a lot of breaking balls to try to get ahead and throwing them in hitters' counts, so I was just trying to stay patient, try not to be too aggressive against him," Vogt said. "I felt like he had to throw me a fastball, and fortunately he left it up and I was able to get it in the gap."
Girardi acknowledged that the Yankees could have given Betances some more breathing room in the home half of the seventh. A single and a walk gave New York two men on with none out, but Brendan Ryan couldn't get a bunt down. Fernando Abad relieved Kazmir and retired the next two hitters without damage.
"That's an opportunity to get second and third, and it puts more pressure on, and he didn't get it done," Girardi said of Ryan. "In tight ballgames, you've got to be able to execute."
The Yankees at least took a positive out of seeing Teixeira back in the lineup, helping to beef up the middle of an order. Teixeira missed two games following a cortisone injection to address his achy right wrist.
"We've said all along, we missed him because he's a run producer, and that's exactly what he did tonight," Girardi said.
In the first inning, Teixeira exchanged a grin with first-base coach Mick Kelleher after lifting a weak pop fly that found some grass down the right-field line, allowing Gardner to race home with the Yanks' first run.
Teixeira showed off a much better swing in the sixth, giving the Yankees the lead with his solo homer into the visiting bullpen. Those were the only dents for Kazmir, who struck out a season-high 10 and scattered six hits over 6 1/3 innings but left on the long side of the decision.
Girardi said that he senses his players are frustrated by the lack of offense, but there are few alternatives at the moment.
"You've just got to keep running them out there, and they've got to get the job done," Girardi said. "That's the bottom line. We've had different people in the lineup, and everyone's had a shot. We'll continue to try to put out what we feel is the best matchups against certain people, and we've got to get it done."
Bryan Hoch is a reporter for MLB.com. Follow him on Twitter @bryanhoch and read his MLBlog, Bombers Beat. This story was not subject to the approval of Major League Baseball or its clubs.