Moss' second homer of game lifts A's in 10th
Vogt ties it with clutch pinch double in eighth; Kazmir strikes out 10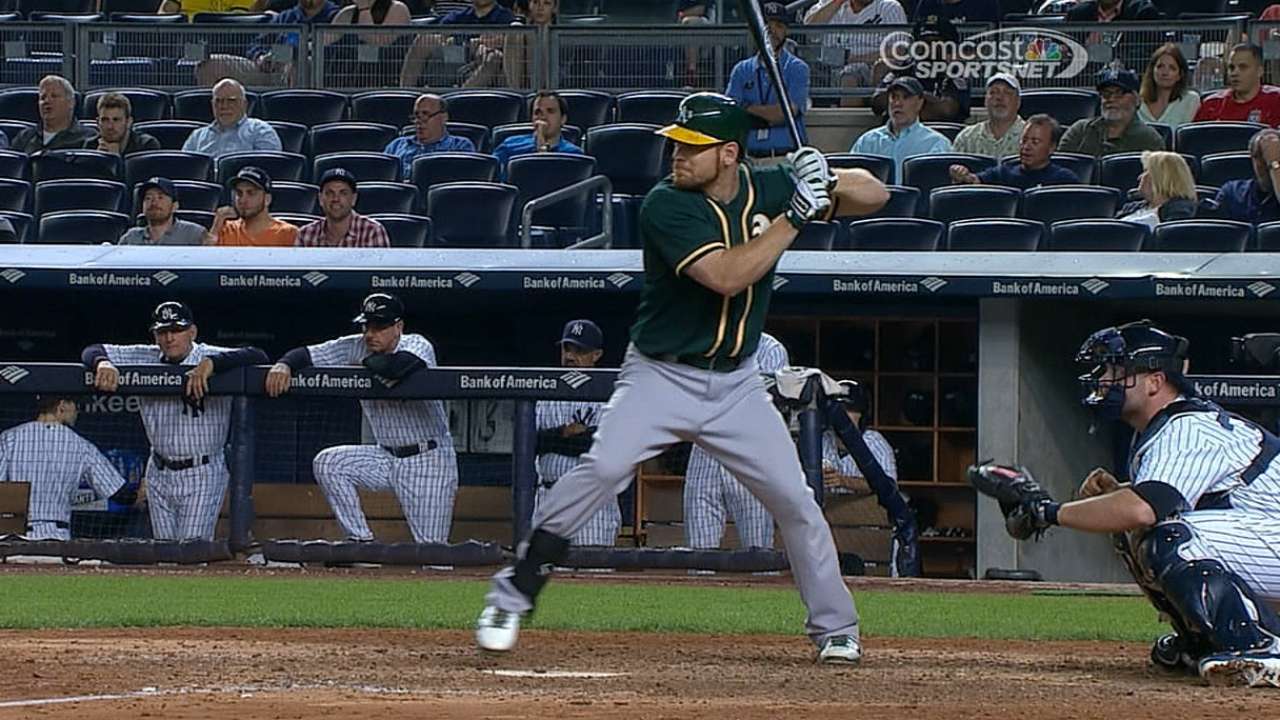 NEW YORK -- Brandon Moss sure knows how to make up for lost time.
After being confined to the bench with a left calf strain for two consecutive games, Moss returned to the lineup on Tuesday, just in time for a three-game set in the Bronx, and slugged two home runs in a 10-inning win over the Yankees.
The A's 5-2 series-opening victory is their fourth straight and sixth in their last eight games, following a four-game slide, and pushed them to a 5 1/2-game lead in the American League West.
They've also won 11 of their last 14 against the Yankees, who watched the A's score three times in the 10th.
Moss' second homer, a loud shot to the right-field porch off righty Adam Warren that sparked the extra-inning rally, gave him his second multihomer game of the season and the sixth of his career. His 15 homers are tied for the team lead with Josh Donaldson.
"I had been swinging the bat well tonight, so I knew they'd probably be careful, and it's just one of those at-bats you're battling, trying to get a good pitch to hit or get on base, and I ended up getting a hanging slider on a 3-2 count," said Moss. "Obviously any home run feels good, but in an extra-inning game, 2-2, it feels really good."
Jed Lowrie padded the A's lead with an RBI double, and Kyle Blanks helped out the cause with a run-scoring base hit.
But it was Stephen Vogt who provided perhaps the most crucial hit of the night, making the win possible with a pinch-hit, game-tying RBI double in the eighth off right-hander Dellin Betances.
Betances, who had not walked a batter in his previous 10 appearances, offered a two-out free pass to Alberto Callaspo, setting up Vogt's game-changing hit.
"That's big, because if you look at his numbers, they're silly," said manager Bob Melvin of Betances. "Vogt's aggressive, a smart guy, and knows the mindset for pinch-hitting. He got himself in a fairly predictable fastball count -- but, still, that's not an easy situation. It's never easy to come in the game when you're sitting on the bench the whole game and now you have the biggest at-bat of the game."
"That at-bat was incredible," added Moss. "His and Callaspo's because Betances, he's a really good reliever. He's just been dominant this year, and I felt like when Callaspo got on and Vogt hit that double, that pretty much did it for us."
Said Vogt: "I was just trying to stay patient, try not to be too aggressive against him, but fortunately I got into a 2-0 count and he painted an absolutely nasty fastball. At 2-1, I thought I'd see a fastball in and do some damage with it, and he tried to flip a breaking ball in there and missed. Same thing 3-1, just a really good fastball, nothing I could do with. Then I felt like he had to throw me a fastball, and fortunately he left it up and I was able to get it in the gap."
It was the A's first hit since Moss' fifth-inning leadoff shot off righty Hiroki Kuroda, who allowed just two hits total in 6 2/3 innings of work, despite entering with a 4.57 ERA.
Oakland lefty Scott Kazmir also pitched into the seventh inning, compiling a season-high 10 strikeouts along the way. He quickly surrendered a run on three hits in a 22-pitch first inning but wouldn't allow another hit until the sixth.
It was nearly the difference-maker, with Mark Teixeira taking the lefty deep for a go-ahead run.
Kazmir, who threw his first nine-inning complete game in eight years his last time out, went 6 1/3 innings this time around, walking two. He threw 109 pitches, 71 for strikes, and has totaled a combined 18 strikeouts in his last two starts spanning 15 1/3 innings.
The lefty's changeup was particularly impressive on this night, and his fastball reached 95 mph.
But it was Dan Otero, who pitched a scoreless ninth, who came away with the win, his fifth of the season. Sean Doolittle was perfect in the 10th, notching his sixth save.
"There were a lot of contributions," said Melvin.
"This is a really fun place to play," said Moss. "You see the ball really well here, the lights are second to none, it's a great atmosphere, a gorgeous stadium. I think it's a place everyone likes to play. It's just kind of special as a baseball player, and having a good game here is always fun, for sure."
Jane Lee is a reporter for MLB.com. Read her blog, Major Lee-ague, and follow her on Twitter @JaneMLB. This story was not subject to the approval of Major League Baseball or its clubs.