Myers to wear cast 5-6 weeks for stress fracture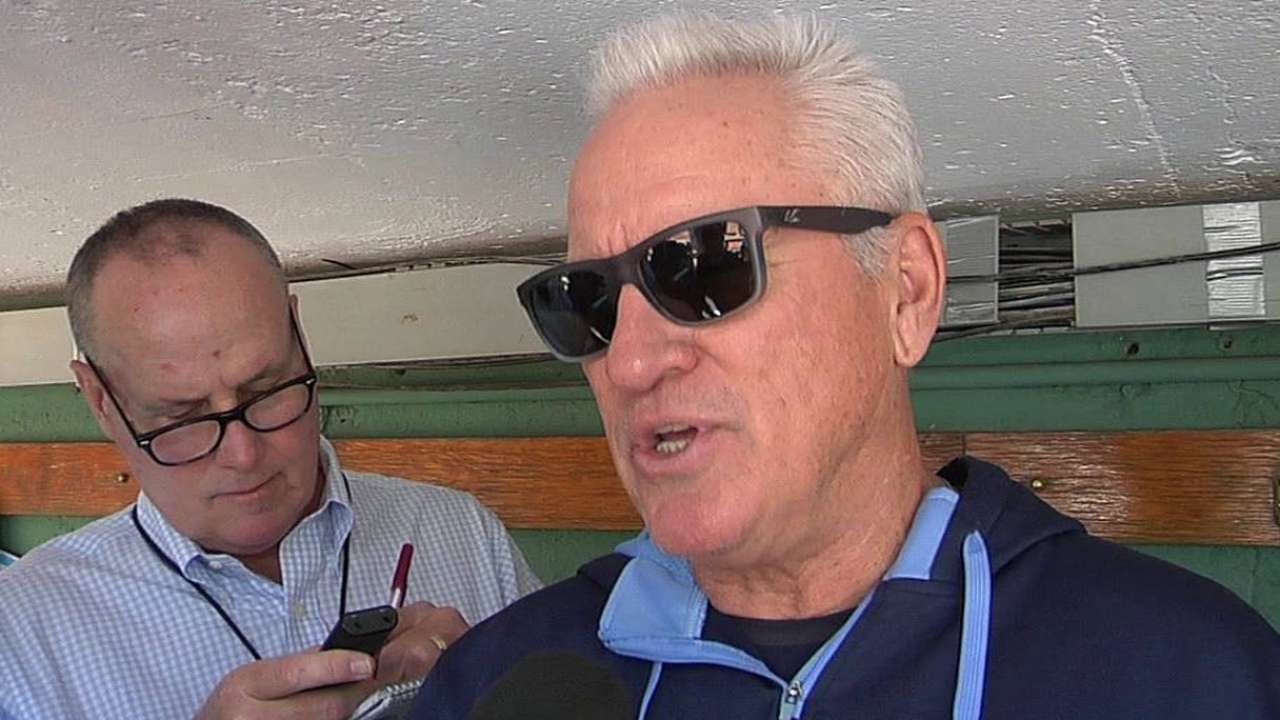 MIAMI -- Wil Myers will miss a significant portion of the 2014 season due to a stress fracture of his right wrist.
The extent of Myers' injury was diagnosed on Tuesday after he paid a visit to noted hand specialist Dr. Douglas Carlan.
The reigning American League Rookie of the Year will not have to undergo surgery, but he will be in a cast for five to six weeks. Once the cast is removed, he will have an MRI exam and be re-evaluated. If that goes well, Myers will begin his rehab before returning to the team.
"Of course it's no fun," Rays manager Joe Maddon said when asked about the news. "We were counting on him a lot to provide power and RBIs and actually hit for a good average. He does all of those things. And I've been preaching about it all year, but his defense has gotten better. His baserunning keeps getting better."
Evan Longoria was among the many Rays players expressing regret about Myers' injury.
"I felt like personally, he was starting to come into his own, really working hard on his defense and just becoming more of a man and growing up as a player," Longoria said. "It's tough to see him have to take a step backwards. I think my goal will be to just try and keep him positive, working hard on the things that he can do.
"At least it's not a season-ending thing for him. He's going to be able to come back at some point. And the hope is we're still in the mix and we can get ourselves in a position to when he does come back, he's able to step in and try and help us get to where we want to be at the end."
Myers injured his right wrist when he collided with Desmond Jennings in the bottom of the 10th inning of the Red Sox's 3-2 win over the Rays on Friday night at Fenway Park. The Rays outfielders were trying to run down a ball hit by A.J. Pierzynski that dropped for a game-winning triple.
The right-field duties will likely go to rookie Kevin Kiermaier, Matt Joyce and Ben Zobrist on occasion.
"It's unfortunate for Wil," Zobrist said. "It's unfortunate for our team, but these things happen over the course of the season. Nobody expected we would be completely healthy. I don't think we expected this many injuries at this point. The show has to go on.
"We have to keep playing hard and plug somebody else in there. Maybe this will give a young guy like Kevin Kiermaier a chance to shine a little bit, give some other guys opportunities who weren't getting many before."
Myers is hitting .227 with five home runs and 25 RBIs this season, not exactly the kind of season that earned him recognition as the AL's top rookie in 2013. However, Myers is more than just numbers.
"There's a lot of ways he can impact a game," Maddon said. "You get a guy like that in the lineup, presence alone causes the other team to pause, game-planning, all that kind of stuff. The kind of pitches the hitters in front of him see possibly become better. You're losing all those complementary impactful things. But that's just the way it is. Hopefully we'll get him back for the playoff run and everything will be fine by that time."
Added Longoria: "He's a guy -- and I told him this, I don't even know when it was -- he's got to understand that he at any point can do something real special. He's got a ton of athletic ability and he's a guy that's going to be a middle-of-the-lineup hitter for a good part of his career. I think he understands that. Hopefully he just stays positive and continues to do the things he needs to do to be ready when he is ready."
Bill Chastain is a reporter for MLB.com. This story was not subject to the approval of Major League Baseball or its clubs.