Mariners recall Ramirez, option Franklin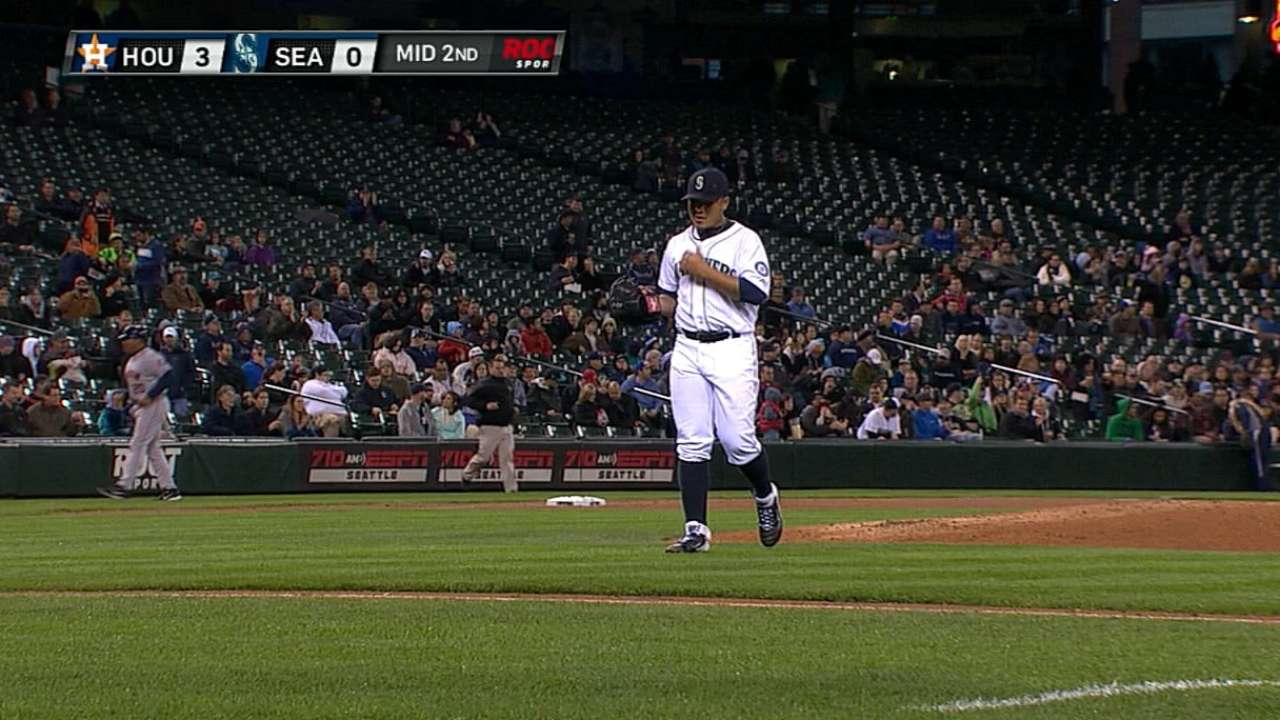 ATLANTA -- Right-hander Erasmo Ramirez was recalled from Triple-A Tacoma and started Tuesday's game against the Braves at Turner Field, with infielder Nick Franklin optioned to Tacoma to make room for Ramirez on the 25-man roster.
Ramirez began the season in Seattle's rotation and was also brought up on May 7 to make a spot start in a doubleheader against the A's, but he has otherwise been with Tacoma after struggling in his first five starts. Including a 2-0 loss to Oakland in his one-game return, he is 1-4 with a 6.00 ERA in six starts for Seattle this season.
The 24-year-old from Nicaragua took the starting spot opened by last week's demotion of right-hander Brandon Maurer.
Ramirez has pitched parts of the past two seasons for Seattle, and has a 7-10 career record and 4.57 ERA in 36 games, including 27 starts.
In five starts with Tacoma, Ramirez went 1-3 with a 4.55 ERA. He won his most recent outing on Thursday, allowing two runs and five hits in six innings against Salt Lake.
Franklin has hit well in Triple-A this season, but struggled at the plate with Seattle and batted just .129 with 15 strikeouts after rejoining the Mariners on May 20. In two stints with Seattle this season spanning 17 games, Franklin has hit .128 with two RBIs, a .192 on-base percentage and .170 slugging percentage.
Asked if opposing pitchers had spotted a weakness and kept attacking it, Mariners manager Lloyd McClendon said he didn't know if it was as simple as that.
"I'm not sure," said McClendon. "I understand your question, but I don't have the answer. I really don't. I wish I did. He was striking out at an alarming rate. This is a game of adjustments, particularly at this level, and you've got to be able to make them."
In 30 games with Tacoma, Franklin is batting .376 with seven doubles, seven home runs and 26 RBIs. That success just hasn't translated over to the Major League level, and McClendon said his message to Franklin was simple.
"I just told him to go down and play," McClendon said. "If he gets an opportunity to come back, you've got to produce. That's one of the messages I'm trying to send every individual in our organization. This is not a country club. You have to have positive results here. That's just the way it is.
"Some people think we're tough or we don't like 'em. For me, all that stuff goes right out the window because there are only two people that get a win or a loss and that's the pitcher and the manager. And I'd be a fool if I didn't want to put the best people out there to help me win games. So liking or disliking has nothing to do with it. If you can help me win, I like you. It's just that simple."
Greg Johns is a reporter for MLB.com. Follow him on Twitter @GregJohnsMLB as well as his Mariners Musings blog. This story was not subject to the approval of Major League Baseball or its clubs.