Sox rally to tie it, but Miller done in by nemesis
Reliever gives up two-run double to Bourn; Boston misses chances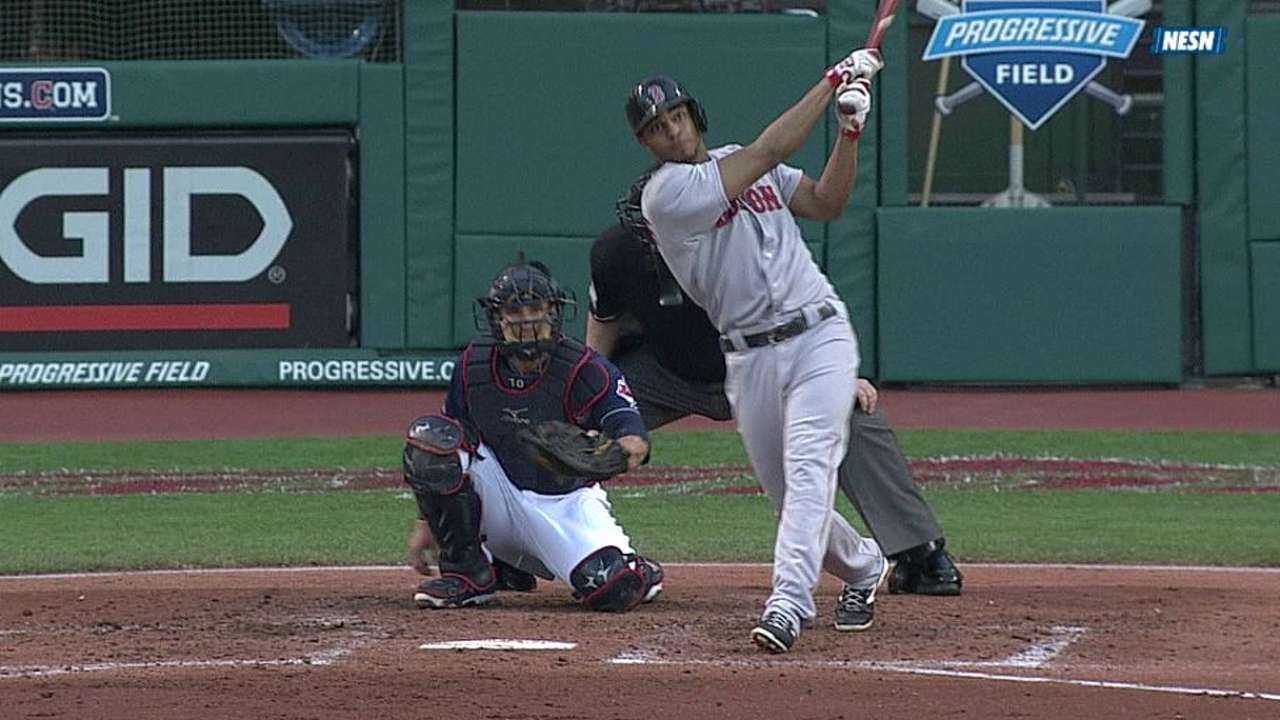 CLEVELAND -- When Andrew Miller enters a game with inherited runners, they generally don't move very far. Entering his outing on Tuesday night against the Indians, he had stranded all 14 of them this season.
But that streak came to a crashing halt at an inopportune time for the Red Sox. With runners on first and second and one out, Miller came on to face Michael Bourn, and the left-handed hitter delivered a two-run double to the base of the wall in left that snapped a tie in a 5-3 loss for the Red Sox at Progressive Field.
It was just the second extra-base hit Miller has allowed to a lefty this season.
"It wasn't a perfectly located pitch, but it was 2-1 ," said Miller. "The last thing I wanted to do was give him a three-ball count or start working to loading the bases right there. My approach right there is to go after him with the fastball right there, that was my plan and the first thought on contact was that it was going to be OK, but it wasn't."
With the hit, Bourn improved to 5-for-7 lifetime against Miller with a double and a triple.
"I need to go back and figure something different out because I know when I pulled up the replay, I think he was 4-for-6 entering that at-bat and now he's 5-for-7 off of me, so I need to do something different," Miller said. "Like I said, when I saw the ball come off his bat that way, I felt he was in pretty good shape. It just didn't work out."
If he had to do it again, Red Sox manager John Farrell would probably do the same thing.
"Yeah, we had set it up, and Andrew is the guy that we've brought into games with men on base," said Farrell. "He has gotten some key strikeouts. Recognizing full well that Bourn had had some success in a limited number of at-bats and in a 2-1 count, a fastball found its way to the middle of the plate and he doubles into left field."
Red Sox starter Jake Peavy, who opened the inning by allowing a walk to David Murphy and a single by Yan Gomes, took the loss.
Peavy went 6 1/3 innings, giving up eight hits and five runs. He walked one and struck out three.
"I had made pitches all night," said Peavy. "I felt fine. Murphy puts a good at-bat on me and gets on base. If we keep him off base there, Yan Gomes' ball is right to the shortstop because we're not playing double-play depth. It could have been a different inning. Just seems like it's been the story of my last month. Just can't quite get the ball to bounce our way. It's awfully tough losing."
The Red Sox had several chances to have a bigger night offensively, but left 11 on base.
Early on, Boston was down 3-0. Dustin Pedroia tied it up on an RBI double to right in the seventh. And after the Indians issued an intentional walk to David Ortiz , the Sox had runners at first and second with nobody out.
But lefty Nick Hagadone struck out both A.J. Pierzynski and Alex Hassan on pitches out of the strike zone to end the threat.
"We had a number of opportunities," said Farrell. "First inning, fourth inning, a key spot would come up in the order. But once again, base hit with men in scoring position is elusive in the first two games of the series."
For the second straight night, Boston's starter had a rocky first inning. This time, it was Peavy, who opened his performance by giving up three straight singles, including an RBI single to Michael Brantley.
After a bunt single by Jason Kipnis, Lonnie Chisenhall blooped an RBI single. Ryan Raburn grounded into a 6-4-3 double play, with a run scoring on the play to make it 3-0.
"It's a tough one to lose," said Peavy. "I don't know if I've ever started a game with five straight hits, all singles, just balls just perfectly placed. I felt like I made pitches there in the first no different than I did for the rest of the game. For the most part, didn't have anything to show for it."
Lefty T.J. House kept the Red Sox off the board for the first two innings, but the red-hot Xander Bogaerts smoked a solo homer to left with one out in the third.
After coming into this series with three homers, Bogaerts has two in the first two games of this series.
"I think it's more the weather," said Bogaerts. "I always say I'm a guy who likes playing in the hot weather, so I guess that's a good thing for right now."
Peavy settled down nicely and kept the game where it was until the sixth, when the Red Sox rallied again. Jonny Gomes started it with a walk. With two outs, Indians manager Terry Francona came out to get House, and called on Marc Rzepczynski. The lefty hit Jackie Bradley Jr. Jonathan Herrera followed with an RBI single, and Cleveland's lead was down to 3-2.
Facing Scott Atchison, the Red Sox rallied again in the seventh. Bogaerts smashed a double to left-center to set up Pedroia's equalizing double.
But that was the end of Boston's momentum in this one.
After winning just once against the Red Sox in 2013, Francona is 2-0 against his former team this year.
"I thought we played a good game," Francona said. "I thought we had to. I thought T.J. kept pounding the strike zone. The first inning was a good example. He's first and second, middle of their order coming up, and regardless of what happened, he kept throwing strikes. That kept him in the game long enough, even though he gave up a lot of hits, so we could turn it over to the bullpen."
Ian Browne is a reporter for MLB.com. Read his blog, Brownie Points, and follow him on Twitter @IanMBrowne. This story was not subject to the approval of Major League Baseball or its clubs.