Bourn's big hit sparks Tribe to fifth straight win
Two-run double in seventh snaps tie, picks up 'pen after Boston rallies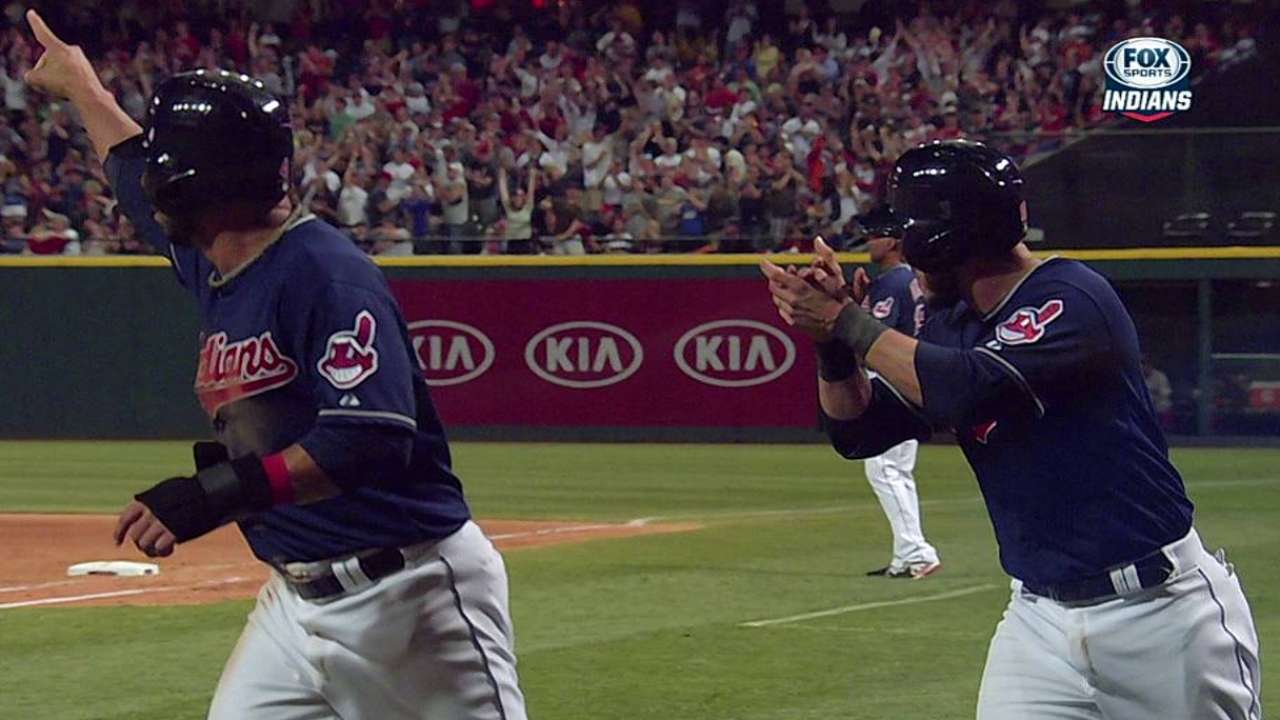 CLEVELAND -- Mike Aviles closed in on Yan Gomes, sprinting around third base and toward home in the seventh inning Tuesday night. They crossed the plate -- separated by only a couple steps -- and Aviles let out a shout, celebrating a shift in momentum for the Indians.
"I saw that," Indians center fielder Michael Bourn said with a laugh. "As long as they didn't pass each other."
Both runners scored on a two-run double by Bourn, who sent a pitch from Red Sox lefty Andrew Miller bouncing high off the wall in left-center field to help lift Cleveland to a 5-3 win at Progressive Field. The victory gave the Tribe a season-high five-game winning streak and upped the club's American League-leading home record to 20-11.
The win also pushed another forgettable evening for Cleveland's bullpen to the background. Indians rookie lefty T.J. House matched wits admirably with veteran Red Sox right-hander Jake Peavy, but some late missteps by the Tribe's relief corps threatened to spoil the effort. No matter, Cleveland shaved another game off its American League Central deficit, which is 4 1/2 games behind first-place Detroit.
A little more than two weeks ago, the Indians were stuck in a 10 1/2-game hole.
"It can look so daunting when you look too far in advance," Indians manager Terry Francona said. "But when you just take care of what you're supposed to that day, all of a sudden you start doing what you're supposed to, you pay attention to detail, do your job, and things can mount in a good way."
The Indians came out firing against Peavy, who gave up a string of five consecutive singles to open the first.
The hot-hitting Bourn slashed a pitch to left field, Asdrubal Cabrera followed with a hit to right and Michael Brantley brought a run in with a base hit of his own. Jason Kipnis then came through with a bunt single before Cabrera came around to score on a sliced base hit to left off the bat of Lonnie Chisenhall.
Even Peavy's first outs of the night -- a double-play grounder from Ryan Raburn -- resulted in a run, plating Brantley and giving Cleveland a quick 3-0 advantage. That early burst proved important, as Peavy cruised into the seventh before the Indians' next rally.
"You see him out there. He's grinding and he's competing," Francona said of Peavy. "We strung together a number of hits. Getting one more would've been great. You're kind of hanging on for dear life and then, when they tied it, we came back and Bourny had a really good at-bat. [Miller] is not a fun lefty to face from the left side."
While a few escape acts were required, House spun a second straight solid effort for the Tribe. The lefty retired three in a row to avoid damage in a two-on, none-out situation in the first and then induced a double play to erase the two-on, one-out jam that came up in the second. In the fifth, House won an 11-pitch battle with slugger David Ortiz, creating an inning-ending flyout to strand a runner.
"That was a tough at-bat, but it was really fun," said a smiling House, referring to his battle with Ortiz. "I used to watch him when I was in junior high and high school play. So, it's actually pretty cool to get out there and face a guy like that and actually have success."
Boston's only breakthrough with House on the hill came in the third, when Xander Bogaerts drilled the first pitch he received out to left field for a one-out solo home run. House gave the Indians 5 2/3 innings, ending with four strikeouts, two walks and six hits scattered. He was charged with two runs, but the second came after his exit.
With two outs and a runner on first base in the sixth, and House sitting at 93 pitches, Francona turned to lefty Marc Rzepczynski.
"I thought Zep matched up real well," Francona said. "He just let one fly."
Rzepczynski proceeded to hit Jackie Bradley Jr. with a pitch before giving up an RBI single to Jonathan Herrera. One inning later, Tribe righty Scott Atchison allowed back-to-back doubles to Bogaerts and Dustin Pedroia, scoring one and pulling the game into a 3-3 deadlock.
Three batters later, Francona asked left-hander Nick Hagadone -- summoned from Triple-A Columbus on Monday -- to douse the flames in his first appearance of the season. Hagadone was up to the task, answering the call with consecutive strikeouts of A.J. Pierzynski and Alex Hassan, stranding a pair of Boston runners.
'It was a big moment in the game," Hagadone said. "To be back up here and get out there and have some success, it feels good."
That set the stage for Bourn.
After Gomes singled and Aviles reached base on a fielder's-choice groundout, the Red Sox turned to Miller with one out. Bourn slashed a pitch high over left-center, where it scraped the wall and gave both runners enough time to make their sprint to the plate.
"Once [the pitch] was thrown," Bourn said, "I just tried to get my hands inside it and see where it goes from there."
With one on the other's heels, Aviles and Gomes chased down another win.
Jordan Bastian is a reporter for MLB.com. Read his blog, Major League Bastian, and follow him on Twitter @MLBastian. This story was not subject to the approval of Major League Baseball or its clubs.