White Sox home runs help Noesi secure elusive win
Right-hander's last victory came May 6, 2012; Abreu, Flowers go deep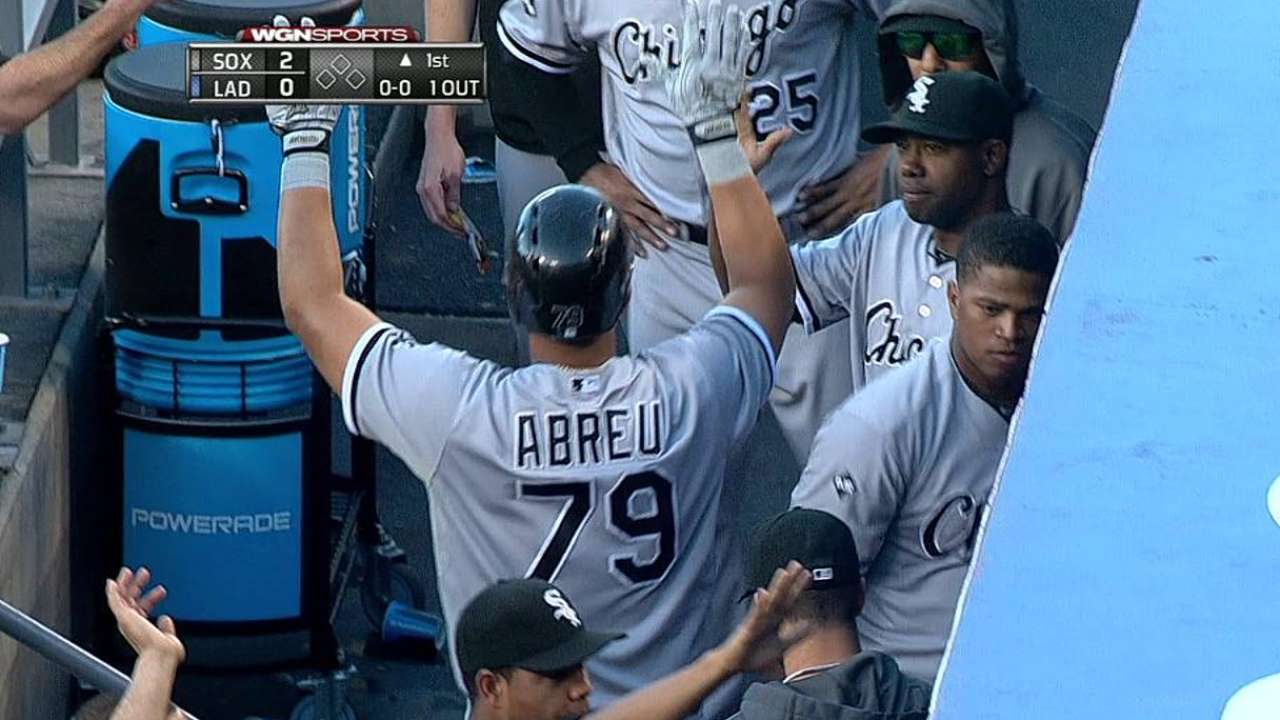 LOS ANGELES -- Remember a movie called Marvel's The Avengers, a little film that grossed over $1 billion?
Well, it was the No. 1 money-maker in the country when Hector Noesi last was the winning pitcher in a Major League Baseball game. The date of that triumph was May 6, 2012, when Noesi was working for the Mariners.
After working in 40 games, of which 19 were starts, Noesi (1-4) finally has himself on a winning streak.
That run of futility ended for the right-hander Tuesday night at Dodger stadium, when the White Sox topped the Dodgers 4-1 in front of 44,477.
Before this start, Noesi had posted an 0-14 record with a 6.12 ERA over those 40 appearances. That 14-game losing streak was the second longest active dip behind the 15 straight losses for Oakland's Fernando Abad. It was a streak that Noesi knew about but certainly wouldn't qualify as an obsession.
"Things happen in the game. You can't control that," said Noesi, who threw 104 pitches before departing after six innings. "You have to do what you do good and make them trust you.
"Pretty exciting. I break the record. 2012, I hear was my last win. I feel so happy that I got this win."
Noesi allowed one run on five hits and four walks, while striking out six Dodgers (31-29). His biggest trouble came in the second, when the Dodgers loaded the bases with one out on Matt Kemp's single and walks to Chone Figgins and pitcher Dan Haren. But only one run scored on Dee Gordon's sacrifice fly to left fielder Adam Dunn.
Jose Abreu gave Noesi a lead to work with before he even threw a pitch. Gordon Beckham doubled off the top of the left-field wall with one out in the first, and Abreu followed with homer No. 17 pulled down the left-field line. Abreu hit an 0-1 pitch from Haren (5-4), marking the same count in which he homered against Clayton Kershaw on Monday night.
Monday and Tuesday stand as the second time this season Abreu has homered in back-to-back games, joining April 22-23.
Not exactly a bad comeback for a player on the disabled list from May 18 until his return for this series.
"He's doing all right. I think we're going to keep him," said White Sox manager Robin Ventura with a wry smile, when asked about Abreu's impact. "A lot was made about the timing of him going up there, but he has talent and you'd rather have him in the lineup than trying to get his timing back elsewhere."
"I know just as much as everyone else, really. The guy's got a bunch of homers," said Haren of Abreu. "Good player. Definitely made the adjustment quick to the Major Leagues."
Although the three hits and five RBIs would be evidence to the contrary, Abreu feels healthy but not yet completely in stride.
"To be honest with you, timing and rhythm isn't quite there just yet, but the most important thing right now is being healthy. And I feel healthy," said Abreu through interpreter and White Sox director of public relations Lou Hernandez. "It feels great. To be where I was 15 days on the disabled list, 15 days not playing, and to have this start, it feels great. Anyone would feel great."
Tyler Flowers added his fifth homer with two outs in the fourth, which represented the offense from the White Sox (30-30) handed over to the relief quartet of Scott Downs, Jake Petricka, Zach Putnam and Ronald Belisario (fourth save). The Dodgers put two runners on with two outs in the seventh when Petricka walked Yasiel Puig and Hanley Ramirez, but Putnam retired Adrian Gonzalez on a line drive to center to end the threat.
Putnam also pitched out of a two-out, two-on situation in the eighth via a Gordon flyout to center. Belisario worked a clean, seven-pitch ninth, retiring Andre Ethier, Puig and Ramirez on routine grounders to shut down his old team. Belisario made his 136th career appearance at Dodger Stadium and has a 2.26 ERA over 135 1/3 innings in that venue.
"Just trying to keep the ball down and let them hit it. I'm not trying to do too much. Just let them hit it," Belisario said. "It's pretty awesome. I didn't see them for like a year and now I'm back here. It feels pretty good."
That good feeling for Belisario probably didn't quite match the feeling of victory for Noesi.
Since coming to the White Sox and moving into the starting rotation, Noesi apparently has been fixed by pitching coach Don Cooper. Noesi pointed to as basic of a change as being closed, looking at home plate and finishing his pitches as the reason for turnaround leading to three straight quality starts, five earned runs allowed over the last 19 1/3 innings and his first win since the last time his current team was a playoff contender.
"Right after I got here, we worked on that every time," said Noesi of the changes.
"Coop saw something. We scored runs off him and you don't normally see a team get a guy after they score on you," said Ventura of Noesi, who allowed seven runs in one inning against the White Sox on April 20 when he was with Texas, before the White Sox claimed him off waivers. "But Coop saw something he thought he could help him with and he's been great. He's been a sponge as far as doing it and been all for it. They kind of hit it off and you're seeing the fruits of it."
Scott Merkin is a reporter for MLB.com. Read his blog, Merk's Works, and follow him on Twitter @scottmerkin. This story was not subject to the approval of Major League Baseball or its clubs.