Haren, Dodgers fall victim to home runs
Right-hander gives up a pair of blasts, falls to 0-3 in last four starts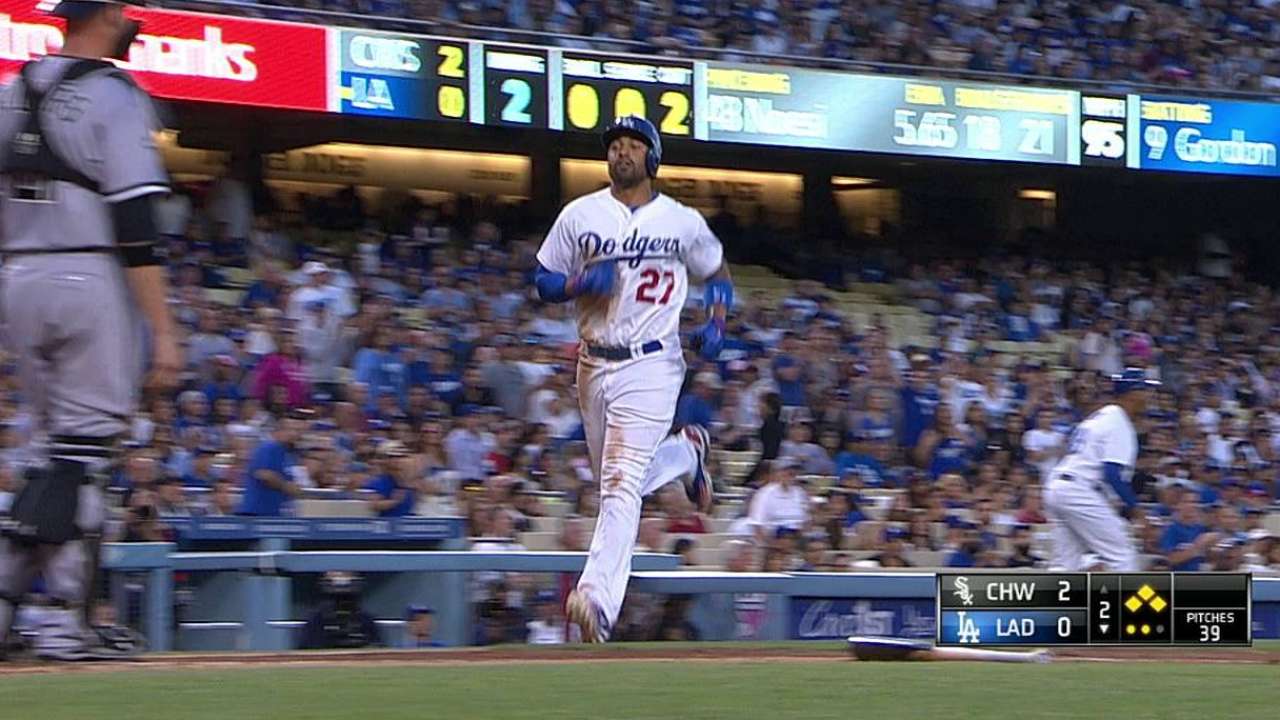 LOS ANGELES -- It might've been Yasiel Puig's day, but it was most certainly Jose Abreu's night.
On Tuesday, Puig earned National League Player of the Month honors for his torrid May, jumped from fifth to first in the All-Star Game outfield voting and celebrated the one-year anniversary of his Dodgers debut. Teammates razzed him in the clubhouse for his one year of service time -- saying he deserved an upgraded parking space -- and minutes before the game, a highlight reel of Puig's last year in Dodger blue played on the Dodger Stadium video board.
Then, just seven pitches into the contest, Puig was all but forgotten as his Cuban countryman sent a Dan Haren offering deep into the night.
The two-run home run by the rookie Abreu, his second in as many games off the disabled list and 17th of the season, gave the White Sox a two-run lead. The Dodgers would never recover in a 4-1 loss, evening the series with Chicago and dropping them to 4-5 in their 10-game homestand.
"We won a game yesterday getting those couple of errors, and you like to maintain some type of momentum, which we just haven't really done," said a frustrated Haren. "Giving up two runs in the first inning is an easy way to kill the vibe."
Abreu's one-out home run to left field came one batter after Gordon Beckham just nicked the top of the left-center-field wall with a double. Haren (5-4, 3.50 ERA) had difficulty missing White Sox bats for most of the evening, allowing six hits, four earned runs and striking out just two through his six frames.
The right-hander surrendered a third run in the top of the third, again off the bat of Abreu, as a near-double-play ball with runners on the corners allowed Chicago center fielder Adam Eaton to score. The White Sox tacked on an additional run in the fourth as catcher and eight-hole hitter Tyler Flowers went yard with two outs.
Meanwhile, for the Dodgers' offense, Puig continued to produce at his scorching pace. He responded to Abreu's homer with a booming double to right-center in the top of the first and tallied another hit in the fifth, reaching base for the 35th consecutive game.
But Puig alone wasn't enough to overcome the early deficit.
"It's not one guy. Baseball is not that kind of game," Dodgers manager Don Mattingly said. "You gotta get a good group of guys to be able to sustain together. And I think we'll get that."
But the Dodgers didn't get it Tuesday.
Offense proved hard to come by against right-hander Hector Noesi (1-3. 5.29 ERA), who allowed one run, five hits, four walks and struck out six in his six-inning victory. The Dodgers engineered a couple of rallies, but couldn't carry them through to fruition.
They scored their run in the bottom of the second. Left fielder Matt Kemp led off the inning with an inside-out single, third baseman Chone Figgins walked, and after catcher Drew Butera's groundout, Noesi loaded the bases, walking Haren in the nine-hole. But the Dodgers couldn't capitalize beyond a Dee Gordon sacrifice fly.
Los Angeles again had the makings of a rally in the fourth, when back-to-back one-out singles by Figgins and Butera put runners on the corners. However, one night after two defensive miscues cost the White Sox five unearned runs along with the game, a tremendous diving catch by Beckham at second base on a Haren line drive neutralized the threat. Gordon would strike out to end the inning one batter later.
The potential tying run came to the plate twice in the late innings. But first baseman Adrian Gonzalez flied to center field after back-to-back two-out walks in the seventh, and Gordon flied to center with two on to end the eighth.
"Tonight we had our opportunities, and Gonzo hit that ball hard to center field," Butera said. "If one of those drops, maybe we continue to go, but I think we'll still grind it out, still come to play every day and still work hard.
"It would be one thing if we were just rolling over and dying, but we're battling, we're grinding out at-bats and we're getting opportunities. As long as we continue to get those opportunities, we'll get the job done."
On a day of celebration for Puig, the Cuban outfielder held up his end of the bargain. But with Abreu's potent bat on the other side, Puig needed a supporting cast, and the Dodgers were unable to oblige.
Michael Lananna is an associate reporter for MLB.com. This story was not subject to the approval of Major League Baseball or its clubs.