Super Regionals to feature handful of Draft prospects
Pitcher Beede, catcher Pentecost among top-tier talent still in NCAA title hunt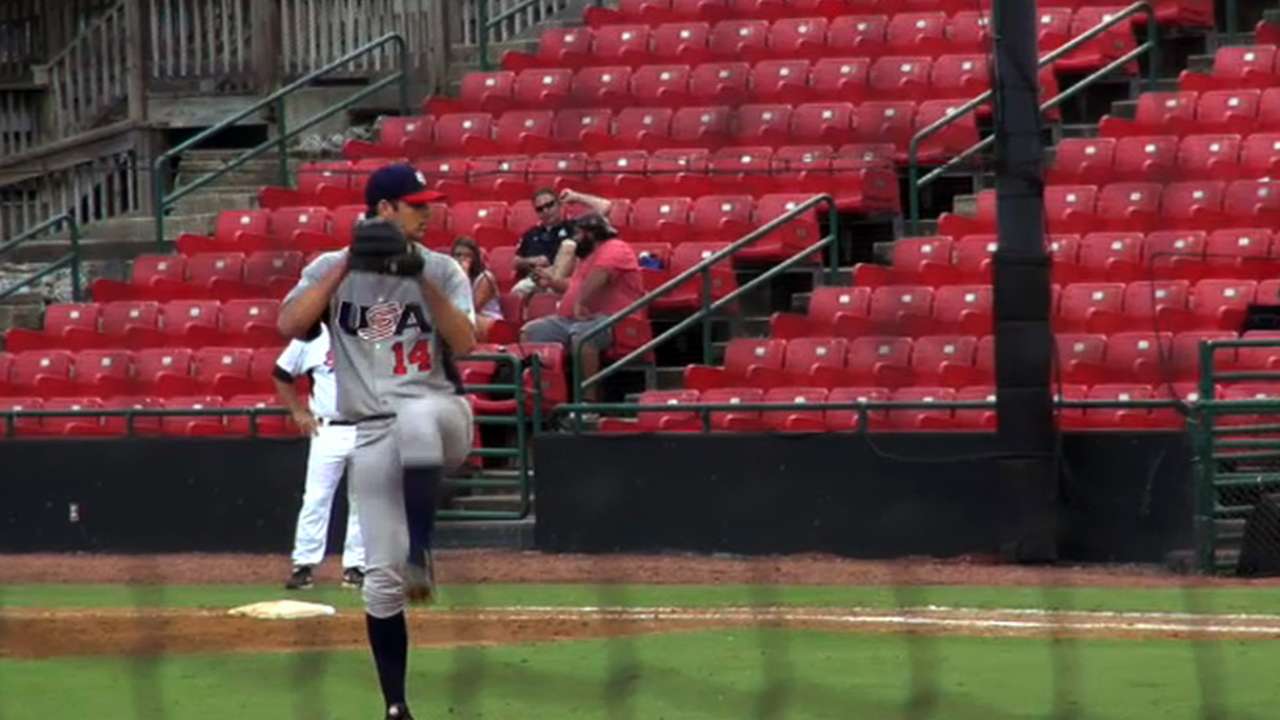 The sites of the eight NCAA Division I Baseball Championship Super Regionals -- four of which begin Friday, and the other four on Saturday -- were announced Monday morning, with a minimum of 48 hours of television coverage to come on the ESPN family of networks.
Games will be broadcast on ESPN, ESPN2 and ESPNU beginning Friday with Stanford at Vanderbilt at 1 p.m. ET. UC-Irvine at Oklahoma State, Houston at Texas and Kennesaw State at Louisville are the other Super Regional matchups on Friday.
Vanderbilt features the top Draft prospect left in the field: Tyler Beede, a right-hander ranked No. 12 by MLB.com on the Draft board. In his last start, he struck out a career-high 14 hitters over eight scoreless innings in Vandy's tournament opener.
Upstart Kennesaw State, which knocked off Alabama in the regional, features one of the top position players (ranked No. 19 overall by MLB.com) available in the Draft and the top college catcher -- junior Max Pentecost, who's also coming off a summer in which he was the Most Valuable Player of the Cape Cod League.
All series are best-of-three, with the aforementioned series to be played on Friday, Saturday and Sunday. The eight winners will advance to the College World Series in Omaha, Neb., which begins June 14 at TD Ameritrade Park.
UC-Irvine knocked off No. 1 overall seed Oregon State on Monday night.
The other four Super Regional matchups will open on Saturday and go through Monday, if necessary. They'll be led off with Maryland at Virginia, in addition to College of Charleston at Texas Tech, Pepperdine at TCU and Ole Miss at Louisiana-Lafayette.
Pepperdine is likely to run into TCU's Brandon Finnegan, MLB.com's No. 15 Draft prospect, who struck out 12 and held Siena to four hits over 7 1/3 innings in his start Friday.
No. 3 Virginia (which features the No. 26 Draft prospect in outfielder Derek Fisher), No. 6 Louisiana-Lafayette and No. 7 TCU are the only three national seeds remaining of the eight selected at the tournament's onset last week.
Joey Nowak is a reporter for MLB.com. Follow him on Twitter at @joeynowak. This story was not subject to the approval of Major League Baseball or its clubs.