NCAA Roundup: UC Irvine ousts top-seeded Oregon
Nine teams reach Super Regionals, including Houston, Texas, Stanford, Kennesaw St.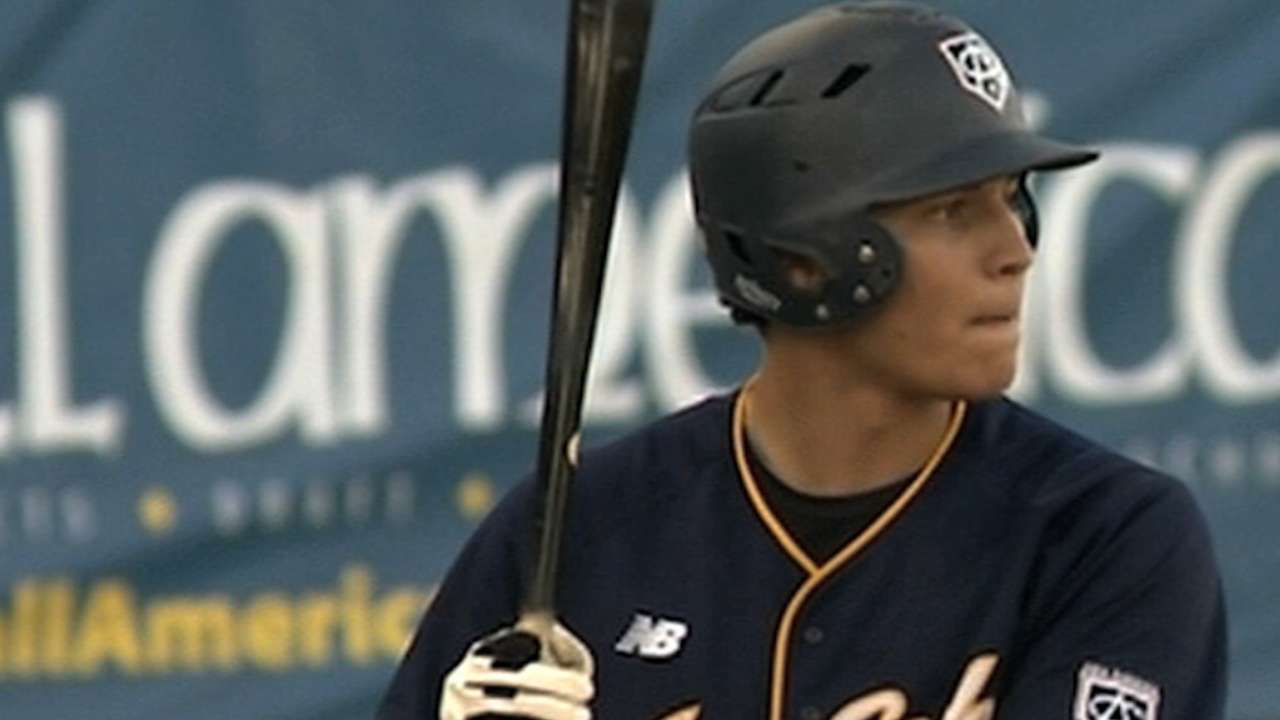 After four days of play, the Regionals round of the NCAA Tournament came to an end Monday with nine teams punching their tickets to Super Regionals.
Play began Monday at noon on the East Coast when Kennesaw State knocked off Alabama in the Tallahassee Regional and didn't end until late into the night on the West Coast when UC Irvine defeated No. 1 national seed Oregon State in the Corvallis Regional.
Joining them in advancing to Super Regionals on Monday were the University of Houston, Texas, Stanford, College of Charleston, Texas Tech, Louisiana-Lafayette and Mississippi.
Now that all eight Super Regional matchups have been decided, the NCAA will announce game times and host sites Tuesday.
Though the small slate of games on the if-necessary day in the tournament was smaller, there were still several players in action who are expected to be selected early in the 2014 First-Year Player Draft.
To see which teams will select the top college players, tune into the Draft taking place from Thursday to Saturday, beginning with the Draft preview show on MLB.com and MLB Network on Thursda at 6 p.m. ET. Live Draft coverage from MLB Network's Studio 42 begins at 7 p.m., with the top 74 picks being streamed on MLB.com and broadcast on MLB Network. MLB.com's exclusive coverage of the second and third days will begin with a live Draft show at 12:30 p.m. ET on Friday.
MLB.com's coverage includes Draft Central, the Top 200 Draft Prospects list and Draft Tracker, a live interactive application that includes a searchable database of Draft-eligible players. Every selection will be tweeted live from @MLBDraftTracker, and you can also keep up to date by following @MLBDraft. And get into the Draft conversation by tagging your tweets with #mlbdraft.
Monday's first game featured Kennesaw State's Max Pentacost, the consensus top all-around catcher in the Draft class. He helped coax Kennesaw State's beleaguered pitching staff to a 4-2 victory against Alabama. At the plate, Pentacost, ranked No. 19 on the Top 200, went 1-for-3 with an RBI double and a walk.
The Owls became the fifth team in 40 years to win its Regional in its first appearance in the NCAA Tournament. Kennesaw State will now face Louisville in Super Regionals.
If Pentacost is the best all-around catcher, Indiana's Kyle Schwarber (No. 16) is the best hitting catcher. He did his best to lead the Hoosiers to Super Regionals for the second straight year, going 3-for-4 with a home run, a double and a walk. But Stanford shortstop Tommy Edman hit a walk-off, two-run home run to upset Indiana, the No. 4 national seed.
While Edman was the star Monday, he is just a freshman and won't be draft-eligible until 2016. But Stanford's best upperclassmen also contributed to the victory. Third baseman Alex Blandino (No. 52) went 2-for-4 with an RBI, center fielder Austin Slater added a double and Dominic Jose, son of former All-Star outfielder Felix Jose, came off the bench to blast a pinch-hit home run.
Almost all of the best pitchers in the tournament had been used earlier in the weekend, but Mississippi State still had bullpen ace Jacob Lindgren (No. 51) at its disposal. The Bulldogs turned to him with the bases loaded and two out in the third inning against Louisiana-Lafayette, but the left-hander was too wild to get out of the jam. A pair of wild pitches and a walk allowed the Ragin' Cajuns to build an early lead. They would go on to a 5-3 victory.
Lindgren struck out seven batters in 4 1/3 innings and allowed one unearned run on three this and four walks, in what will likely be the final game of his college career.
UC Irvine met Oregon State in the final game of the night, which featured three players ranked in the Top 100 -- Beavers outfielders Michael Conforto (No. 17) and Dylan Davis (No. 74) and Anteaters third baseman Taylor Sparks (No. 56). Conforto might be the first college position player selected Thursday, but Sparks got the better of the Beavers on Monday. He went 1-for-3 with a walk and a run in the 4-2 victory. Conforto and Davis combined to go 0-for-6 with two walks.
NCAA Baseball Championships

Regionals
Corvallis Regional

Monday's score

UC Irvine 4, Oregon State 2

Baton Rouge Regional

Monday's score

Houston 12, LSU 2

Houston Regional

Monday's score

Texas 4, Texas A&M 1

Tallahassee Regional

Monday's score

Kennesaw State 4, Alabama 2

Bloomington Regional

Monday's score

Stanford 5, Indiana 4

Gainesville Regional

Monday's scores

Long Beach State 12, North Carolina 5 (completion of suspended game)

College of Charleston 4, Long Beach State 2

Coral Gables Regional

Monday's score

Texas Tech 4, Miami 0

Lafayette Regional

Monday's score

Louisiana-Lafayette 5, Mississippi State 3

Oxford Regional

Monday's scores

Mississippi 3, Washington 2 (10 innings)

Teddy Cahill is a reporter for MLB.com. Follow him on Twitter at @tedcahill. This story was not subject to the approval of Major League Baseball or its clubs.