Fantasy Q&A: Grab Singleton over Swisher?
Twitter users ask about Liriano, A-Gon, Morneau, Reed, stats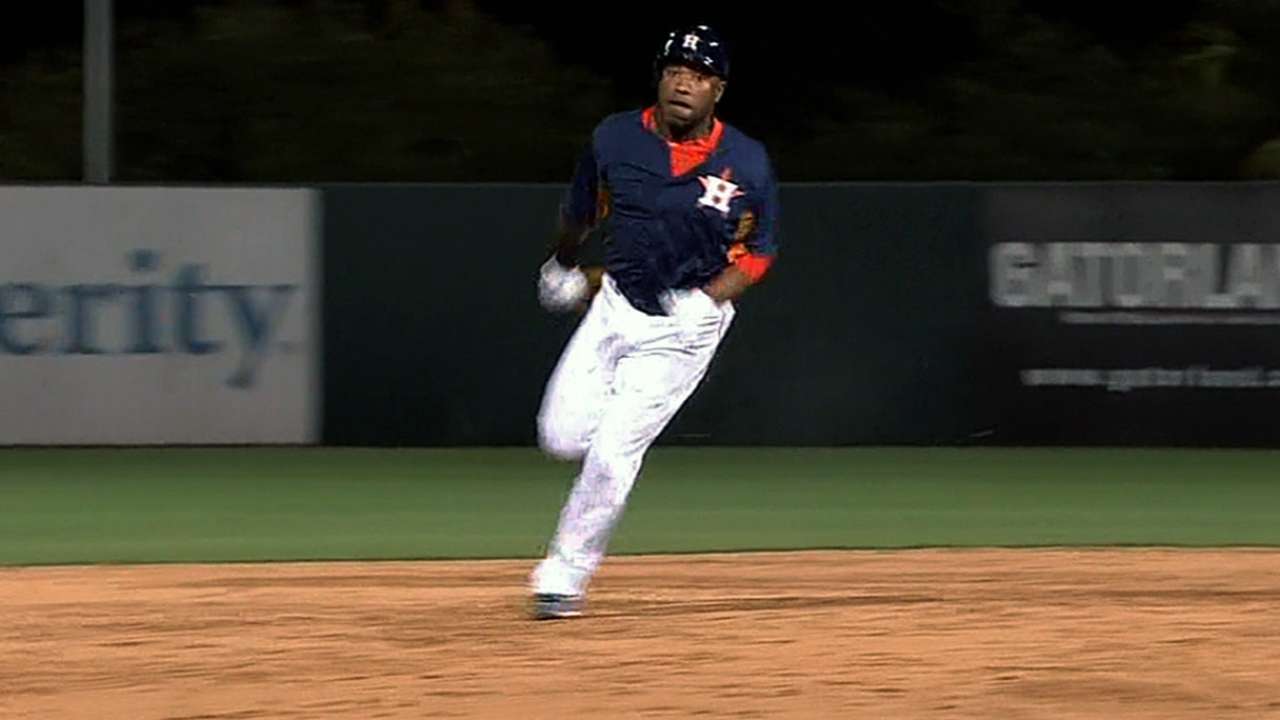 Tweet a question to @Fantasy411, and yours might be chosen for our weekly Q&A. Here are this week's best inquiries.
Would you drop Nick Swisher for Jon Singleton?
@MinnySportsFan
Yes, that is a smart move. While Singleton may have some trouble adjusting to the Majors, Swisher has not been a fantasy asset since he started playing in Cleveland. Last season, Swisher had his lowest batting average since 2008, his lowest home run total since 2007, his lowest RBI total since 2004 and his lowest runs tally since 2005. The 33-year-old was on pace to sink even deeper this season before landing on the DL. When he returns from injury, it's doubtful that Swisher will help mixed-league teams. Singleton, on the other hand, oozes potential. The 22-year-old hit 14 homers in 54 Triple-A games this season before getting the call, and he showed excellent patience with 42 walks. Singleton struck out roughly once per game in the Minors and, if he has plenty of whiffs this summer, his batting average could be pulled down. However, fantasy owners would be wise to take a chance on Singleton's upside over Swisher's declining production.
Is it time to return Francisco Liriano back to the 2013 free agents where he came from?
@pvhawkeye
Liriano was fortunate to surrender just nine homers in 2013, and by keeping the ball in the yard, he was able to minimize the damage of 63 walks. His control has faltered this season, however, as he is averaging 2.5 walks per start, and he has already allowed nearly as many homers as he did all of last season. That said, the 30-year-old's 3.87 FIP is much lower than his 4.62 ERA, so he could still see improved results even if he doesn't regain all the skill he showed last season. The main reason that fantasy owners should continue to roster Liriano is that the Pirates have had good success with their pitching staff in recent seasons. Pitching coach Ray Searage has worked wonders with several veterans, and his guidance could help get Liriano back on track by the summer. The best plan for fantasy owners is to keep Liriano on the bench for a few more starts and then gauge his usefulness.
Adrian Gonzalez for Justin Morneau and [Addison Reed]?
@GQC14
The side with Morneau and Reed wins this deal. Gonzalez has shown more power than many had expected this season, but his .269 batting average puts him on pace for his lowest mark since 2005. After hitting .337 with eight homers in March/April -- mostly at the expense of the slow-starting D-backs -- Gonzalez was fairly mediocre in May. Meanwhile, Morneau has become the latest Coors Field reclamation project. The 33-year-old is hitting .299 and is nearly on pace for a 30-homer, 100-RBI season. When playing at home, Morneau has hit .345 with 18 RBIs in 84 at-bats. Because Morneau is not leaving Colorado anytime soon, fantasy owners can likely count on that production all year. The difference between the two hitters is not enough to warrant losing Reed. The D-backs closer has given up too many homers (six), but his 29-to-4 strikeout-to-walk ratio in 25 1/3 innings shows that he should be able to limit the damage of a few long balls and keep his job all season.
What are the most important stats to look at when picking up batters and [starting pitchers]
@MarcelloCiampa
When assessing veteran hitters, do not get caught up in small sample sizes from the current season. For example, if a player typically shows 20-homer power, and he is off to a fast or slow start, he will likely regroup to his usual 20-homer pace as long as he is not dealing with an unusual factor such as an injury or a change in home venue. Looking at the caught-stealing percentage is a good idea when assessing a basestealer. A speedster who has been caught stealing several times is less likely to get more opportunities from his manager. When assessing a young hitter, it is a good idea to look at his lefty/righty splits. Young hitters who struggle vs. a certain type of pitcher are often destined to wind up in a platoon, which will sap some of their value. When assessing power hitters, it is a good idea to look at their walk-to-strikeout ratio. Hitters with a subpar walk-to-strikeout ratio can slug many homers, but they may end up with a low batting average and a low number of runs scored because of fewer trips to first base. Batters who can combine solid power with a strong walk-to-strikeout ratio are in a good position to have consistent production.
When assessing veteran starters, it is important to look at some of their basic statistics and differences from their normal trends. For example, if a veteran starter normally gives up roughly one hit per inning, a noticeable change in that rate will likely dramatically affect his ERA over a short-term period. However, the trend should correct itself over the long haul. Strikeout-to-walk ratio is also a great way to assess pitchers. If a starter can rack up punchouts and make opposing hitters earn their way to first base, he has a good chance to find success. Because starters can have their numbers affected greatly from a few poor starts, it is also important to look at their game log and find out where their struggles took place. Bartolo Colon is a great example of using the game log because his ERA has been highly inflated by three rough starts. Those games were played on the road against the Angels, Rockies and Yankees. It's unlikely that Colon will have many starts of similar difficulty the rest of the season. The National League East is full of pitcher-friendly venues and mediocre offenses. Additionally, the veteran is unlikely to make more than one additional start against a quality American League club. Fantasy owners who ignored Colon's inflated ERA a couple weeks ago have been rewarded with some strong outings.
Fred Zinkie is a Fantasy writer for MLB.com. This story was not subject to the approval of Major League Baseball or its clubs.