Duffy's lively arm leads way in shutout of Cards
Lefty allows only one hit in six innings; Gordon's HR sparks Royals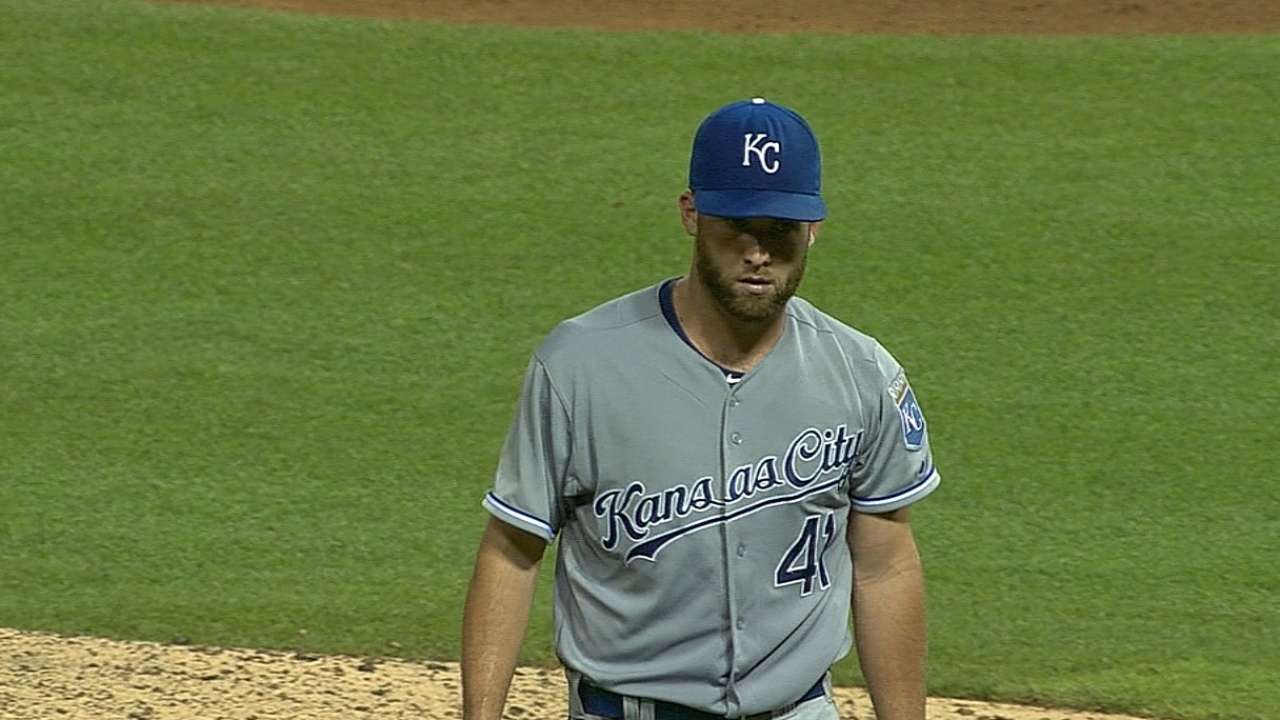 ST. LOUIS -- Dead arm? What dead arm? Danny Duffy's left arm seemed full of life this time around.
Duffy reeled off six shutout innings of one-hit ball and Kansas City bested St. Louis, 6-0, on Monday night to the dismay of the Cardinals' red-shirted majority in the crowd of 41,239 at Busch Stadium.
The renewal of the I-70 series featured the Royals getting a fuse-lighting home run from Alex Gordon and an explosive two-run double by Mike Moustakas. That produced a three-run seventh inning that interrupted a scoreless duel between Duffy and Cardinals right-hander Shelby Miller.
Duffy had been pummeled for 11 runs over his previous two starts and, after the last effort against the Astros, manager Ned Yost mentioned "dead arm" as the pitcher's possible affliction.
After Monday night's win, Dr. Yost revised his diagnosis.
"It wasn't anything to be concerned with. Pitchers just go through little dead-arm periods, and over the course of five days, they regain their strength," he said.
Duffy maintained that physically he felt little difference between the two outings with one distinction.
"I just felt like I had more behind the ball today. That being said, I didn't feel any discomfort anywhere, just like last time," Duffy said. "I could tell it was coming out a lot better. It was running, it had life on it."
Ah yes, life. This was more like the Duffy who, on May 17, retired the first 20 Orioles he faced in a 1-0 victory -- which had been the last time he won a game.
This was a game between two Missouri clubs that had been shut out Sunday -- the Royals by Toronto, the Cardinals by San Francisco.
Gordon ended the Royals' goose-eggery as he led off the seventh by driving a 2-0 high-and-away fastball into the right-field seats an estimated 417 feet away.
"It wasn't a strike, he was just sitting fastball and got it," Miller said. "It's kind of weird seeing him pull that pitch out for a homer, but it was a good hit."
Gordon rounded the bases in a hushed stadium with a satisfied feeling.
"After a shutout yesterday against [Mark] Buehrle, we needed something to happen and I think we just needed a spark, and that's what it was and our offense got rolling," Gordon said.
Did it ever.
Things quickly went awry for Miller and the Cardinals. Salvador Perez singled to left and took second on a wild pitch. Lorenzo Cain, on a hopper to third baseman Matt Carpenter, was ruled safe at first base -- a decision the Cardinals unsuccessfully challenged.
Another wild pitch advanced both runners into scoring position, and Moustakas unleashed a double deep into left-center field for two more runs. It was his first hit since returning from a 10-day exile to Triple-A Omaha.
"I was just trying to have a good at-bat, I wasn't pressing," Moustakas said. "That's one of the things I went down to Triple-A to work on. Kind of catch my breath and relax a little bit, and I was able to do that. And I was able to get a good pitch."
Miller got Alcides Escobar to fly out and Billy Butler, on the bench with no DH in the mix, pinch-hit for Duffy. He flied out to right and Nori Aoki flied out to left, ending the inning.
By that time, Duffy had thrown a modest 85 pitches, so he really didn't need to come out of the game. But, in St. Louis, National League rules prevail and pitchers have to hit -- or be pinch-hit for.
"I'm trying to get that last run, I want that fourth run. You know what our numbers are when we get that fourth run [23-4]," Yost said. "I was hoping we could drive him [Moustakas] in there and let Danny hit, but we had fresh arms in the 'pen."
But Butler made the second of three straight outs that Miller got. Even so, the Royals came right back with three more runs in the eighth.
Omar Infante's leadoff single finished Miller's evening. Reliever Randy Choate, a left-hander, got one out but walked Gordon. That brought right-hander Jason Motte out of the bullpen. Perez's single got through center fielder Randal Grichuk, and the error allowed two runs to score while Perez chugged all the way to third. He scored the sixth run on Cain's sacrifice fly.
In the wake of Duffy's pristine performance, relievers Kelvin Herrera, Wade Davis and Aaron Crow finished the shutout with an inning apiece. That gave Davis 15 straight scoreless innings in 12 games with 25 strikeouts.
Duffy's six shutout innings included just one hit, Matt Holliday's single in the first, and one walk, to Holliday in the fourth. Other than that, the Cardinals got nothing from him.
"I thought he was fantastic. I told him, 'You pitched a great game. You didn't throw a great game, you pitched a great game,'" Yost said.
"He was banging strikes. He was ahead in the count. He kept the ball down. He controlled his delivery. He did everything you want a pitcher to do."
Cardinals manager Mike Matheny certainly noticed.
"He was mixing it up, he used both sides and had a fastball that guys were having trouble timing up. That's going to make for a long night," Matheny said.
Duffy appreciated his defense.
"Moose made some nice plays, Omar made a heckuva grab. That's what we do, man. It's really comfortable to pitch with the guys you have behind you," he said.
And, of course, he lauded his offense.
"Moose came with it today, Gordo hit a bomb. It's nice, it's a lot of fun. Obviously, it's a lot of fun to win," Duffy said.
Not having that pesky dead arm helped, too.
Dick Kaegel is a reporter for MLB.com. This story was not subject to the approval of Major League Baseball or its clubs.