Vet Wolf triumphs over Rays for first Miami win
Lefty, who's had two Tommy John surgeries, K's seven in six frames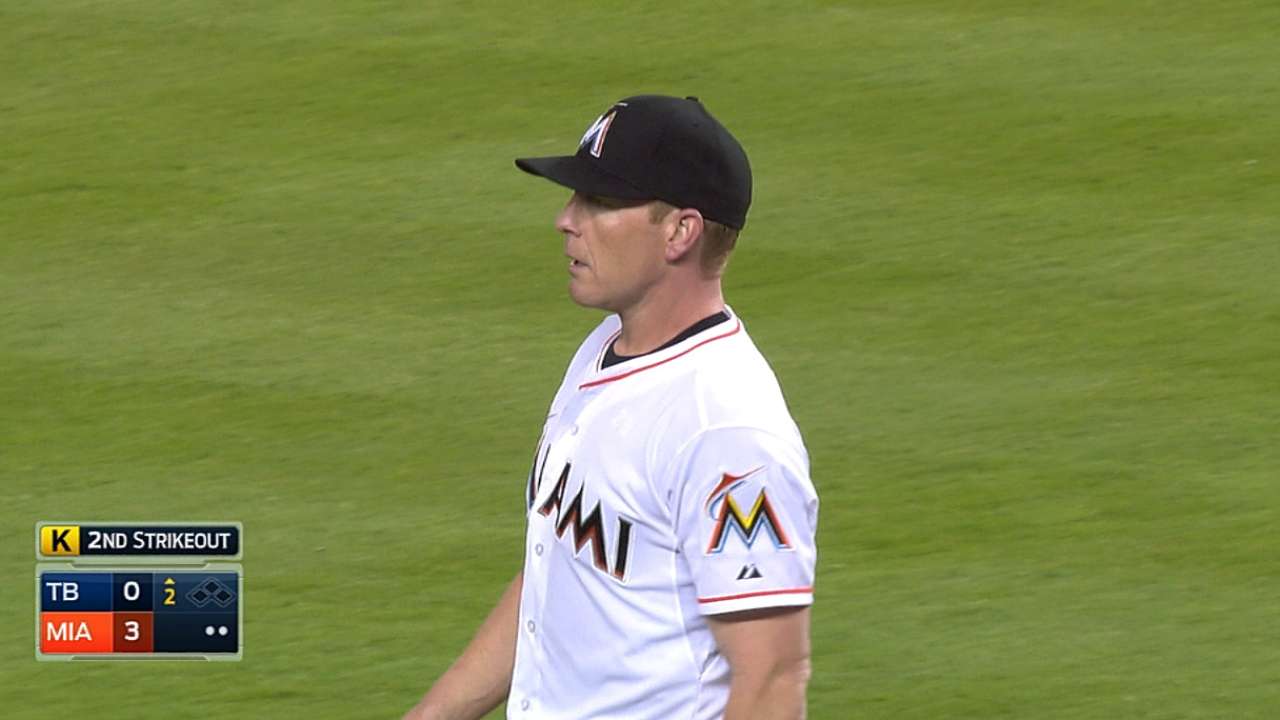 MIAMI -- A youthful Marlins' squad, coming off being swept by a division rival, was picked up on Monday night by a 37-year-old with a surgically-repaired left elbow.
Randy Wolf, in the twilight of his career, showed he still has something left, striking out seven while allowing one run in Miami's 3-1 win over the Rays at Marlins Park.
With his solid six-inning performance, Wolf became the oldest Marlins' starter to pick up a victory since Al Leiter, at 39, won on June 19, 2005.
The victory was Wolf's first as a starter since he was with the Brewers and beat the Cardinals on July 17, 2012. The same season, with the Orioles, he beat the Rays on Sept. 13, but he was used in a relief role.
"It's been a long, crazy road, especially recently," Wolf said.
Wolf has overcome so much, including two Tommy John procedures to his throwing elbow.
"In 2012, when I found out I had no ligament, it was tough news," Wolf said. "I knew it was going to be a long road. It was tough in 2013 to be home. I tried to make the most of it, kind of having an unknown future.
"Obviously, you're kind of counted out because of your age and it being the second [surgery]."
The Marlins signed Wolf on May 14 after Jose Fernandez was lost to Tommy John surgery for the season.
"It is a gratifying feeling to work hard and come back, and have a win," Wolf said. "For me, it's not time to sit back and relax. I feel I have more to do, and more to do to help this team."
After being swept by the Braves over the weekend, the Marlins were looking for a solid start. Wolf delivered.
After working six innings, he turned the ball over to Chris Hatcher, who threw a scoreless seventh inning. In the eighth inning, Mike Dunn and A.J. Ramos kept the Rays' bats quiet. Steve Cishek, who took the loss on Sunday, came back to work a clean ninth for his 12th save in 13 opportunities.
"Randy was great tonight," Marlins manager Mike Redmond said. "You saw a veteran go out there and control the strike zone, change speeds, mix and match. He was able to throw all his pitches for strikes and keep them off balance. It was a tremendous effort, exactly what we needed."
The Marlins had a little extra levity on the evening. Prior to the game, the Miami and Tampa Bay wives competed in a charity softball game, in which the home team edged the visitors, 10-9.
"Obviously, the players' wives set the tone with a big softball game early, 10-9, and we were able to do our part," Redmond said. "They battled. We had a couple of our key contributors out due to pregnancy. It was a great effort all the way around today."
Casey McGehee delivered a two-run single off Alex Cobb in the first inning to give Wolf an early lead.
Previously, McGehee and Wolf were teammates with the Brewers.
"That's the Randy I remember playing behind when I was in Milwaukee," McGehee said. "He's not overpowering, but he mixes and matches and keeps the ball down. He's not afraid of contact. When he's able to throw a couple of pitches for strikes to both sides of the plate, he's pretty good."
The lefty limited the Rays to one run on three hits while walking one.
The Rays, winners of 13 of the last 14 in the Citrus Series, were not pleased with umpire Bill Miller's strike zone.
"Some of it was Wolfe, some of it was kind of an amorphic strike zone, also," Rays manager Joe Maddon said. "I think it was a combination of two things. I can't walk away from that."
In his first start for Miami, Wolf allowed six runs (four earned) on nine hits in five innings in a loss to the Brewers on May 25. Monday's outing was Wolf's longest since he threw seven innings while with Milwaukee in a loss to the Phillies on Aug. 19, 2012.
Cobb has been tough on the Marlins, entering Monday night with a 2-0 record and a 1.35 ERA in 13 1/3 innings. The right-hander allowed just five hits in those games.
But in the first inning, Miami struck for three runs on three hits.
Cobb got into a jam immediately by walking Christian Yelich and allowing a single to Ed Lucas on a hard grounder that Evan Longoria was unable to scoop up at third. Giancarlo Stanton walked to load the bases with no outs.
McGehee slapped a two-run single, and the third run scored on Garrett Jones' double-play grounder to second.
Given a quick three-run cushion, Wolf retired the first 10 he faced before Yunel Escobar's single in the fourth.
Tampa Bay got on the board in the fifth inning. A leadoff walk to Sean Rodriguez set the tone. Rodriguez scored from first on Desmond Jennings' RBI double down the left-field line. Wolf was able to strand Jennings on second by striking out Cobb looking to end the inning.
Miami, a club that went 62-100 last year, is now 29-28.
"The fact we haven't played our best baseball and we're still in the hunt, I think those are things that are very encouraging," Wolf said.
Joe Frisaro is a reporter for MLB.com. He writes a blog, called The Fish Pond. Follow him on Twitter @JoeFrisaro. This story was not subject to the approval of Major League Baseball or its clubs.