Bats quiet behind Cobb, Rays drop seventh straight
Right-hander turns in quality start after giving up three first-inning runs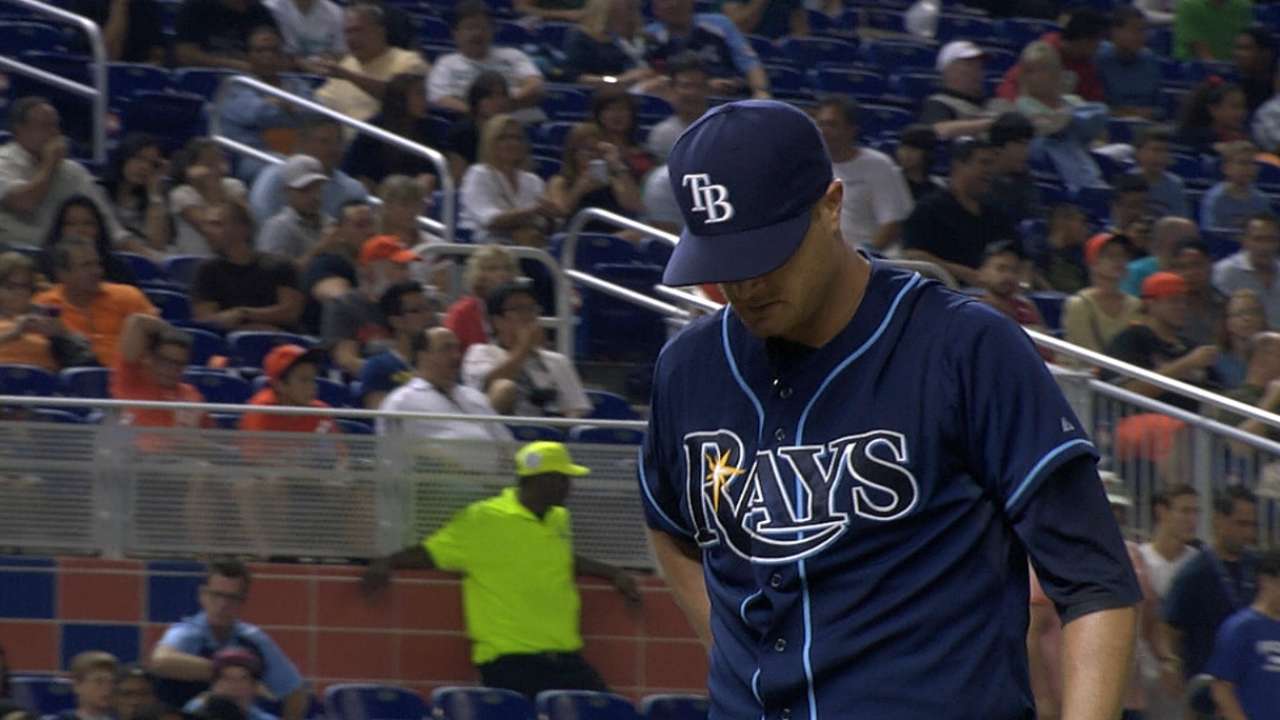 MIAMI -- Alex Cobb deserved better Monday night. Unfortunately, one blip on the radar is one too many given the way the Rays' offense has been operating lately. Cobb's one blip resulted in a 3-1 loss to the Marlins in the first of a two-game series at Marlins Park.
The Rays are winless on their road trip, taking their seventh consecutive loss while moving to 23-35 on the season.
The Marlins charged out of the gate in the first after Cobb walked leadoff batter Christian Yelich.
Ed Lucas followed with a single that perfectly reflected the Rays' recent tailspin when he hit a shot down the third-base line that deflected off third baseman Evan Longoria's glove. The play was one the Gold Glover usually completes, often making the difficult play look routine. If he had grabbed Lucas' shot, the Rays would have had at least one out. Instead, the Marlins had runners at first and third with no outs.
Giancarlo Stanton then walked to load the bases, before Casey McGehee delivered a two-run single. Stanton scored the Marlins' third run of the inning when Garrett Jones grounded into a double play. Based on the Rays' offense, the Marlins had put the game on ice after one inning of play.
Cobb did not allow another run in his six-inning stint. For the night, he gave up three runs on five hits and two walks while striking out five, but he came away with his third loss of the season. He is now 2-1 with a 2.33 ERA in three career starts against the Marlins.
"We've not been able to hit through some of our mistakes," Rays manager Joe Maddon said. "It was listed as a hit; it could have been an error on that chopper to Longo, too. But nevertheless, that's what it came down to.
"You still have to be able to play through that particular moment. We just have not been able to. We just have not been able to get enough offense going. That's it. That's it in a nutshell. ... It's the first inning, three points, we should be able to come back."
Desmond Jennings doubled off Marlins starter Randy Wolf with no outs in the fifth to drive home Sean Rodriguez. Typical of the Rays' offense of late, Logan Forsythe flew out, Jerry Sands lined out and Cobb looked at strike three to end the inning.
That proved to be the extent of the Rays' offense.
"Randy was great tonight," Marlins manager Mike Redmond said. "You saw a veteran go out there and control the strike zone, change speeds, mix and match. He was able to throw all his pitches for strikes, keep them off balance. It was a tremendous effort, exactly what we needed."
Wolf might have been great, as his manager said, but the Rays don't exactly bring to mind the '27 Yankees these days. They have scored only 17 runs during their losing streak. In addition, they have lost nine straight on the road, while being outscored 51-19.
Monday night's loss left the team again looking for answers. Count the fiery Cobb as one who is ready for a turnaround.
"It's beyond frustrating," Cobb said. "I mean, I really don't know what to say to it. There's no words. This has gone on too long. We have to figure something out. This is not the way we play baseball around here, and we're going to have to figure it out quick."
Cobb noted that he had not seen any of his teammates readily accept the losing, but he also feels like the time is right for everyone in the clubhouse to do some soul searching.
"I see how people care as much as they do around here," Cobb said. "I definitely don't think anybody in this locker room is accepting defeat, but when we start doing this, that kind of comes with it. People show up to the park and sometimes expect to lose. And I've seen ballclubs that play like that. You know, that better not happen around here."
Many had picked the Rays to finish first in the American League East this season. After Monday night's loss, they remained in the basement. Cobb said the Rays simply can't accept defeat.
"You pave your own way," Cobb said. "This isn't something that you just show up and play ball. And this team is put together, and we're good, on paper we're good, and you show up and throw your hat out there and play ball.
"Things happen throughout the course of the season. Struggles happen and you have to get out of them as soon as possible. And I think seven straight losses is way too long. It's going to be up to us individually to look at ourselves and figure it out."
Rays pitchers did hold one of the best-hitting teams in baseball to five hits, but Cobb did not feel like finding a silver lining.
"I'm over taking positives away from games," Cobb said. "That obviously isn't getting us anywhere. Maybe we need to dwell on the negatives a little bit more. Stop looking at the positives."
Bill Chastain is a reporter for MLB.com. This story was not subject to the approval of Major League Baseball or its clubs.