McGee turning it up a notch in Rays' bullpen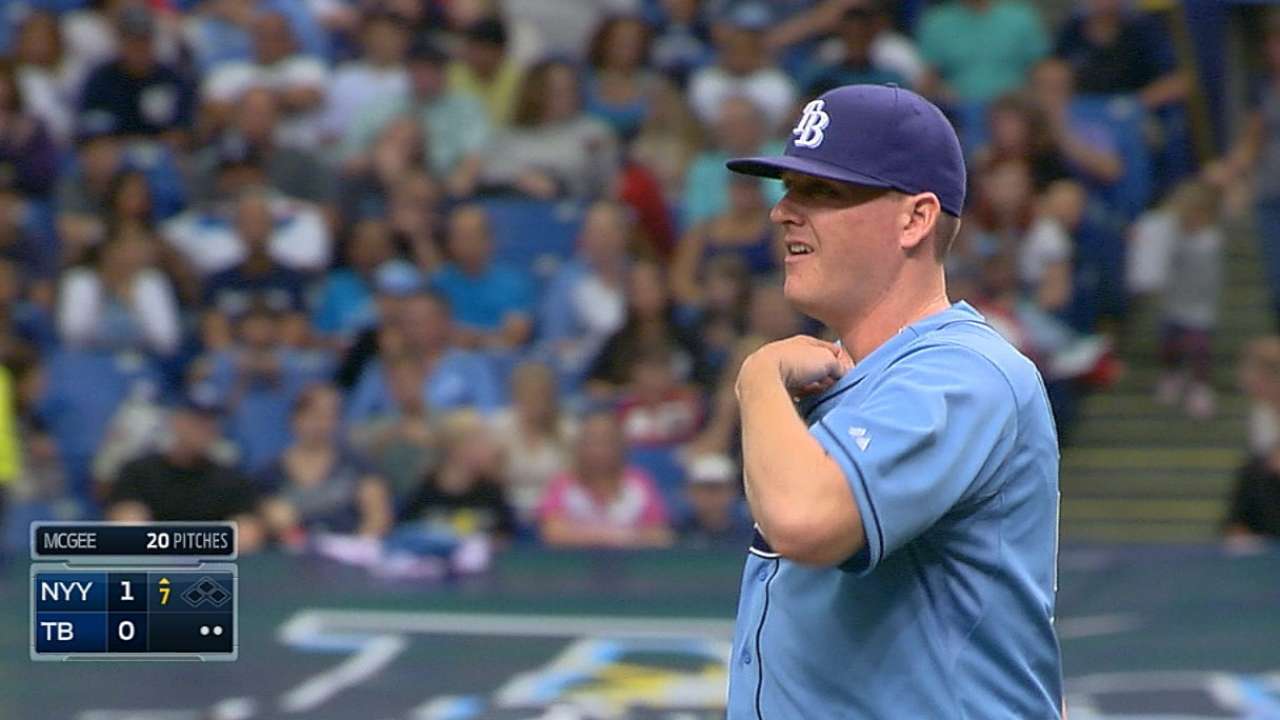 MIAMI -- Jake McGee is a force out of the Rays' bullpen.
The hard-throwing left-hander has been good over the past several years, but he's really turned it up a notch this season. Entering Monday night's action, he had a 2-0 record with a 1.09 ERA. On top of that, he made 14 appearances in May and did not allow a run. In club history, only J.P. Howell (also 14 in June 2009) had as many appearances in a one month without allowing a run. McGee last allowed a run on April 28 against the White Sox, and he has retired the last 18 batters he's faced -- eight by strikeout.
McGee is doing it all primarily with one pitch. Yes, he started throwing a curveball again during Spring Training, but his fastball is so good, that seeing another pitch from him is rare.
"It's about location with me," Rays manager Joe Maddon said. "But don't always listen to your daddy, although I'm all about daddies."
Maddon was referring to the fact that he doesn't believe a pitcher's success is always determined by being able to keep the ball low. This particularly applies to McGee.
"It's not about the ball being down all the time, either," Maddon said. "It's not always about catching the ball with two hands; that's inappropriate also. There's all these misconceptions. And Jake does better work when he's not down all the time.
"Infielders aren't always better when they catch the ball two-handed. When Jake's locating the ball where he wants to, that's the point."
Joel Peralta has been around McGee for several years now. When asked about McGee, he expanded on what Maddon said.
"He's been able to figure out how to pitch with one pitch," Peralta said. "It's not only because of velocity, because there are guys who throw as hard as he throws and get hit. But this dude is able to do it with one pitch, practically, and challenge the hitters.
"But I think that he understands that when he throws a ball up in the zone, nobody can touch him. He's been really good, and I think he's only going to get better."
McGee did not originally intend to find success in the top half of the strike zone. But after getting a lot of popup outs and swings and misses when he ventured above the waist, he figured he was on to something.
"But for me, I have to show both," McGee said. "I got to show down and high. I feel like some games, if I'm sitting high all the time, they'll see that and hit it. For me that's like throwing -- low and high -- two different pitches."
Bill Chastain is a reporter for MLB.com. This story was not subject to the approval of Major League Baseball or its clubs.