Leadoff production a reliable forecaster of wins
Creating havoc at top of lineup consistently yields positive results; slumps prove costly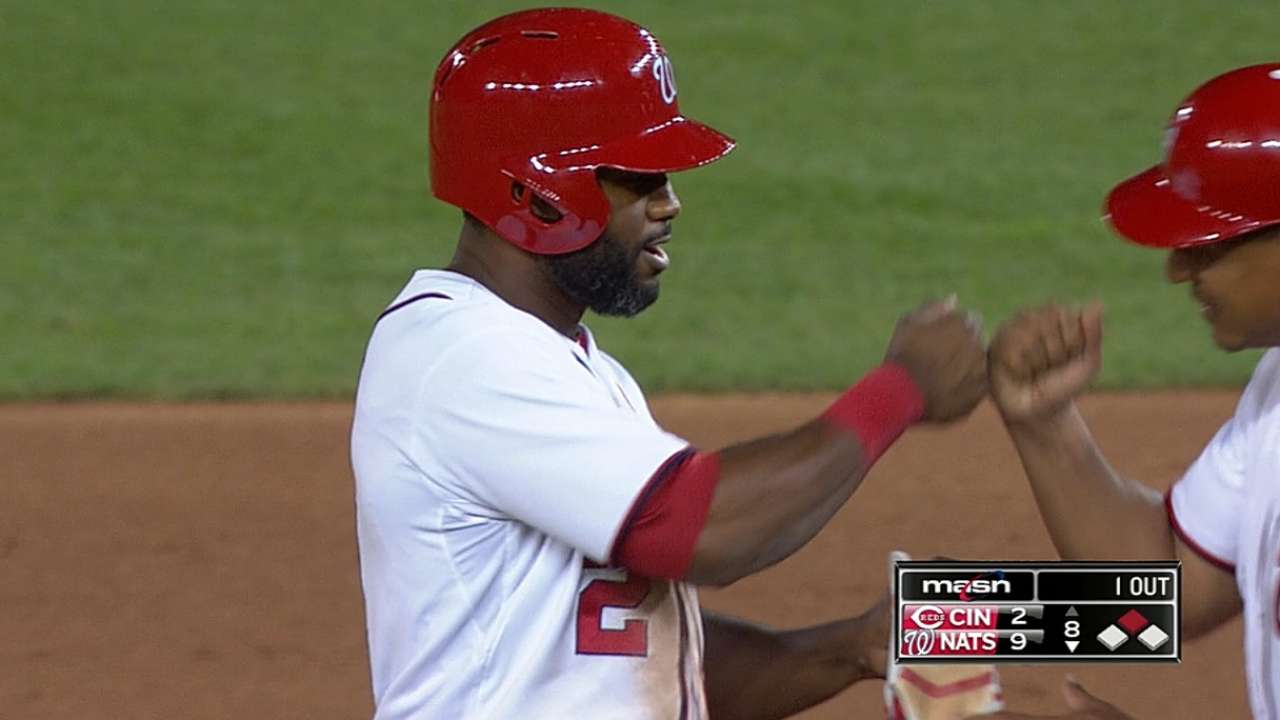 It was pointed out recently that there seems to be a pretty direct connection between the success of the Nationals and their leadoff hitter, Denard Span.
The evidence, entering Tuesday's game against the Phillies, is as follows: Span has played in 48 games. Washington has won half of those. In the wins, the center fielder has batted .378 with a .421 on-base percentage. In the losses, he has hit .178 with a .221 OBP.
"It sets up everything," teammate Jayson Werth said. "When you get your leadoff guy on base and having good at-bats and grinding out at-bats, working the pitcher ... when he's going good, he doesn't give an at-bat away. If that's your leadoff guy, that just sets up the rest of the lineup."
That's been the conventional thinking over the years. The leadoff man sets the table and everything else follows. Think of Rickey Henderson, possibly the best leadoff hitter in baseball history, with his career .401 OBP and his record 1,406 stolen bases.
On the other hand, the role of the leadoff hitter has changed dramatically in recent years. Many of them are just as likely to swing for the fences as work a walk. Besides, after the first at-bat of the game, the No. 1 batter could come to the plate at any point of an inning. So is Span an exception? How much does having a productive leadoff hitter really matter these days?
"Good question," said Phillies bench coach Larry Bowa, who generally batted first for Philadelphia teams that went to the playoffs five times in six years beginning in 1976, winning a World Series title in 1980.
"But I do know when those guys get on, not only does it create havoc, it changes the whole mentality of the pitcher. He knows the runner is over there, so now he slide steps, and you don't get quality pitches when you slide step. Your breaking ball's not as good. Your fastball's not as crisp. You're concentrating on two guys at one time. So that means that guys down below you get better pitches to hit. You have a hole to shoot for.
"I agree that it doesn't matter once the leadoff man has had his first at-bat. But he can create so much havoc that pitchers change. I watch this with Billy Hamilton. I watch it with Dee Gordon. Hitters get pitches to hit because the pitchers are so conscious of, 'Keep him on first. Don't let him steal second.' Then when he's on second, you've got to be careful of him going to third."
And the numbers indicate that even leadoff hitters without disruptive speed can have a greater impact than might be anticipated.
Rockies outfielder Charlie Blackmon, for example, has 10 stolen bases this season. Decent, but not overwhelming. But he's hitting .406 with a .438 OBP and 25 runs scored in Colorado's wins, compared to .222, .257 and 11 runs scored in its losses. Twins second baseman Brian Dozier has swiped a dozen bases. He has a .435 OBP and 32 runs in wins, .237 and 13, respectively, in losses.
Giants center fielder Angel Pagan has 11 steals. He's .385/.417 with 25 runs scored in victories and .212/.268 with six runs in defeats and is a big reason why his team in first place in the National League West. Same goes for Carlos Gomez of the NL Central-leading Brewers. His splits are also dramatic: .359/.432 with 29 runs in wins and .233/.317 with seven runs in losses to go along with 11 steals.
Span, who has eight stolen bases, falls into the same category. But he demonstrated how he can contribute in a recent win over the Reds. He had three singles -- one on a bunt for a base hit -- doubled twice, scored twice, drove in two more, stole a base and helped force two errors by Cincinnati's defense.
"For me, that's how I have to take over a game," Span said afterward. "I can't take over a game by just driving in runs all the time. I can sometimes. But my way of taking over a game is by letting my athleticism do the talking for me."
The flip side of the coin is losing the guy who sets the tone at the top of the order. The Red Sox went all the way to the World Series with Jacoby Ellsbury in that role in 2013. He left as a free agent and, until recently, Boston has struggled. Manager John Farrell has used five players in that spot in the order, creating instability up and down the lineup. And, for what it's worth, Ellsbury has 15 stolen bases for the Yankees while the entire Red Sox team has 15, next to last in the American League.
Of course, there's no one-size-fits-all formula for winning. Still, the Brewers (.360), Giants (.350) and Tigers (.344) are all the top teams in terms of on-base percentage from the leadoff spot, ranking third, fourth and fifth, respectively -- and all lead their divisions. The Rangers (.376) lead the category, which may help explain why they've been able to stay in contention despite being decimated by injuries.
The Athletics and Blue Jays also lead their respective divisions and are tied for third with 41 runs out of their No. 1 hitters.
So, yes, a leadoff hitter can have an outsized impact on the outcome of a game. But only if he produces. Span's OBP, for example, languished under .300 for much of this season, although he's now boosted it to .318.
"This is what I bring to the table," Span said after a five-hit game. "I haven't shown it a lot, but this is what I can do. Now it's just about being consistent with it, doing it on a more consistent basis."
Paul Hagen is a reporter for MLB.com. This story was not subject to the approval of Major League Baseball or its clubs.