Making brief homecoming, Jones has sparked Seattle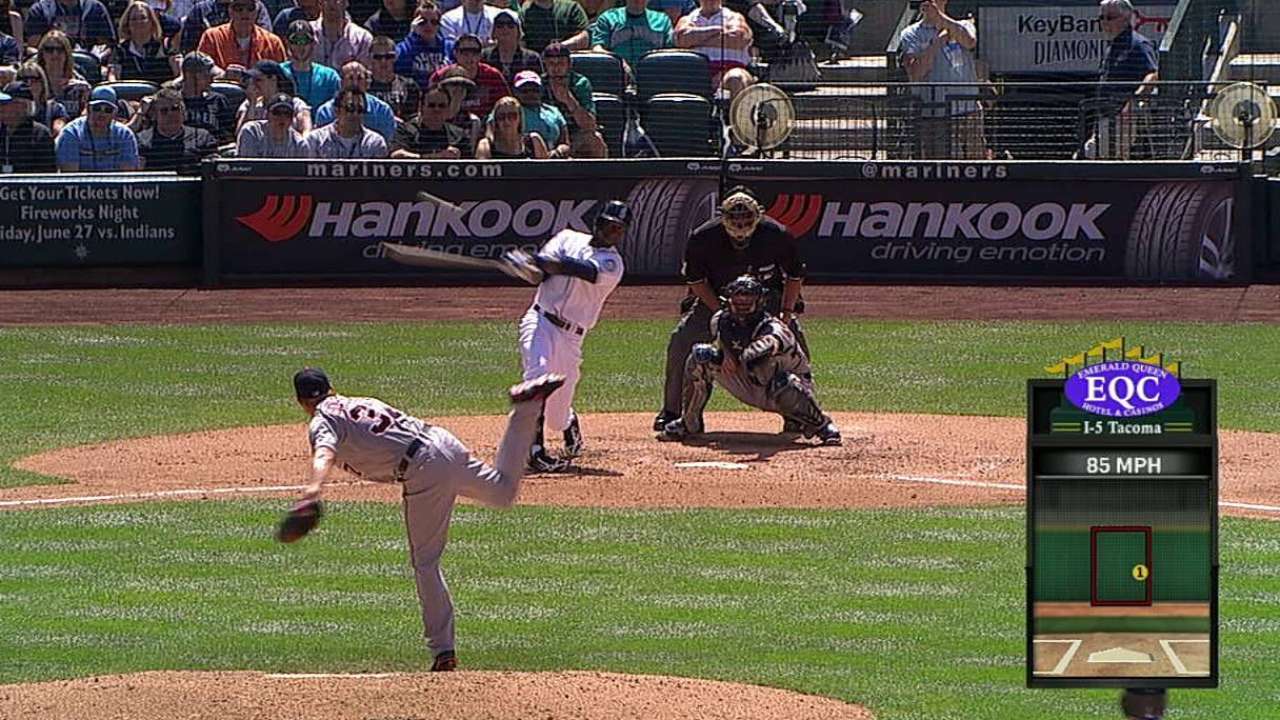 NEW YORK -- Mariners center fielder James Jones missed his homecoming when Seattle made its annual trip to New York in late April. He was still in Triple-A Tacoma, and the Brooklyn native was called up just days later to play in Oakland. But when the middle game of the Yankees series was rained out, Jones knew he'd get another opportunity if he stayed with the club.
"I know a couple of guys were probably not too happy about the rainout," Jones said. "But luckily it bounced my way to play in front of my family and friends."
Jones went 0-for-4 with a pair of strikeouts in Monday's 10-2 victory.
After swapping places with Abraham Almonte in Tacoma, Jones has made the most of his time in a Mariners uniform. Since taking over center field in early May, the rookie has hit .276 and showed off his dynamic speed, chasing down fly balls and legging out a couple of triples and five stolen bases.
"He's been fantastic," said manager Lloyd McClendon of Jones, who tallied a 14-game hit streak in May. "He's ignited our offense at the top of the order. He's getting on base, he's playing good defense. He's got the ability to stretch the field both offensively and defensively. He's been very nice for us."
A native of Crown Heights, right where Ebbets Field stood, Jones -- who said his mother, sister, trainer and a few close friends would be in attendance Monday -- graduated from Long Island University-Brooklyn. He played outfield but also pitched, the tool that attracted most Major League scouts.
"Not good," Jones said of his pitching skills. "I just threw hard, I didn't have a lot of other stuff to go with it. The Mariners were the only ones to have me take BP, but everywhere else just had me throw a bullpen, and then I was done. I think over at Yankee Stadium I hit somebody [laughing]."
Seattle is now reaping the rewards of other teams' oversight while Jones is taking advantage of the team's older players, like outfielder Endy Chavez, helping his transition to the big leagues.
"Endy Chavez has helped me a lot, especially when I was in Triple-A and big league camp also," Jones said. "He helped me a lot with baserunning, but most importantly defensively. Reading swings has helped me a ton."
"He's good. He's a smart player ... and he brings a lot of energy to the team," said Chavez, believing Jones reminds him of his younger self. "The energy, the hustle, he reminds me of those times."
Chavez, along with veterans Willie Bloomquist and Robinson Cano, have made his first month as a pro very smooth.
"It's surreal," Jones said. "It's a great bunch of guys, a group that helped me transition well. They've just made it easy for me."
Jake Kring-Schreifels is an associate reporter for MLB.com.& This story was not subject to the approval of Major League Baseball or its clubs.