Mets punctuate five-game series with rout of Phils
Colon, den Dekker, Flores lead the way as New York takes four of five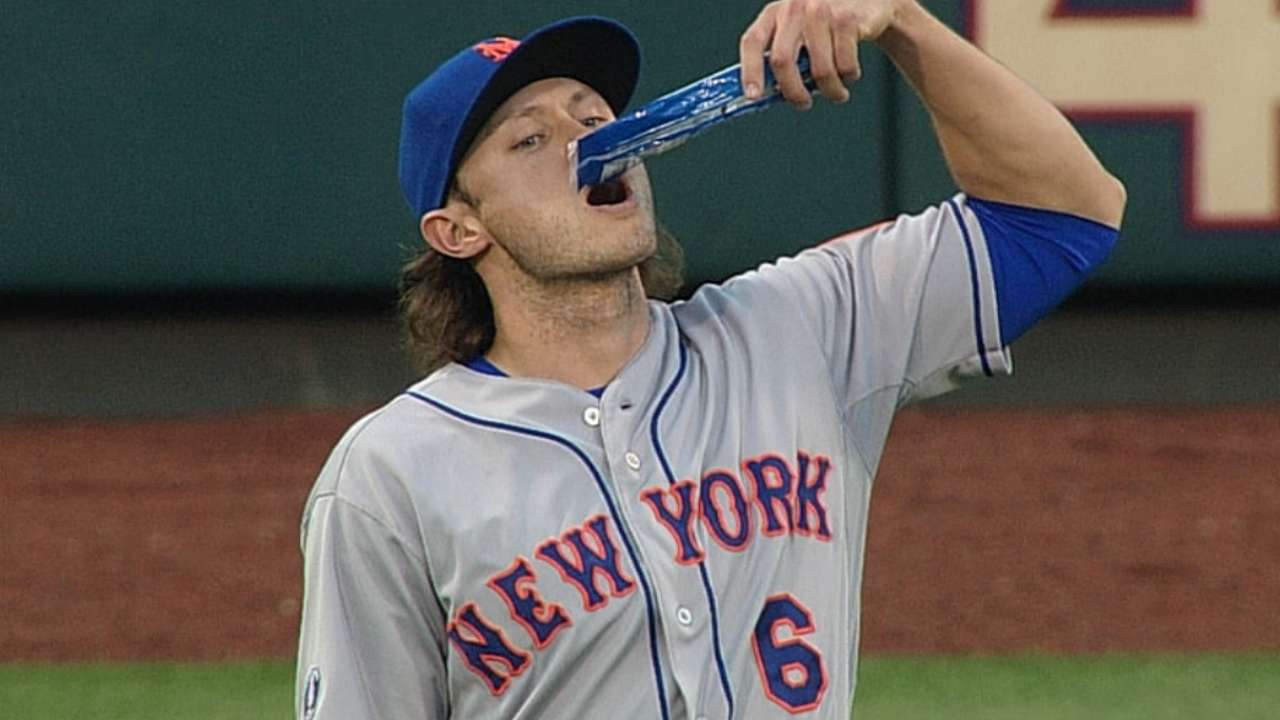 PHILADELPHIA -- Just to arrive at their middling place in the standings, the Mets so often this season have had to adapt. When their hitting faltered, they called on 40-year-old Bobby Abreu and others. When their most consistent starting pitcher landed on the disabled list, they hardly missed a beat.
When they played five games and 57 innings over five days in Philadelphia, the Mets found a way to win four of them.
The latest incarnation of that adaptability surfaced Monday, when the Mets placed do-everything center fielder Juan Lagares on the DL, replacing him with Matt den Dekker. Hours later, den Dekker played some sensational defense to keep Bartolo Colon's strong start intact, leading the Mets to an 11-2 win over the Phillies.
"That's why you play," manager Terry Collins said. "If you're going to be out there all that time, you might as well win the games."
Colon earned plenty of praise for his stat line at Citizens Bank Park, with six hits and two runs allowed in seven-plus innings. But den Dekker helped make it so. In the second inning, he robbed Ryan Howard of his third homer in as many games with a leaping catch at the center-field wall. Then in the third, den Dekker threw out Reid Brignac trying to score from second on Ben Revere's single.
In the sixth, den Dekker made another fine grab of Marlon Byrd's sinking liner, though the degree of difficulty paled in comparison to his previous two highlight-reel plays.
"I'm just trying to stay ready," den Dekker said. "Nobody knew that Juan was going to go down. Things happen like that, so I just tried to get in there and have a good game and help the team out."
He provided more than enough help for Colon, who built on his own recent success -- two runs allowed in his previous two starts combined -- with seven-plus strong innings. Colon, who came into the game leading the National League in strikeout-to-walk ratio, uncharacteristically walked three batters -- including a free pass in the sixth that led to a run. But he struck out five and generated ground balls when he needed them, leaving after allowing singles to the first two batters he faced in the eighth.
When asked if he preferred den Dekker's catch to a similar one that Lagares made for him earlier this season, Colon quipped: "I liked den Dekker's because it was tonight. Lagares' was ages ago."
den Dekker also helped support Colon with a single and a run against Phillies starter Roberto Hernandez in the sixth inning, but David Wright and Wilmer Flores provided the big blows with two-run doubles off Hernandez, who allowed a total of five runs in 5 1/3 innings.
"Tonight meant a lot," said Flores, who has been losing time at shortstop to Ruben Tejada. "I just want to prove to them I can do the job."
Flores later keyed a six-run rally with a grand slam in the ninth -- "icing on the cake," as Collins called it -- making a laugher out of what had once been a close game.
And so the Mets laughed in the postgame clubhouse, yukking it up with each other as music pulsated. They were gassed, but happy.
A few hundred feet away, the Phillies groused.
"We didn't play well in this homestand," second baseman Chase Utley said. "There's nothing we can do about it now."
Over the past five days, the Mets had shuttled players in from Triple-A Las Vegas, dealt with significant fatigue and spent precious little time in their hotel rooms. They adapted, and den Dekker was the poster child of all that; shortly after the Mets optioned him to Las Vegas on Sunday to make room for reliever Dana Eveland, they told him to stick around in case Lagares' situation worsened.
So den Dekker enjoyed what Philadelphia has to offer, checking out the Liberty Bell and relaxing in his hotel room. Eventually, a team official called him and told him to skip his flight. The next morning, he learned that he was back on the team.
By nightfall, den Dekker was a contributor. The adaptable Mets had found a way again.
"To go through what we went through, we're tired," Collins said. "I'm not going to make any bones about it. This team's tired. You don't play 11 hours of baseball in a 24-hour period and not be exhausted, and then have to bounce back the next day to play again. I salute them."
Anthony DiComo is a reporter for MLB.com. Follow him on Twitter @AnthonyDicomo. This story was not subject to the approval of Major League Baseball or its clubs.