Mariners' bats turn Felix's fifth straight win into romp
Seager goes 4-for-5 with homer, two triples and double to lead eruption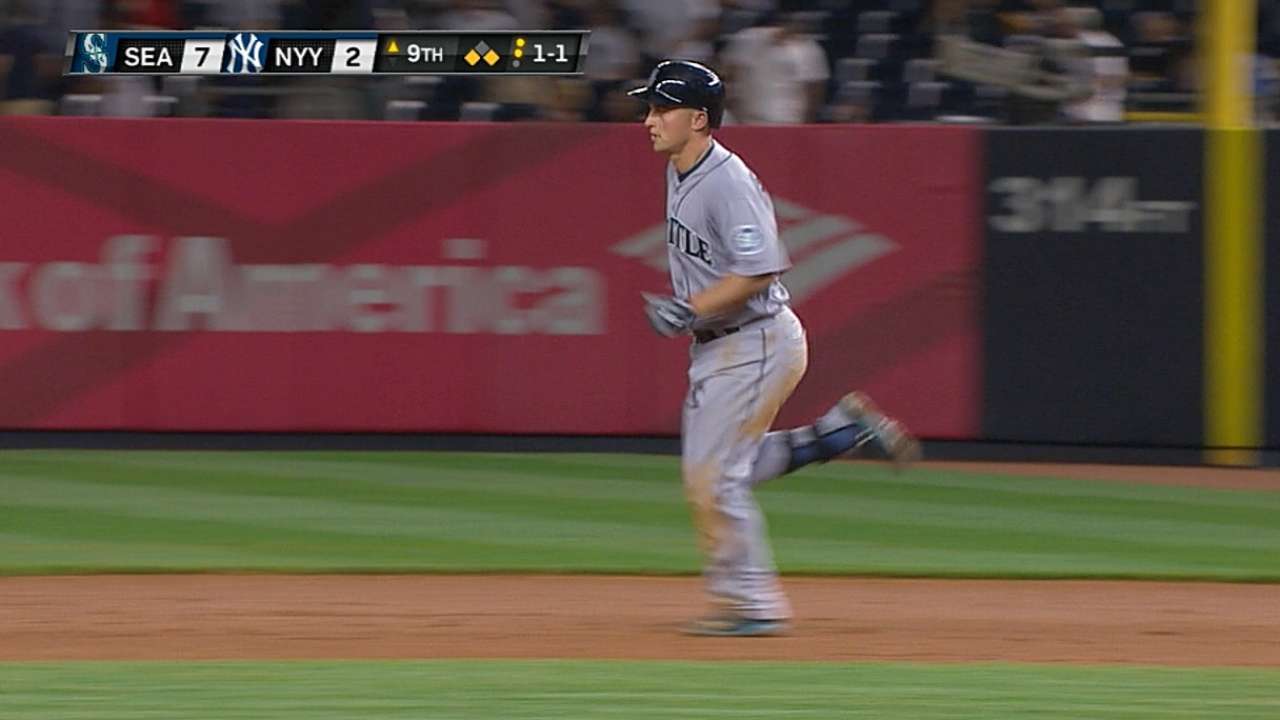 NEW YORK -- Last year, Felix Hernandez had to be nearly perfect if he wanted to earn a win. In games he pitched, the Mariners' offense averaged just 3.7 runs behind him. One bad inning usually cost him a victory.
But 2014 has been different. Entering Monday night's game, the Mariners have supplied arguably the best righty in baseball with an average of 5.3 runs in games he starts. The blemishes he makes on the hill have no longer felt irredeemable.
That observation was proven to full effect in the Mariners' 10-2 victory -- and in effect a sweep as a makeup for an April 30 rainout -- over the Yankees on a beautiful June evening in the Bronx. Locked in a 2-2 tie, with Hernandez likely to pitch just one more inning, the Mariners' offense came alive in the seventh inning, when shortstop Brad Miller connected on a two-run bases-loaded single up the middle that chased Yankees starter David Phelps from the game.
Two batters later, with runners on second and third, Michael Saunders, facing lefty Matt Thornton, broke the game open, plating two more with a hard single to right that sneaked under the glove of first baseman Kelly Johnson. A 6-2 lead was all Hernandez (8-1) needed to work with in the bottom of the inning and earn his fifth straight victory.
"[My] pitches have been working better, mechanics are very consistent and we're scoring a lot of runs," said Hernandez. "When you see that kind of run support, it's always fun to pitch."
Reliever Charlie Furbush pitched a scoreless eighth, and Joe Beimel finished the game with extra padding courtesy of Saunders, who launched his fourth homer to right field, and Kyle Seager, who blasted a three-run homer even farther off righty Alfredo Aceves in the ninth.
That put an exclamation point on Seager's career night at the plate. The third baseman collected two triples in his first two at-bats and finished 4-for-5 -- just the 14th Mariners player to record two triples in one game. His four extra-base hits, including a double, tied a club record for most in a game.
"He's getting better," said manager Lloyd McClendon. "He's still got a way's to go, as do a lot of [players], but they're getting better with their approaches, their game plan. I've been pleased."
"Anytime you give that guy some runs you feel good about yourself," said Seager. "It would've been nice to get them a little earlier to breathe a little bit, but just to give him some runs and answer back like that, you feel really good about your chances when you give him a lead."
Hernandez's only real trouble came in the fourth, and his only kryptonite was Yangervis Solarte, who roped two hits off the ace and spurred the Yankees' two-run rally with a one-out double, moving Brian McCann -- who singled -- to third. After Alfonso Soriano struck out, Hernandez kicked a grounder from Ichiro Suzuki that Miller bobbled with his bare hand, allowing Solarte to score after McCann. Miller saved another run, nabbing Suzuki, who was caught rounding the third-base bag on Kelly Johnson's single to end the inning.
Hernandez, who lasted seven innings and scattered eight hits over 111 pitches, labored but was still effective. He allowed at least one baserunner in each of his first four innings, but his fastball continued to push 94 mph, breaking bats and escaping bigger innings. He also continued his streak of pitching well at Yankee Stadium, earning his fifth career win there.
"I like it, there's a lot of history here," he said, attempting to explain his dominance in New York. "It's a challenge to face this team."
The Mariners began their scoring in the second with three straight hits, led loudly with a triple off the center-field wall by Seager. Mike Zunino drove him home with a liner that nearly buzzed Phelps' head.
Seager caught two breaks for his second triple when Brett Gardner couldn't make a sliding catch on a blooper to shallow left. It trickled to the wall as Derek Jeter, unaware third-base umpire Brian Gorman ruled the ball fair, slowly jogged to pick it up. Seager coasted into third and later scored on a Dustin Ackley fielder's choice to Brian Roberts at second.
"I thought it was foul because I was in foul territory running after it," Jeter said. "At first, I almost caught it when it deflected off [Gardner]. I sort of swiped at it. I almost got it. If I had swiped at it and hit it out to center field, we would've been in a lot of trouble, too."
In the top of the seventh, Phelps unraveled. With runners at first and second, Endy Chavez laid down a bunt, which Phelps fielded and threw to third, but Zunino beat the throw, garnering an unsuccessful challenge from Yankees manager Joe Girardi. Miller then greeted a knuckle curve with a grounder up the middle, scoring the two go-ahead runs.
"That felt good," said Miller. "Obviously, coming up with the bases loaded and no outs, they put you in a good position, and [I'm] just trying to get it done, tie game, and was able to get that one up the middle. That one definitely felt great."
"That was a big inning for sure," said Seager. "A big hit by Miller and big hit by Saunders to get those runs in."
Phelps limited Seattle's chances early, stopping potentially big innings by policing runners at first base and working out of jams. After plating Seager twice from third base, the Mariners' offense sputtered until the seventh.
In his second reunion with his former team, Robinson Cano -- who returned to the lineup after missing four games -- went 1-for-3, walking twice. In the third, having already received another helping of boos, Cano was caught stealing second base.
The Mariners have now won three straight games and fly to Atlanta for a two-game series starting Tuesday. They get their first off-day of the month Thursday, preceding a weekend set with the Rays.
"We're gonna have our good days, we're gonna have our bad days, and we're gonna have some days like this as well," said McClendon. "This is a good team. We came out swinging, and things were in our favor tonight."
Jake Kring-Schreifels is an associate reporter for MLB.com‬‬. This story was not subject to the approval of Major League Baseball or its clubs.