Yankees see Mariners pull away, pile on in loss
Phelps, bullpen falter amid miscues; bats again baffled by Felix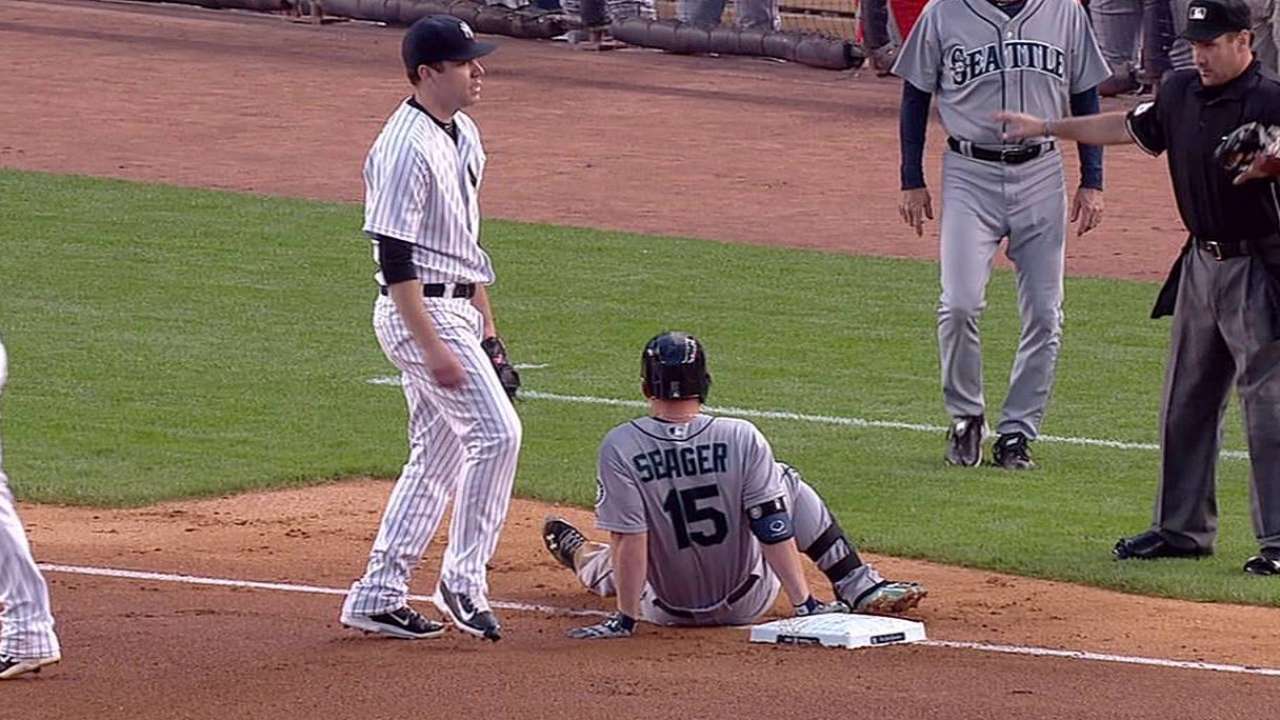 NEW YORK -- Derek Jeter trotted down the left-field line, incorrectly assuming that a fourth-inning popup had landed in foul territory, and David Phelps could be seen mouthing the words toward the Yankees captain: "Throw the ball!"
The right-hander's on-field outburst came on another frustrating evening for the Yankees, marked by low-octane offense and miscues both in the field and on the basepaths. The Mariners stormed ahead with a four-run seventh inning and pulled away late, posting a 10-2 victory on Monday at Yankee Stadium.
Phelps quickly realized the high-def cameras and sensitive microphones scooped up his words, but he was hardly the only one trying to get Jeter's attention. Brett Gardner, who slid and missed the popup, finally alerted Jeter that the play was continuing and Kyle Seager was circling the bases.
"It never even crossed my mind that it was fair. I almost gave it to a fan," Jeter said. "I'm glad I didn't."
New York lost for the third time in four games as Felix Hernandez (8-1) was his usual tough customer in the Bronx, rolling through seven strong innings and limiting the Yankees to two runs and eight hits in a makeup of an April 30 rainout.
"We're not a club right now that's hitting the ball out of the ballpark, so you have to put a lot of base hits together," Yankees manager Joe Girardi said. "And we're not hitting a lot of doubles either, so you have to put a lot of base hits together."
Phelps (1-3) kept the game tight until the seventh, when Seattle's rally started with runners at first and second and none out. Endy Chavez dropped a bunt that Phelps fielded, firing to third base too late to catch Mike Zunino, a call deemed to stand by video review after Girardi's challenge.
"I knew it was close," Phelps said. "I felt like that ball just never got to me. He made a great bunt. I felt like I had a good chance to make that play. It's a game of inches today."
Brad Miller followed with a two-run single up the middle. Matt Thornton relieved Phelps and, after a sacrifice advanced the runners, Michael Saunders rolled a grounder under Kelly Johnson's glove at first base that was scored a two-run single.
Seager had a four-hit night to remember, including a three-run homer off Alfredo Aceves in the ninth. Seager's two triples sparked both of Seattle's first two runs; he opened the second inning with a three-base hit off the center-field wall that kicked away from Jacoby Ellsbury and scored on a Zunino infield single.
Seager then started the fourth with a pop fly to left that Gardner pursued before going into a slide.
"It was a weird play," Gardner said. "I should have caught the ball. The ball was in my glove."
It popped out and ricocheted off Jeter, who was backing up the play but chased the ball without urgency. Seager alertly raced to third base, scoring on Dustin Ackley's one-out fielder's choice.
"It looked like it was foul. I don't fault [Jeter] one bit," Phelps said. "My emotions probably got the best of me, because I saw Seager rounding the bases and I was just hoping he didn't get to the plate."
"I thought it was foul because I was in foul territory running after it," Jeter said. "At first, I almost caught it when it deflected off [Gardner]. I sort of swiped at it. I almost got it. If I had swiped at it and hit it out to center field, we would've been in a lot of trouble, too."
Phelps was charged with six runs and six hits in six-plus innings. The right-hander walked three and struck out four, and helped himself by catching two runners off first base -- Robinson Cano in the third and Ackley in the fourth.
"It's one of those things," Phelps said. "You think about that [Jeter] play, the ball Zunino hits down the line [a double to lead off the seventh]; inches really made the difference in today's game. Weird things like that happened tonight."
Something that wasn't out of the ordinary? A dominant Hernandez performance. He walked none and struck out eight, improving to 5-1 with a 1.37 ERA in seven starts at the current Yankee Stadium, retiring the final nine men he faced.
"He was like he is pretty much every time out. He's tough to score runs off of," Jeter said.
New York scored its two runs in the fourth inning; Ichiro Suzuki drove both home with a ball that never left the infield dirt, striking Hernandez's foot and kicking out to the shortstop Miller, who tried to barehand the ball and then had to turn his back to chase it down.
Brian Roberts and Johnson followed with hits, but Miller made a great play to track down Johnson's roller in the outfield grass, throwing behind Ichiro to pin him off third base and retire the side.
"It's unfortunate. Maybe we could have done a little bit better, but I don't think it was from lack of effort," Girardi said.
Bryan Hoch is a reporter for MLB.com. Follow him on Twitter @bryanhoch and read his MLBlog, Bombers Beat. This story was not subject to the approval of Major League Baseball or its clubs.