Reynolds, Lucroy homer to back impressive Garza
Right-hander goes 6 1/3 scoreless frames and strikes out eight Twins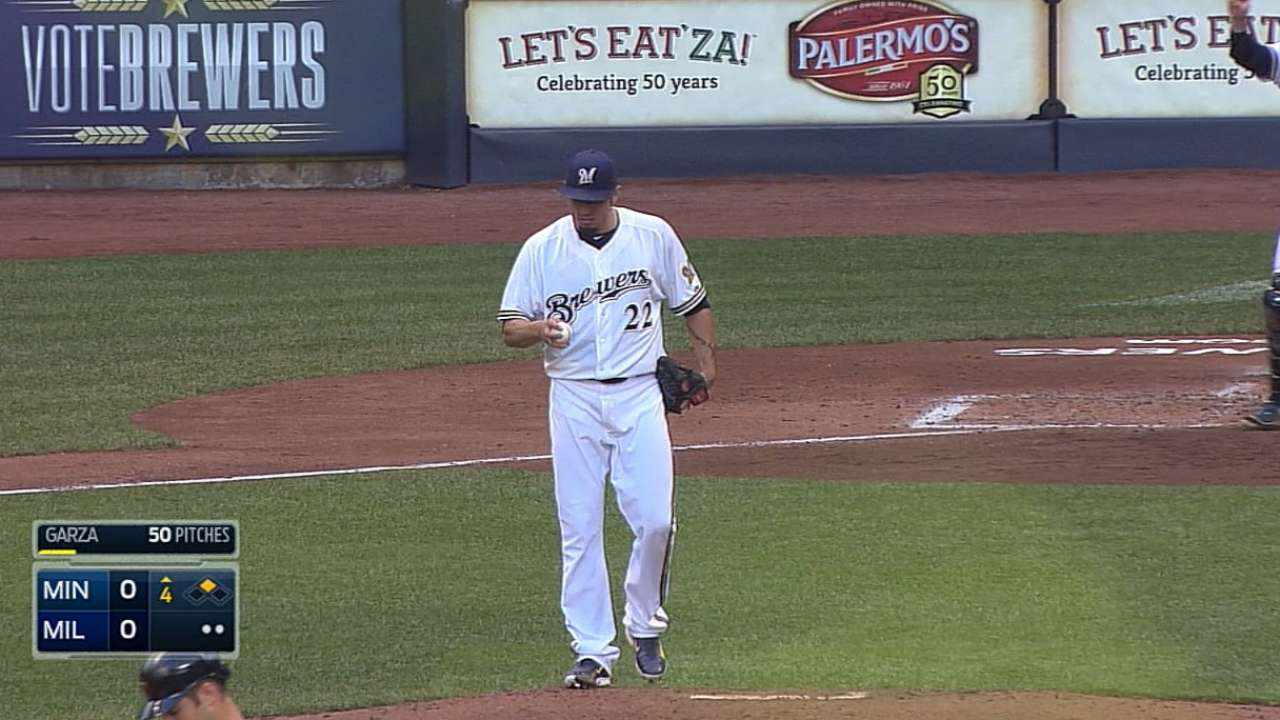 MILWAUKEE -- This was more like it for Brewers newcomer Matt Garza.
He may not have been as efficient as Kyle Lohse the day before, but Garza pitched into the seventh inning without allowing a run and sent the Brewers on their way to a 6-2 win over the Twins at Miller Park on Monday. By winning for the fifth time in six games, Milwaukee moved five games over second-place St. Louis in the National League Central.
Mark Reynolds and Jonathan Lucroy homered to support Garza's first scoreless start this season, and his best outing statistically -- 6 1/3 innings, six hits, two walks, eight strikeouts -- since he took a no-hitter into the seventh inning of his Brewers debut. Since that gem against the Braves, Garza had surrendered three or more earned runs in nine of his next 10 starts.
Not bad, but the Brewers were hoping for more when they guaranteed Garza $50 million on a four-year contract.
"I never felt scared about Garza," said center fielder Carlos Gomez. "Because at the end of the year, his numbers are going to be there and he's going to help us win. [Even when] he's not winning games, he's going to go deep into the game.
"Personally, every time Garza pitches, I feel like it's a win. And it's not only him. We have to support him and make some runs."
They did just that on Monday, though it took a while against Twins right-hander Kyle Gibson, who entered the night with a 7.77 ERA in his first five road starts but retired the first nine Brewers batters he faced.
Jean Segura broke up Gibson's bid for a perfect game when he bunted for a single leading off the fourth inning, and it turned into the game's first run. Segura advanced on Ryan Braun's swinging bunt and scored on an RBI single for Lucroy, who took second base when Twins center fielder Danny Santana aired a throw over the cut-off man. That mistake led to a second Brewers run on Gomez's bouncing single up the middle.
The Brewers added two more runs in the fifth inning on Reynolds' two-run home run, his team-best 13th this season. It was only the fourth home run off Gibson this season in 57 innings. The righty entered the night as one of 10 pitchers in baseball who'd allowed three or fewer homers in more than 50 innings.
"I feel like I didn't see one strike," Gomez said. "He's got really good sink, and I think that guy's going to have a really good career. He's a big guy, has a good slider and works both sides of the plate really good and makes you chase. When you can command the sink, you're going to get some outs."
Consecutive errors by Twins third baseman Trevor Plouffe spotted the Brewers an insurance run in the seventh inning, and Lucroy homered in the eighth while four Brewers relievers preserved Garza's victory.
Garza's key inning was the fifth, with the Brewers holding a 2-0 lead. He'd worked around Joe Mauer doubles in the first and fourth innings, and found himself facing Mauer again after Gibson kept the inning alive with a two-out single and moved to third on Brian Dozier's double. This time, Garza won the battle on three pitches, skipping off the mound after Mauer's swinging strikeout.
"We had some momentum and the last thing I wanted to do was go out there and break it," Garza said. "Mauer is a great hitter. He already hit two doubles and I just basically said, 'If you're not going to hit this, no one is.' I just tried to get it really far in there. He swung and it worked out."
"I think he likes those 1-on-1 confrontations," Twins manager Ron Gardenhire said of Garza. "We didn't see the nasty slider tonight as much as we thought we would, but he had a changeup that was diving all over the place. So it looked like he had one pitch that he felt comfortable with and not another, but ultimately it comes down to the fastball, and he was pounding that sucker with good velocity tonight."
Garza has 17 strikeouts over his past two starts.
"I've been feeling good," he said. "Baby steps. I've felt great. My mechanics are where I want them to be and I'm getting back to where I've been [in the past]."
The win put the Brewers 12 games over .500 (35-23) and snapped a five-game losing streak against Minnesota that dated back to 2012. This season, Milwaukee is now 8-2 in Interleague Play, 13-6 in the first game of a series and 25-8 when scoring first.
Since losing five of six games during one portion of their most recent road trip, the Brewers have won seven of their last 10 games.
"Baseball is like that," Gomez said. "You struggle as a team, but good teams do what we do right now -- find a way to turn it around. The greatest teams ever do this, lose five or six and then win six or seven. We have good news coming -- Aramis [Ramirez] is coming back. We're going to be fine."
Adam McCalvy is a reporter for MLB.com. Read his blog, Brew Beat, and follow him on Twitter at @AdamMcCalvy. This story was not subject to the approval of Major League Baseball or its clubs.