Corner infielders carry payoff potential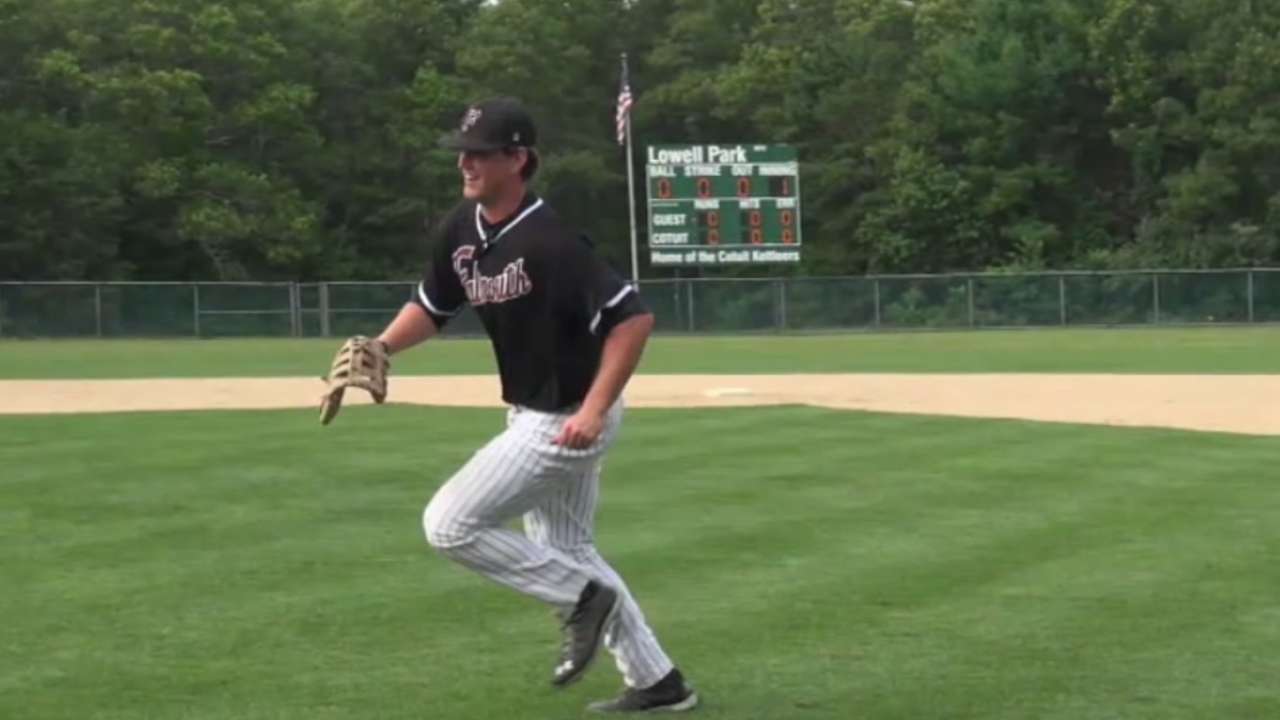 Corner infielders, especially collegiate corner infielders, are often lightly represented at the top of First-Year Player Draft, lost among all the pitchers and up-the-middle players.
Because they already play positions low on the defensive spectrum, corner infielders can be tougher to profile, and scouts must be surer of their hitting ability. As a result, teams usually prefer to use their top picks on those who play more difficult positions or who have higher upsides.
But the potential payoff from taking a college corner infielder is substantial. Of the 60 first and third basemen on this year's All-Star ballot, 26 were drafted out of four-year colleges. This list includes Paul Goldschmidt, Mark Teixeira and Evan Longoria. Only second base has a higher percentage (20 out of 30) of former college players.
"A lot of the first basemen in the big leagues were college first basemen," one scouting director said. "Those guys hit for three years in college and just keep hitting. They can be first basemen for a long time in the big leagues."
Still, college first basemen traditionally haven't fared well in the Draft. Only one (C.J. Cron, 17th in 2012) was selected in the first round after a bumper crop of six went over the first 23 picks in 2008.
But this may be the year that breaks the trend, as Wichita State's Casey Gillaspie is expected to be selected in the first round, and Kentucky's A.J. Reed has a good chance of joining him. Virginia's Mike Papi and Indiana's Sam Travis will likely closely follow them off the board.
The 2014 Draft will take place Thursday to Saturday, beginning with the Draft preview show on MLB.com and MLB Network at 6 p.m. ET on Thursday. Live Draft coverage from MLB Network's Studio 42 begins at 7 p.m., with the top 74 picks being streamed on MLB.com and broadcast on MLB Network. MLB.com's exclusive coverage of the second and third days will begin with a live Draft show at 12:30 p.m. ET on Friday.
MLB.com's coverage includes the Top 200 Draft Prospects list and Draft Tracker, a live interactive application that includes a searchable database of Draft-eligible players. Every selection will be tweeted live from @MLBDraftTracker, and you can also keep up to date by following @MLBDraft. And get into the Draft conversation by tagging your tweets with #mlbdraft.
Gillaspie, ranked No. 25 on the Top 200, is the younger brother of White Sox infielder Conor Gillaspie. Although Casey is strictly a first baseman, unlike Conor, he has also established himself as one of the country's top college hitters. Casey Gillaspie hit eight home runs in the Cape Cod League last summer and kept raking this spring. He was named Missouri Valley Conference Player of the Year after hitting .389 with 15 home runs and a 1.202 OPS.
"He's a smart hitter," a scouting director said. "He always seems to get his pitch to hit."
Reed (No. 30) had perhaps the best season of any college player and is on the short list of Player of the Year candidates. Not only did he lead the nation in home runs (23), slugging percentage (.768) and OPS (1.259), he went 11-2 as the ace of the Wildcats' pitching staff. Reed also became the first player to lead the SEC in home runs and wins.
Although Reed was drafted out of high school as a pitcher in the 25th round by the Mets in 2011 and continued to throw the ball well at Kentucky, scouts say that his professional future is as a power-hitting first baseman.
"Interest in him is much stronger as a player than as a pitcher," the scouting director said. "Some team is going to work with him every day to become a better hitter. Guys want to say, 'He doesn't do that, and he doesn't do that,' but he's the best hitter in college baseball. That counts for something."
This year's crop of college third basemen isn't as strong as that for first basemen. Stanford's Alex Blandino (No. 52) and UC Irvine's Taylor Sparks (No. 56) are expected to be the top two picked, but neither is viewed as a likely first-rounder.
Among the prep stars, first baseman Braxton Davidson (No. 36), out of T.C. Roberson High School in Asheville, N.C., has emerged as the best corner infielder. Davidson, who has committed to North Carolina, has also played the outfield, but he is best suited for first base at the next level.
No matter where Davidson plays, the focus will always be on his bat. He's changed his stance a bit since last summer and showed this spring that he can hit the ball to all fields with power.
"He's the same guy swinging the bat, one of the better bats in the country," an area scout said. "He's going to have power, and he's going to hit."
Other top high schoolers are first baseman Bobby Bradley (No. 68; Harrison Central High School, Gulfport, Miss.); first baseman/outfielder Isiah Gilliam (No. 114; Parkview High School, Lilburn, Ga.); first baseman Gavin LaValley (No. 118, Carl Albert High School, Midwest City, Okla.); and third baseman Kevin Padlo (No. 129, Murrieta Valley High School, Murrieta, Calif.).
In addition, several high school shortstops are likely destined to end up as third baseman at the next level. Jacob Gatewood, of Clovis (Calif.) High School, fits that mold, though the team that selects him will likely give him a chance at shortstop.
For all corner infielders, high schoolers and college players alike, offensive abilities will determine where they are drafted and how well they do as professionals.
"Any of the kids that can hit pretty well will go good," one scouting director said.
Teddy Cahill is a reporter for MLB.com. Follow him on Twitter at @tedcahill. This story was not subject to the approval of Major League Baseball or its clubs.