Dodgers accept White Sox generosity in opener
Pair of errors lead to five unearned runs; Kershaw works eight innings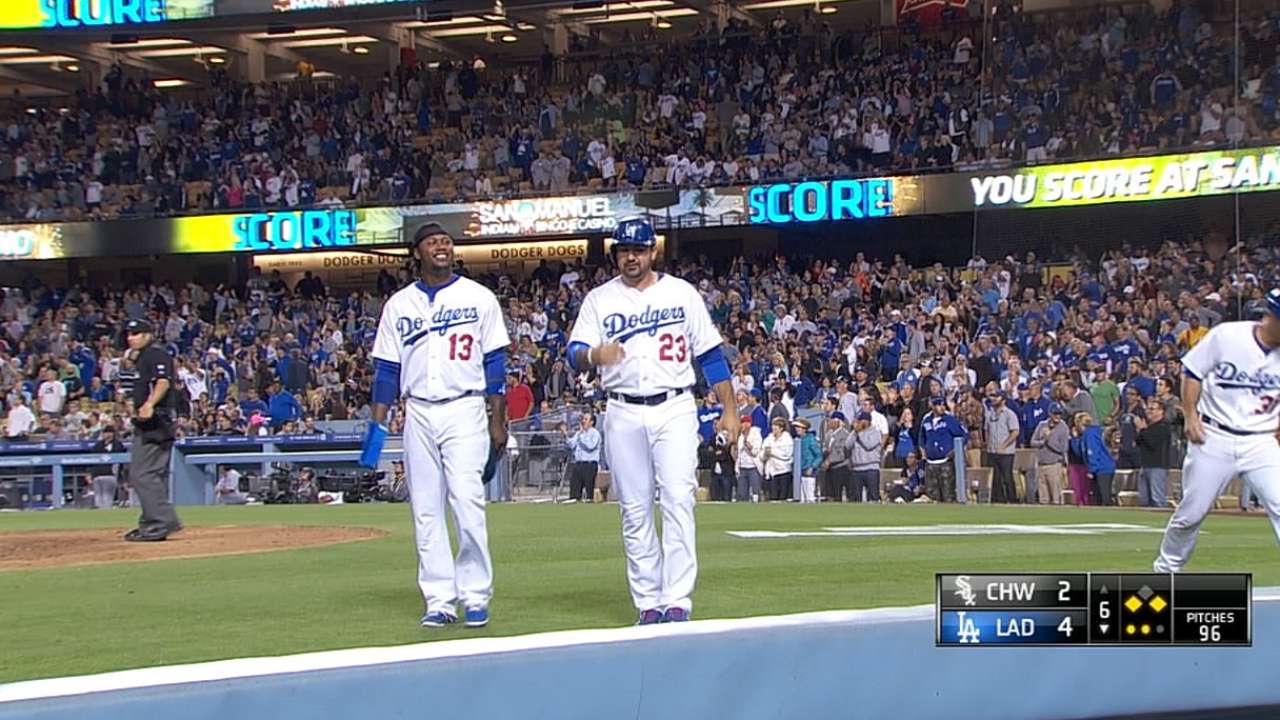 LOS ANGELES -- Left-hander Clayton Kershaw was looking for some semblance of offensive support. He needed a rally -- and soon. So he started one.
With the Dodgers down, 2-0, in the bottom of the sixth inning Monday night, Kershaw poked an opposite-field grounder to the left of White Sox shortstop Alexei Ramirez, pumping his fist as he ran toward first. In a rag-tag rally that included two White Sox errors and a couple of well-placed hits, Kershaw's was one of the hardest hit balls of the inning, fueling a five-run rally -- all five unearned -- that held up in a 5-2 series-opening win.
"It was good that we got some runs there, obviously," Kershaw said. "It's always fun to get hits. It's always fun when you're part of the run scoring and stuff.
"It was a good win tonight. We needed this."
With the win, the Dodgers improved their record to 4-4 on their 10-game homestand, bouncing back from a series loss to the Pirates. Kershaw's leadoff single, and subsequent run, were crucial contributions in a nearly flawless night.
Through the first three innings, Kershaw could do no wrong on the mound. He was economical, chewing through a powerful White Sox lineup at breakneck speed. Twenty-one pitches, 17 strikes. Nine up, nine down.
His lone blemish came in the top of the fourth. After allowing his first hit to second baseman Gordon Beckham with one out, Kershaw left a slider up for the mighty bat of first baseman Jose Abreu. In just his second at-bat off of the disabled list, the Cuban rookie deposited the ball over the left-field fence for his 16th home run.
It appeared as though that lead might hold up, as left-hander Jose Quintana was equally stifling for the White Sox, throwing five scoreless innings and allowing just two hits in the process.
But Kershaw had faith his offense would come through -- even if he had to get it going himself.
"Sometimes with us it takes a couple of times to get through the lineup," Kershaw said. "And I knew if I just kept us in the game and gave us a chance, we were going to break out."
The Dodgers broke out in a big way in their five-run sixth, and the White Sox defense lent them a hand in doing so, saddling Quintana (3-5, 3.31 ERA) with a tough-luck loss.
After Kershaw's leadoff single and Chone Figgins' strikeout, left fielder Matt Kemp reached on a potential double-play ball that just squeezed under the glove of Beckham for an error.
Following Yasiel Puig's strikeout, shortstop Hanley Ramirez reached on a throwing error by Conor Gillaspie, allowing Kershaw to score the Dodgers' first run. Gillaspie had a potential force play at third, should he have chosen to race Kershaw to the bag. Instead, he sent the ball wildly to Abreu at first, keeping the inning alive with two outs.
"I've made that play a million times," Gillaspie said. "I just didn't get a good seam on the ball and it was a little sinker I threw over there. It was a bad throw."
A throw that opened the floodgates.
First baseman Adrian Gonzalez followed with a well-placed infield single to second base. A Scott Van Slyke walk set up a shallow two-run bloop single from Justin Turner, and catcher Drew Butera tacked on another run with single to right.
"We were able to take advantage," Dodgers manager Don Mattingly said. "Adrian gets the big hit for us, and then Butera after that. J.T. kind of threw one out there."
The inning -- just like the game -- began and ended with Kershaw. After he grounded back to Quintana to end the sixth, Kershaw (4-2, 3.32 ERA) held the White Sox scoreless through the remainder of his outing, allowing two earned runs, four hits and striking out nine in eight innings.
He finished with 97 pitches and said he would've been willing to go for a complete game. But Mattingly gave the nod to closer Kenley Jansen, who hadn't pitched since May 26. Jansen worked a scoreless ninth, punching out three batters for his 17th save.
The outing was Kershaw's longest of the season -- a victory earned on the mound and at the plate.
"We really had an inning where everything just kind of went our way," Mattingly said. "With Clayton, really at that point, you feel like he's going to take charge and run with the game."
Michael Lananna is an associate reporter for MLB.com. This story was not subject to the approval of Major League Baseball or its clubs.