Defensive mistakes shake Quintana in LA
Pair of sixth-inning errors lead to five unearned runs; Abreu homers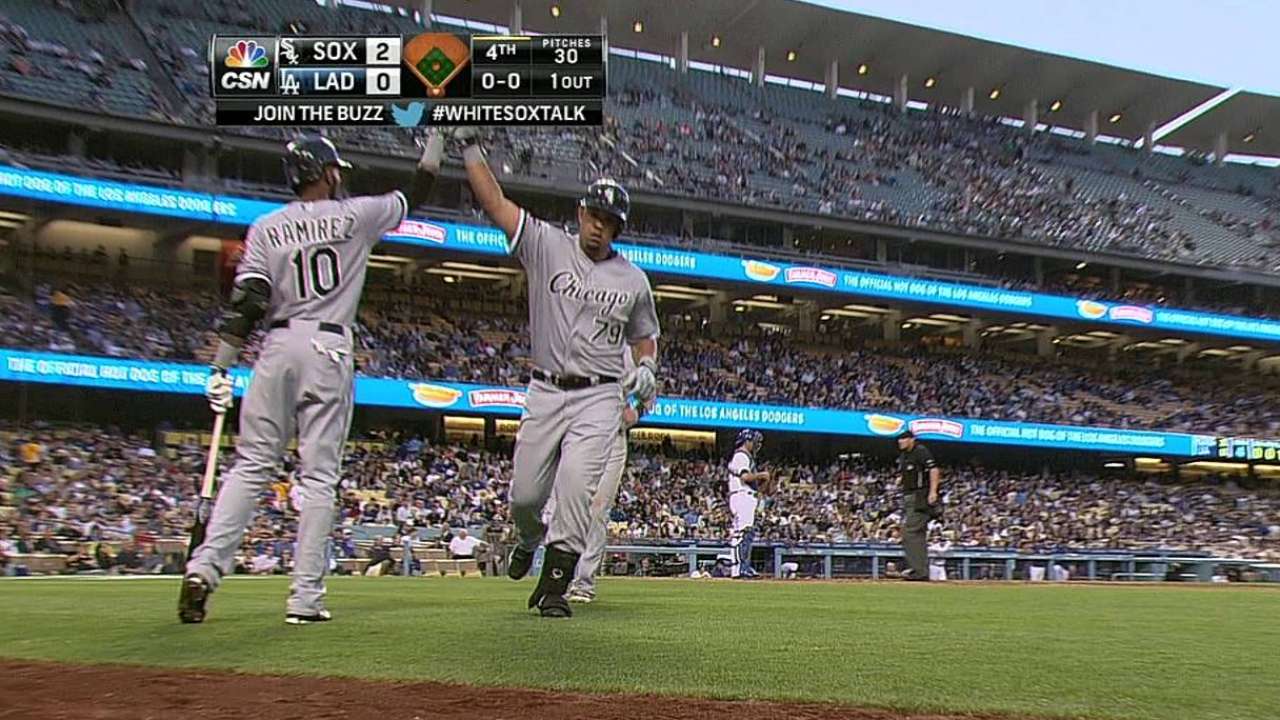 LOS ANGELES -- When Jose Quintana's career comes to a close, his final record will be listed, along with his ERA, innings pitched, strikeouts, walks and any other accomplishments picked up along the way.
There also will be a tag line under his bio that reads, "He deserved a better fate."
That sentiment rang true Monday night at Dodger Stadium when the host team beat the White Sox (29-30) and Quintana (3-5) by a 5-2 margin.
Quintana allowed five runs on six hits over six innings, striking out five and walking two. None of those five runs, which all scored in the sixth, were earned.
It would be easy for a young hurler who already has been victimized by poor offensive support that has contributed in part to 31 no-decisions since 2012 to get frustrated over his team's defensive shortcomings. Instead, Quintana took a "these things will happen" postgame approach in backing his teammates.
"Just continue my work, and maybe one time this changes," said Quintana, who threw 61 of his 105 pitches for strikes. "That's going to happen."
"You don't play defense and you give a team like that opportunities, you leave that little crack in the door open," White Sox manager Robin Ventura said. "And they kicked it wide open."
The White Sox had to be nearly perfect from the start with Clayton Kershaw (4-2) on the mound. They were pretty close until committing two extremely costly errors in that five-run sixth, leading to the unearned runs and erasing a 2-0 advantage. The hardest hit ball from the 10 hitters who came to the plate for the Dodgers (31-28) was either Clayton Kershaw's leadoff single to left or Drew Butera's foul line drive down the left-field line.
Simply put, Quintana did everything he could and didn't get much help.
Chone Figgins struck out looking after Kershaw's leadoff single, and Matt Kemp followed with a hard-hit ball to second baseman Gordon Beckham that looked to be a perfect double play. Instead, Beckham couldn't field the grounder and the error put runners on first and second.
Following a Yasiel Puig strikeout on a high fastball, Hanley Ramirez hit a grounder to third baseman Conor Gillaspie that should have been the inning's third out. Gillaspie had a natural force at third, but instead decided to throw over to first after double-clutching on the attempt.
Gillaspie's throw short-hopped Jose Abreu and bounced past the first baseman, scoring a run and putting runners on second and third. Gillaspie would have gone with the force option if he had it to do all over again.
"Yeah, I should have stepped on the base. It's just one of those things that happened and it is what it is," Gillaspie said. "I wish I could go back and do it again, but it doesn't work that way.
"I've made that play a million times. I just didn't get a good seam on the ball and it was a little sinker I threw over there. It was a bad throw."
Adrian Gonzalez followed with an infield single up the middle to tie the game, a grounder Beckham gloved in spectacular fashion but couldn't make the throw in time. After a Scott Van Slyke walk to load the bases, Justin Turner's blooper into center barely fell over the stretching, tumbling effort by Beckham to score two runs. A fifth run scored on Butera's single to right.
"Q pitched a great game," Ventura said. "He was going inning to inning with Kershaw and he deserved a better fate. There's no two ways about it."
Abreu, who was playing in his first game since May 17 after a stint on the disabled list for left ankle tendinitis, had a thunderous return. Kershaw retired the first nine hitters he faced on 21 pitches and extended that string to 10 straight before Beckham singled to center. Abreu followed with a blast to left on an 0-1 pitch for his 16th home run.
That long drive from Abreu pretty much was all the White Sox got off of Kershaw, who struck out nine and didn't issue a walk over eight innings.
"They were swinging, and my pitch count was pretty low," said Kershaw. "The one to Abreu, you like for those to be a double or a single and not over the fence, but I guess that's why he's got 16 homers. He's pretty good.
"They've got some aggressive guys over there. It doesn't really bother me as long as you make your pitches early. You got to stay out of the middle of the plate."
Prior to the White Sox slipping to 6-8 in Interleague Play, Abreu was struck in the left side of the chest by an errant Dodgers throw during batting practice. Abreu, who was hit by a pitch just above his left elbow during Saturday's simulated game in Chicago, was startled and taken off the field, but showed no effects.
"He's a target right now. He's getting hit every time he walks onto the field," Ventura said. "Hopefully, we'll put him in a bubble and he'll be fine."
Kanley Jensen (17th save) struck out the final three hitters in impressive fashion after a leadoff single to close out the victory, giving Quintana 14 career innings without allowing an earned run against the Dodgers but no victories. Yes, he deserved better.
"I feel really good, threw a good game," Quintana said. "Sometimes I don't have control of the situation. I lost my good chance to win this game. But that's going to happen in baseball. You just keep going."
Scott Merkin is a reporter for MLB.com. Read his blog, Merk's Works, and follow him on Twitter @scottmerkin. This story was not subject to the approval of Major League Baseball or its clubs.