MLB.com Columnist
Roger Schlueter
MLB Notebook: Buehrle joins elite list
Blue Jays lefty has 10 victories in every season since 2001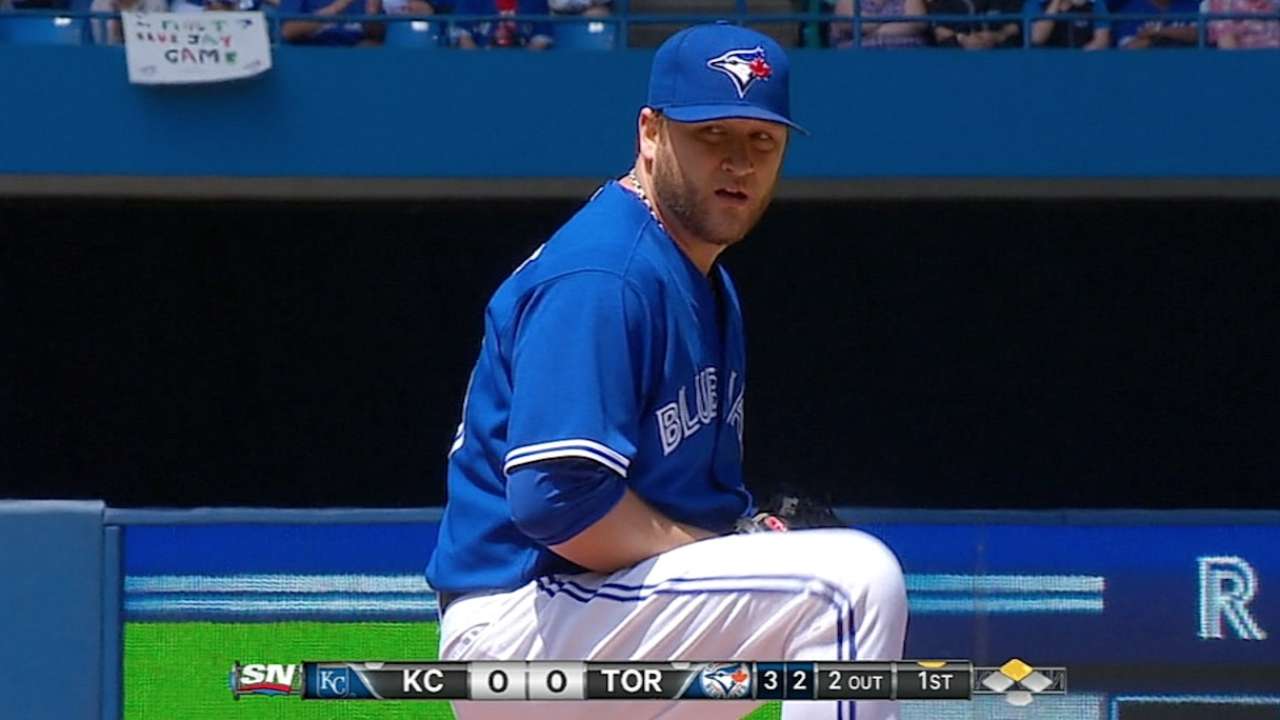 In every season from 1967-84 -- an 18-year-run that saw him capture four National League Cy Young Awards, a Triple Crown (1972), four win titles, one ERA championship belt and five strikeout crowns -- Steve Carlton won 10 games or more. No left-hander has authored a longer streak of consecutive 10-win seasons, with Warren Spahn assembling a 17-season streak, Eddie Plank putting together a 16-year run, Carl Hubbell and Jim Kaat assembling 15-season streaks, and Tom Glavine enjoying 14 straight seasons with 10 victories or more.
Blue Jays left-hander Mark Buehrle, who has reached 10 victories in every season since 2001 and is four wins shy of 200 for his career, is now tied with Glavine on this list of sturdy and reliable southpaws.
The Blue Jays blanked the Royals, 4-0, on Sunday, getting eight innings of six-hit ball from Buehrle. With the victory, Buehrle improved to 10-1 -- becoming the first 10-game winner in the Majors -- and lowered his ERA to 2.10 (third lowest in the American League).
Buehrle is the eighth AL left-hander since the adoption of the designated-hitter rule to have at least 12 starts and an ERA as low as 2.10 at this point in the season (by team games):
• Ken Holtzman (1973): 11-3, 1.50
• Ron Guidry (1978): 10-0, 1.57
• Rick Honeycutt (1983): 8-3, 1.62
• Kenny Rogers (2005): 8-2, 1.62
• Bill Travers (1976): 8-4, 1.85
• Chuck Finley (1989): 7-4, 1.88
• Frank Tanana (1977): 10-3, 1.94
• Buehrle (2014): 10-1, 2.10
Buehrle is the seventh southpaw in the past 30 seasons to reach 10 wins by the time his team had 58 games in the books, joining Bob Knepper (1986), Greg Swindell ('88), Finley ('91), Glavine ('91), Jimmy Key ('97) and Dontrelle Willis (2005).
Close-out Sale: Young ace goes the distance
• Chris Sale went the distance on a two-hitter on Sunday, fanning nine and walking none in a 4-1 win over the Padres. Chicago's 25-year-old ace is the franchise's fourth southpaw since 1914 to have a complete game featuring two hits or fewer with at least nine K's and no walks, joining Billy Pierce (1958), Gary Peters ('63) and Floyd Bannister ('87).
The White Sox have four representatives on the list of the 28 left-handers who have accomplished this since 1914. At 25 years and 63 days, Sale is the youngest of the Pale Hose quartet and the seventh youngest of the 28, and he is the youngest since Mark Mulder, who was a month shy of 24 on July 6, 2001. The youngest of the 28: Detroit's Hal Newhouser, who was 23 years and 40 days old on June 29, 1944, when he threw a two-hit shutout with nine K's.
The Yankees also have four reps on the list, with John Candelaria and David Wells apprearing twice. The only franchise to have more is the Phillies: Curt Simmons, Carlton (twice), Terry Mulholland and Cliff Lee.
Lohse matches feat from last season
• Milwaukee's Kyle Lohse twirled a three-hit shutout with six strikeouts and no walks, and the Brewers topped the Cubs, 9-0. Lohse -- the eighth pitcher in franchise history to throw a shutout with three hits or fewer and no walks -- improved to 7-1 with a 2.60 ERA in his 12 starts this season. Before this gem, the last Milwaukee pitcher to hurl a three-hit (or fewer) shutout with no walks was Lohse, in September 2013. He and Jerry Augustine are the only two Brewers pitchers to have multiple efforts under these conditions, with Augustine's two coming in 1978.
Hudson takes place among Giants
• The Giants blanked the Cardinals 8-0, with right-hander Tim Hudson completing his 11th start of the season with seven innings and three hits allowed. Hudson now has a 1.75 ERA and 0.87 WHIP, both second in the NL.
Among the 296 Giants pitchers since 1914 with at least 11 starts at this point in the team's season, Hudson's ERA ranks fifth, behind Fred Anderson's 1.39 in 1917, Mike McCormick's 1.63 in '60, Atlee Hammaker's 1.71 in '83 and Juan Marichal's 1.73 in '66. His WHIP ranks second, behind Marichal's 0.800 in '66.
Yu's start vs. Nationals a treasure
• The Rangers, behind Yu Darvish's eight innings of five-hit, 12-strikeout ball, shut out the Nationals, 2-0, giving Texas a Major League-leading 11 shutouts.
Those 11 shutouts through 57 games represents the most in franchise history for this point in a season, and ties the Rangers with the 1989 Angels for the most by any AL team in the DH era. To find the last AL club to have more than 11 through its first 57, one has to go back to the 1968 Indians, who had 14.
Through his first 71 games, Darvish has a career 29.98 strikeout percentage and is allowing 6.79 hits per nine innings. Since 1893, among third-year pitchers with at least 80 starts through those first three seasons, Tim Lincecum has the highest strikeout percentage, at 27.58; Dwight Gooden, with 6.72 hits per nine, has the lowest hit rate. Giants deadballer Jeff Tesreau had a 6.77 mark, the only other one below seven. Lincecum, at 7.10, is third.
Twins Will(ingham) their way to win
• The Twins' 7-2 win over the Yankees developed from a six-run ninth inning that commenced with a game-tying solo homer from Josh Willingham. With that long ball, Willingham became the first Twins hitter since Lyman Bostock on April 18, 1976, to produce a ninth-inning game-tying homer on the road against the Yanks; Bostock's two-run blast -- which led to a 5-4 win -- came against Catfish Hunter.
The RBIs keep coming for Donaldson
• In Oakland's 6-3 victory over the Angels, Josh Donaldson drove in two runs to push his total for the season to 48 (fourth in the AL). Those 48 RBIs though 57 games also ties him for the fifth most for the Athletics since the team moved to Oakland for the 1968 season. Jose Canseco had 53 in 1986, and Jason Giambi had 52 in 2000. Reggie Jackson (1969) and Canseco ('90) each had 50, and Mark McGwire ('95) and Giambi (2001) also had 48.
Ace of bases: McCutchen aims for history
• Andrew McCutchen doubled twice and hit his fifth home run of the season to lead the Pirates past the Dodgers, 5-3. The night at the plate gives McCutchen 1,440 career total bases and a 140 career OPS+ in 3,419 plate appearances.
McCutchen is now 60 bases from becoming the fifth Bucs player with at least 1,500 through his first six seasons. The four who have reached that level are Ralph Kiner (1,890), Paul Waner (1,834), Arky Vaughan (1,553) and Barry Bonds (1,509).
Six center fielders (with 75 percent of their games played there) concluded their sixth Major League season with at least 3,000 career plate appearances and an OPS+ of at least 140: Mickey Mantle (166), Joe DiMaggio (160), Willie Mays (157), Ken Griffey Jr. (149), Wally Berger (143) and Fred Lynn (142).
Roger Schlueter is senior researcher for MLB Productions. This story was not subject to the approval of Major League Baseball or its clubs.