The Week Ahead: Pair of sluggers ready to return
Angels, White Sox hope for boosts with Hamilton, Abreu returning from disabled list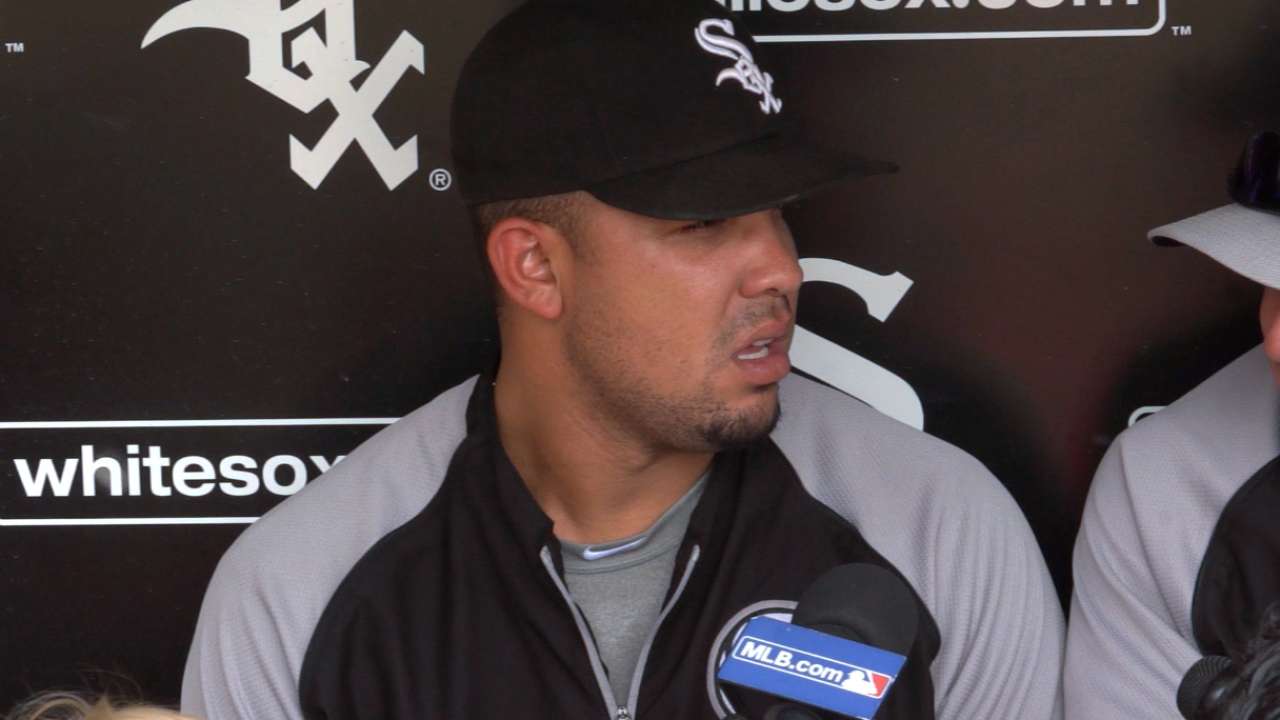 The weather is heating up as we inch toward summer, teams are being tested through good times and through adversity. Everyone who puts on a uniform knows that this is the time that builds champions, and that the work being put in now can very well come to fruition at the right time in October.
So as we steam into the week ahead, we look toward the challenges that many teams are facing as they jockey for position in baseball's six divisions.
Take the Angels. They're still in second place in the American League West, and they just lost a pair of tough games to the first-place team they're chasing in the Oakland A's. They haven't had superstar outfielder Mike Trout in the lineup for the past two games because of back soreness, but after a needed off-day on Monday, they should get a lot better.
Outfielder Josh Hamilton is expected to return to action Tuesday after being absent since April because of a torn thumb ligament, and his presence should go a long way toward improving the Halos' lineup. Hamilton, 33, was batting .444/.545/.741 in eight games before hurting the thumb on a headfirst slide at Safeco Field.
"Hopefully he can pick up right where he left off when he got hurt," Angels first baseman Albert Pujols said.
The White Sox have been hanging in there in the AL Central. They recently got their ace back as left-hander Chris Sale sparkled in a complete-game victory on Sunday. On Monday, they'll get back their best hitter from early in the season, first baseman Jose Abreu.
Abreu, who will be greeted in his return from ankle tendinitis by Dodgers ace Clayton Kershaw, has 15 homers, 42 RBIs and a .908 OPS. He said Sunday that he's not feeling that he has to solely shoulder the weight of the Chicago offense considering his team's recent struggles at the plate, which include a .215 average and just 15 runs over the last six games.
"Unfortunately the last couple of days our offense has been down, but that's part of baseball," Abreu said. "You have ups and downs. You're going to go through those, whether I'm here or not, they can do it. It's a team. I don't feel pressure that I have to come in and do anything different."
Elsewhere this week, we'll see the hottest team in baseball, which not long ago was the coldest. The defending World Series-champion Boston Red Sox, who lost 10 in a row but have now won seven consecutive games, will take on the Cleveland Indians and Detroit Tigers on the road in a stern six-game test against AL Central teams.
We'll also see the team with the best record in baseball right now. The San Francisco Giants, winners of 26 of their past 36, have an MLB-best 37-20 record and a 7 1/2-game lead in the National League West. This week, they'll play three against the Reds in Cincinnati before returning to AT&T Park to play three against the Mets.
The Giants hope that the left foot discomfort that kept slugger Michael Morse out of the lineup on Sunday isn't a lingering problem when they're back in action Tuesday. Morse leads San Francisco with 11 home runs, 38 RBIs and a .574 slugging percentage.
The rest of the week includes one of the more intriguing events in baseball, and it won't happen on the field. It's the 2014 First-Year Player Draft, and it will take place Thursday through Saturday, with the much-anticipated first round set for Thursday.
But there will still be plenty of games to pay attention to while the names are being called, and there are more intriguing matchups on tap.
The Yankees and A's will meet for an East-West series in the Bronx starting on Tuesday, and the Mariners, back at .500 at 28-28, will play a makeup game against the Yanks in New York on Monday before venturing to Atlanta to try to make up some ground against the NL East-leading Braves.
Later in the week, things will get even more interesting.
The Pirates will get the opportunity to make some noise in the NL Central with a weekend series against the division-leading Brewers at home beginning on Friday, but they'll have to face Kyle Lohse (7-1, 2.60 ERA) in the first game, and Lohse just spun a 93-pitch, three-hit shutout over the Cubs on Sunday.
Another great weekend matchup will take place north of the border when the AL East-leading Blue Jays take on the Cardinals, who just called up super-prospect outfielder Oscar Taveras and watched him homer in his first Major League game on Saturday.
If all that isn't enough, Boston will travel to Detroit for yet another rematch of the dramatic 2013 AL Championship Series. This time around, however, it might be the Red Sox who have the momentum.
Doug Miller is a reporter for MLB.com. Follow him on Twitter @DougMillerMLB. This story was not subject to the approval of Major League Baseball or its clubs.