Bucs rattle Greinke behind Cutch's big night
Reigning NL MVP leads charge with homer, two doubles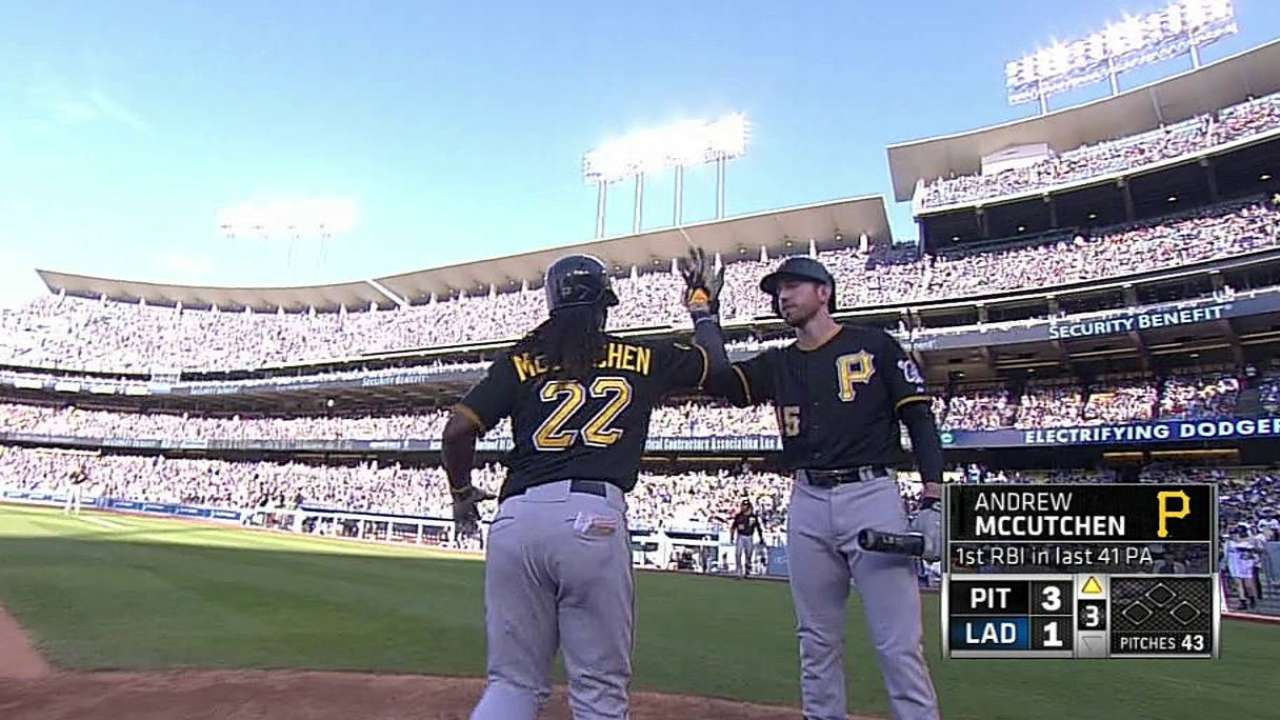 LOS ANGELES -- Popular baseball wisdom holds that, in any given 162-game season, a team is certain to lose 60 and win 60, and how it fares in the other 42 determines its fate.
Sunday night's game here was consigned to the Pirates' "certain loss" column. Against Dodgers right-hander Zack Greinke, seldom beaten anywhere and rarely when he pitches in home whites, the Bucs pitted Edinson Volquez.
Instead, the Bucs put it in the win column, administering Greinke his worst beating since last July and upending the Dodgers, 5-3.
After two earlier pratfalls on the national stage, the Pirates showed their true colors on ESPN Sunday Night Baseball, better known now as The Andrew McCutchen Show.
"Big game. Big-time pitcher. Pretty impressive," said his manager, Clint Hurdle, who wasn't even one of the high-profile TV voices raving over the Pittsburgh center fielder, or one of the thousands of slack-jawed fans grabbing for their All-Star Game ballots.
"I happened to have a good one. And it happened to be on national TV," McCutchen deadpanned. "We're playing the Dodgers so a lot of people are watching the game, so you'll get that recognition, especially if you go out and have a game."
McCutchen had a game. He drilled two doubles and a home run off Greinke, and showed off his defensive wares in the seventh, storming into shallow center to slide under Drew Butera's dropping flar3 and rob him of a hit.
"Last year's MVP crushed some balls," Greinke said, "and I guess I could have pitched better to him. He's patient. You can't just throw the ball over to him and have him chase it. He's a tough guy to pitch to."
Pedro Alvarez drove in three of the Bucs' runs and Josh Harrison also added an impressive opposite-field homer as the Pirates took three of four from the loaded -- both on the roster and in the pockets -- Dodgers. The Bucs won a series here for the first time since taking two of three on Sept. 19-21, 2006, and have not had a three-win season in Los Angeles since 2000.
"So it was just good being able to take three of four from a really good team, to play well, which we haven't been doing," McCutchen said.
"We believe we can play. We knew who we were facing, and we outpitched them for three days," Hurdle said. "We have enough edge and grit, and it showed up here this weekend. Volquez pitched very well."
The best thing Volquez did was keep the bases clear in front of Yasiel Puig, who ripped a first-inning double and third-inning single. But both hits came with two out and none on.
Volquez was given merely 77 pitches, matching his season low, but most were high-pressure, their toll disproportionate. He allowed five hits and two runs, walking one and fanning six.
"Then we turned it over to The Tank," Hurdle said.
Not the Sherman. The Shark: Justin Wilson, Tony Watson and Mark Melancon danced through three hitless innings, then the Dodgers made Jason Grilli dance a bit in the ninth before he closed out his eighth save.
Dodger Stadium had been the only ballpark in which Volquez had made more than one start (Sunday's was his fifth here) and had no decision.
Alvarez's opening act was McCutchen, and it was a show-stopper. McCutchen doubled twice to turn into two of Alvarez's RBIs, and in between launched his first home run in 124 at-bats.
Volquez, the brief ex-Dodger, was given a 2-0 lead before delivering his first pitch and bent but never snapped in improving to 3-4.
The Pirates' two-run first was quite unconventional. For one thing, they made the normally precise and economical Greinke go through 27 pitches and issue two walks. For another, the bases-loaded situation born of that patience was exploited on a two-run single by Alvarez ... through the shortstop hole vacated by the Dodgers' infield shift.
Justin Turner's RBI single got one of those runs back in the second, but McCutchen reset Volquez's lead at two with a solo shot the next inning.
McCutchen thus flipped the calendar to June, after not having gone deep all of May, his first month without a home run since April 2012. McCutchen's last homer had come on April 23, when he'd hit his third in as many games.
The Dodgers' get-back again was Turner, as he drilled his third homer with one away in the fourth.
McCutchen started off the sixth with another double -- giving him three extra-base hits off Greinke in the span of five pitches -- and wound up scoring on a one-out single by Alvarez.
Greinke was done after that sixth -- being charged with four earned runs for the first time since last July 25, against the Reds -- but the Pirates were not.
Against reliever Chris Perez in the seventh, Harrison drilled his fourth homer to right-center ... after having pulled a drive just foul into the left-field corner on the previous pitch.
Stuff like that just doesn't happen.
"Yeah, that's what a lot of people were like, 'I don't know the last time I'd seen that.' But to be honest," Harrison said, "I was feeling good, had some good swings -- so I was just trying to put good swings on anything around the zone."
Something else that doesn't happen is the Pirates taking three games in four days in Dodger Stadium, where they had lost nine straight prior to this week, and finishing it off against a Zack Greinke.
Welcome to the new order.
Tom Singer is a reporter for MLB.com and writes an MLBlog Change for a Nickel. He can also be found on Twitter @Tom_Singer. This story was not subject to the approval of Major League Baseball or its clubs.