Shutout Sunday features six dominant outings
Buehrle blanks Royals in one of several impressive pitching performances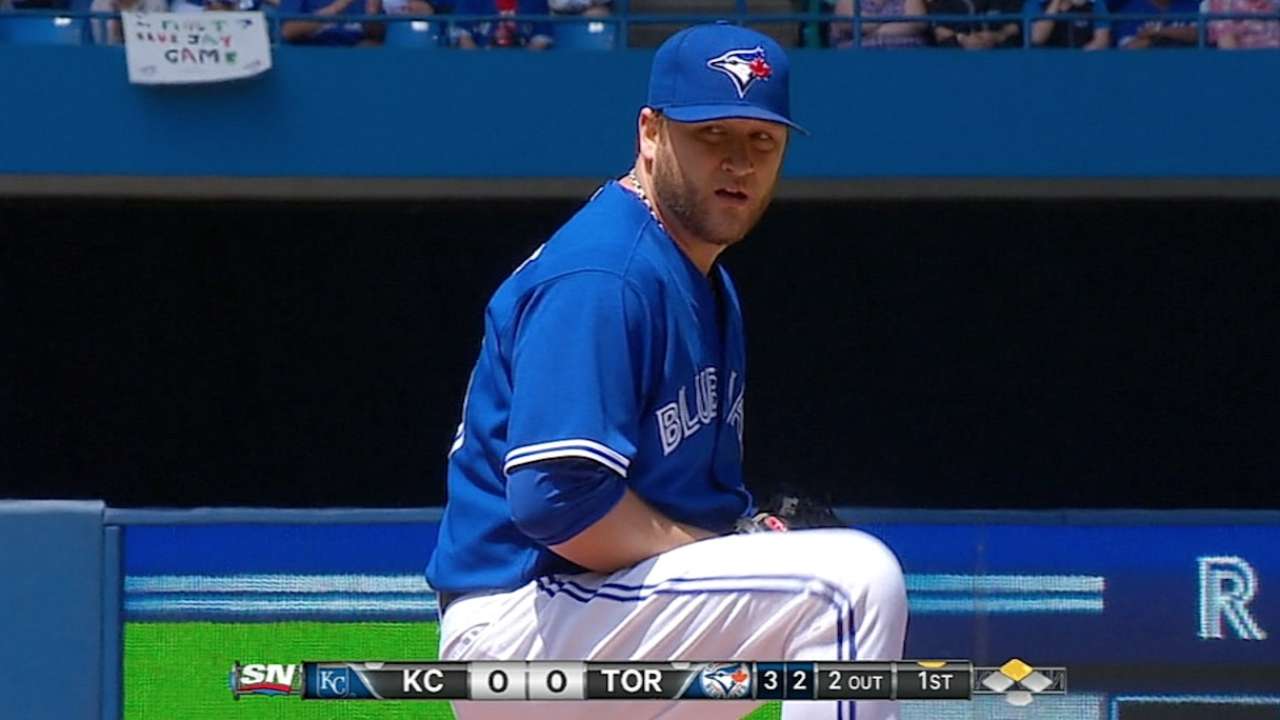 Shutout Sunday sounds like the antithesis of a shopping bonanza around holiday time. It conjures up images of lines of people moving away from the front doors of huge stores before sunrise.
It's also a great way to describe what happened in the Major Leagues on the first day of June.
Of the 15 games on the Sunday slate, six were shutouts. It's the first time it's happened since May 16 of this season. One more and it would have matched the seven recorded on July 27 of last year. The record, according to the Elias Sports Bureau, is eight in one day: June 4, 1972.
The headline event of the shutout six-pack was of the triple-bill variety. It would be hard to top the work of Mark Buehrle, the Blue Jays' ageless ace. Buehrle, who barely cracks mid-80s with his fastball, pitched eight scoreless innings in Rogers Centre to help beat the Royals, 4-0, and seal his Major League-leading 10th win.
Buehrle, 35, didn't waste much time, taking 16.8 seconds between pitches, which is the quickest work in baseball this year, and reached 10 wins faster than he's done it in any of his 15 years in the big leagues.
"It's not luck," Jays slugger Jose Bautista said. "It's not a surprise that every time he pitches there's good defensive plays made, and it's because he keeps everyone engaged in the game, because he works quick. It's been awesome to play behind him this year."
Speaking of awesome, that's exactly what Mariners rookie Roenis Elias was Sunday. Elias doesn't have 10 wins this year, but he's been surprising for the Seattle rotation after pitching in Double-A last year, and his excellent work continued with one of Sunday's two complete-game shutouts.
Elias went the distance at home against the Tigers and their starter, reigning American League Cy Young Award winner Max Scherzer, on a three-hitter, striking out eight and needing 111 pitches to complete his first career shutout.
"He's got great stuff," Mariners catcher Mike Zunino said. "He knows it. Everyone knows it. He just has to become more consistent with it. Hopefully this is a step in the right direction, and he continues to have more confidence with his stuff and can attack hitters."
Kyle Lohse was in attack mode, too.
The Brewers right-hander went the distance at home against the Cubs, also tossing a three-hitter and striking out six while not walking a batter. Lohse, who improved to 7-1 this year and lowered his ERA to 2.60, needed only 93 pitches to finish it off, and the nine runs his team scored for him didn't hurt, either.
"He sets a good example for what you need to do in a baseball game to get hitters out," Brewers catcher Jonathan Lucroy said. "And the best part about it is his stuff is not overwhelmingly nasty. He just locates, and he mixes. That's what it's all about, and that's what he does."
Rangers starter Yu Darvish, on the other hand, is overwhelming nasty, and he was able to shrug off the stiff neck that had robbed him of his previous start and befuddle the Nationals, firing eight scoreless frames and striking out 12 batters on Sunday. Texas closer Joakim Soria finished off the 2-0 shutout.
And in Boston, the Red Sox won their seventh consecutive game behind a dominant Jon Lester, who matched Darvish's dozen punchouts in one less inning and watched Edward Mujica and Koji Uehara put up zeros for the final two frames to seal a 4-0 win over Tampa Bay.
"You have days where your game plan goes right and the balls that you want them to swing and miss at, they're doing it," Lester said.
He wasn't the last one doing it.
Veteran right-hander Tim Hudson of the Giants got in on the fun against the Cardinals in St. Louis, putting up zeros for seven innings while giving up three hits and striking out six. Lefty relievers Javier Lopez and David Huff took care of the eighth and ninth while San Francisco's bats rolled to an 8-0 victory, putting a lid on yet another Shutout Sunday in the bigs.
"They're playing as well as I've ever seen them play," Cardinals third baseman Matt Carpenter said of the Giants, who have won 26 of their last 36. "They're as hot as they could possibly be, I think, and everything's clicking for them. Guys are coming up off the bench and hitting and their [regulars] are hitting. That's a fun spot to be in. That's a fun thing to play for."
Not to be left out of the pitching prowess displayed Sunday is Chris Sale of the White Sox. The southpaw might not have tossed a shutout, but he certainly came close as he limited the Padres to two hits while striking out nine in a complete-game 4-1 win at Chicago.
Doug Miller is a reporter for MLB.com. Follow him on Twitter @DougMillerMLB. This story was not subject to the approval of Major League Baseball or its clubs.