Pirates follow MVP's lead to pounce on Greinke
McCutchen stings right-hander as Dodgers' offense cools off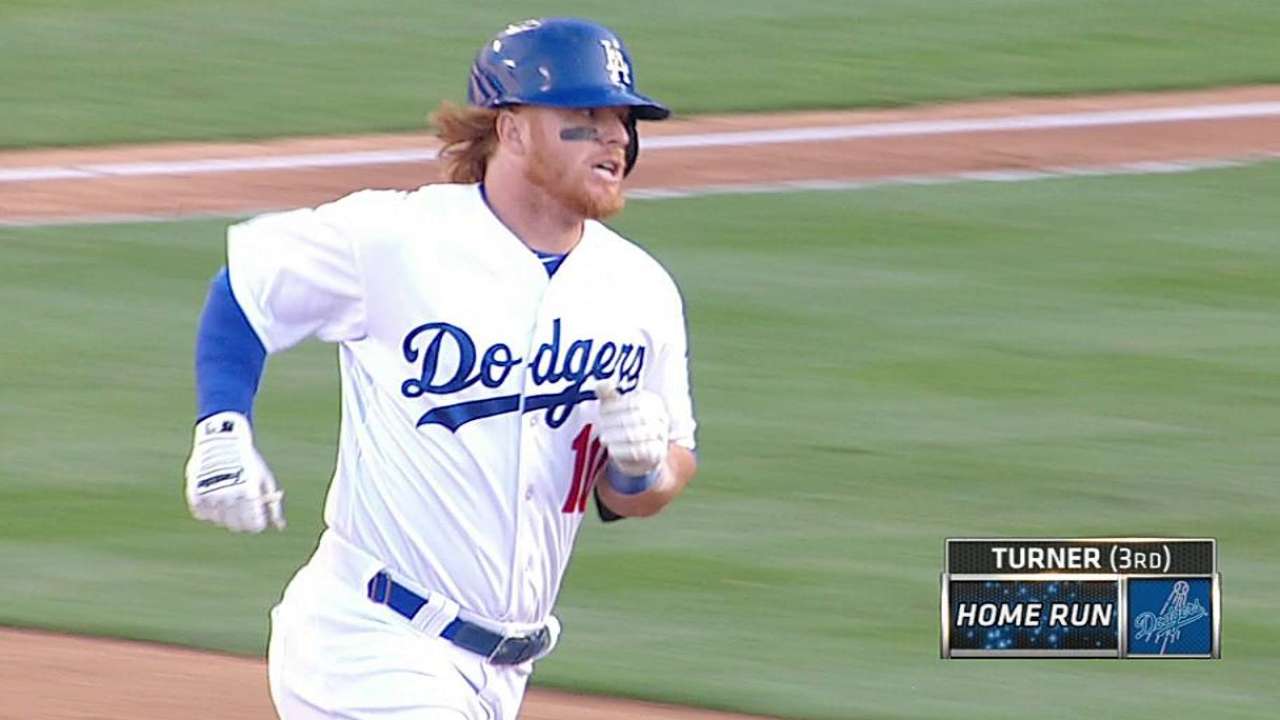 LOS ANGELES -- Bees swarmed the home bullpen in left field at Dodger Stadium about an hour before Sunday night's scheduled first pitch, but they had disappeared by the time Zack Greinke took the mound.
Andrew McCutchen and the Pirates weren't as accommodating.
McCutchen, the 2013 National League MVP Award winner, demonstrated his wide range of talents in a 5-3 victory that gave the Bucs the series, three games to one. Victimized was Greinke, whose loss was just his second in 10 decisions this season and sixth against 23 wins with the Dodgers.
"Last year's MVP crushed some balls," Greinke said, "and I guess I could have pitched better to him. He's patient. You can't just throw the ball over to him and have him chase it. He's a tough guy to pitch to."
On Saturday, it had been Dodgers shortstop Hanley Ramirez torching the Pirates. Great players can take over games at any time, and that's what happened when the Pittsburgh center fielder went to work in the series finale, hammering a pair of doubles and unloading a solo homer.
"He got three runs on his own for the most part," Greinke said, the four earned runs he yielded in six innings the most damage he has absorbed in 23 starts. "They had a couple other good at-bats mixed in there, but mostly it was him putting us in a position where he was tough to stop."
McCutchen, hitless in his previous 10 at-bats, came into the game hitting just .190 against Greinke in 21 at-bats.
McCutchen turned the momentum the Dodgers hoped they'd gained from Saturday's 12-2 romp his team's way with a two-out double, triggering a two-run first inning against Greinke. A rare control lapse by the Dodgers' right-hander in the form of back-to-back walks preceded Pedro Alvarez's two-run single, which found its way through the shift.
Edinson Volquez had a nice cushion before he threw a pitch, and he stuck around just long enough -- five innings -- to gain credit for the win, moving to 3-4. He limited damage and departed with a one-run lead, with the Pirates' capable bullpen taking care of the rest.
The Dodgers rallied with two down in the ninth against closer Jason Grilli with a pair of walks and Scott Van Slyke's RBI single, but Dee Gordon lined out to shortstop for the final out, leaving runners at the corners.
"If Dee hits that ball in the corner or a gap, we're a tie ballgame," Dodgers manager Don Mattingly said. "He stung it good. Their 'pen did a nice job. We just didn't get anything going in the late innings."
Third baseman Justin Turner had a big day for the Dodgers with an RBI single -- following Matt Kemp's double in the second inning -- and a solo homer, his third of the season, in the fourth.
Greinke's loss was first since May 5 at Washington. He has given up two or fewer runs in 10 of his 12 starts.
"We were looking for fastballs early," Pirates manager Clint Hurdle said. "His location played into it.
"To beat him -- he's an ultra-competitor -- you've got to outcompete him. We laid off some tight pitches, worked some counts, we got the pitch count up, and we put the barrel on pitches we were able to handle. That was the game plan going in. If you give him strike one, he can cut you up three different ways after that. We just tried to be as aggressive as he was."
McCutchen, Greinke conceded, was simply locked in against him.
"The first pitch I threw to him, the double off the wall, was a really bad pitch," Greinke said. "Besides that, I know he's dangerous, but they were quality pitches. The third at-bat, I threw him my best ground-ball pitch, and he put it in the air [for a double to left in the sixth]. He just had my number today."
Alvarez picked up his third RBI of the day with a single cashing in McCutchen.
McCutchen put his brilliant leather work on display in the seventh with a diving stab in shallow center field, robbing Drew Butera behind reliever Tony Watson.
"He's a tremendous talent, that's for sure," Mattingly said of McCutchen. "We don't see him a lot, but we see him on TV. He's the kind of guy who seems to do it all. He hits for average, for power, he's a good defender, can steal a bag on you. There are a number of ways he can beat you."
Mattingly feels his team remains capable of taking flight even if it doesn't replicate last summer's memorable 42-8 run.
"We lay our hat on the same thing as last year -- pitching," Mattingly said. "If you've got that, you have a chance to go on a roll. We might not go 42-8 again, but we can rattle a bunch of games off. I know we're capable of winning series after series after series because of our pitching."
Lyle Spencer is a reporter for MLB.com. This story was not subject to the approval of Major League Baseball or its clubs.