In 19th season, Wright continues to deliver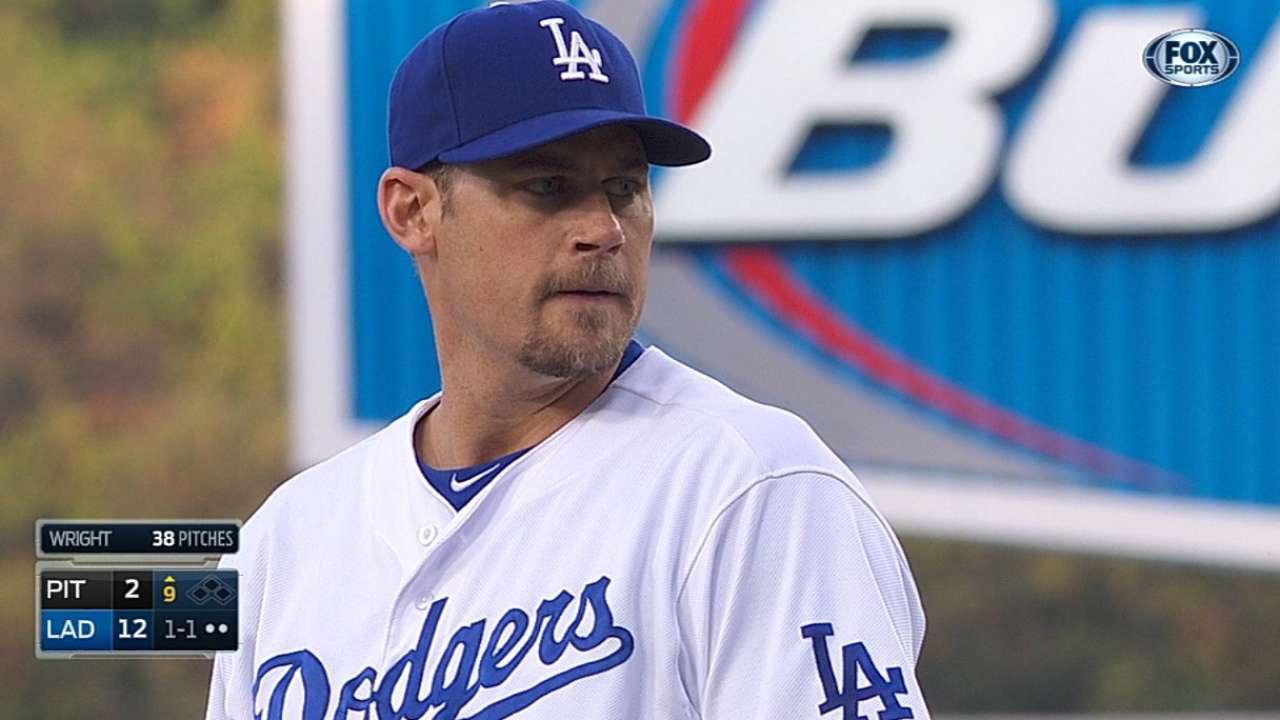 LOS ANGELES -- When he came off the mound on Saturday, having worked the final three innings of the Dodgers' 12-2 victory over the Pirates, Jamey Wright "had no idea" he'd just recorded his second career Major League save in his 682nd appearance.
"When I got up here in the clubhouse, they told me," Wright said Sunday. "I actually didn't want to go out and pitch the final inning, because I wanted to pitch today. I don't like being down; I want to be available every day. I take pride in that. I'm that all-purpose club in the golf bag."
This is Wright's 19th big league season, and at 6-foot-6, he's ideally suited for the long-relief role in the Dodgers' bullpen. He is 2-2 with a 2.73 ERA in 24 appearances, holding hitters to a .243 batting average.
The odyssey began in 1996 when he was a starter for the Rockies. A free agent 18 times, the right-hander from Oklahoma City has worn 10 Major League uniforms, taking two tours with the Rockies, Royals and now the Dodgers, and is 94-128 with a 4.79 ERA. His trip to the postseason last October with the Rays was his first.
"I've had too many dreams of pitching in a World Series for it not to happen," Wright, 39, said. "I still believe it's going to happen. If that opportunity presents itself, I'm going to succeed, because I will be prepared.
"I keep myself in great shape, and I've been very blessed to be able to stay healthy. If you peeked in my shoulder you'd see some caution tape, but I keep the muscles around my shoulder strong. There's a purpose to every ball I throw, to everything I do."
Manager Don Mattingly, knowing how committed Wright is, didn't hesitate to extend him to three innings to spare the bullpen.
"I'll throw three innings, two, a third, finish up, whatever it is he needs," Wright said. "He knows I'll throw six innings if he asks me to. The last eight games I only threw once; our starters have been going deep. I love to be out there, on the mound. I'll keep doing it as long as my wife lets me."
Lyle Spencer is a reporter for MLB.com. Michael Lananna is an associate reporter for MLB.com. This story was not subject to the approval of Major League Baseball or its clubs.