Angels resolute despite sweep in Oakland
Weaver allows six runs (five earned) in six innings of loss to A's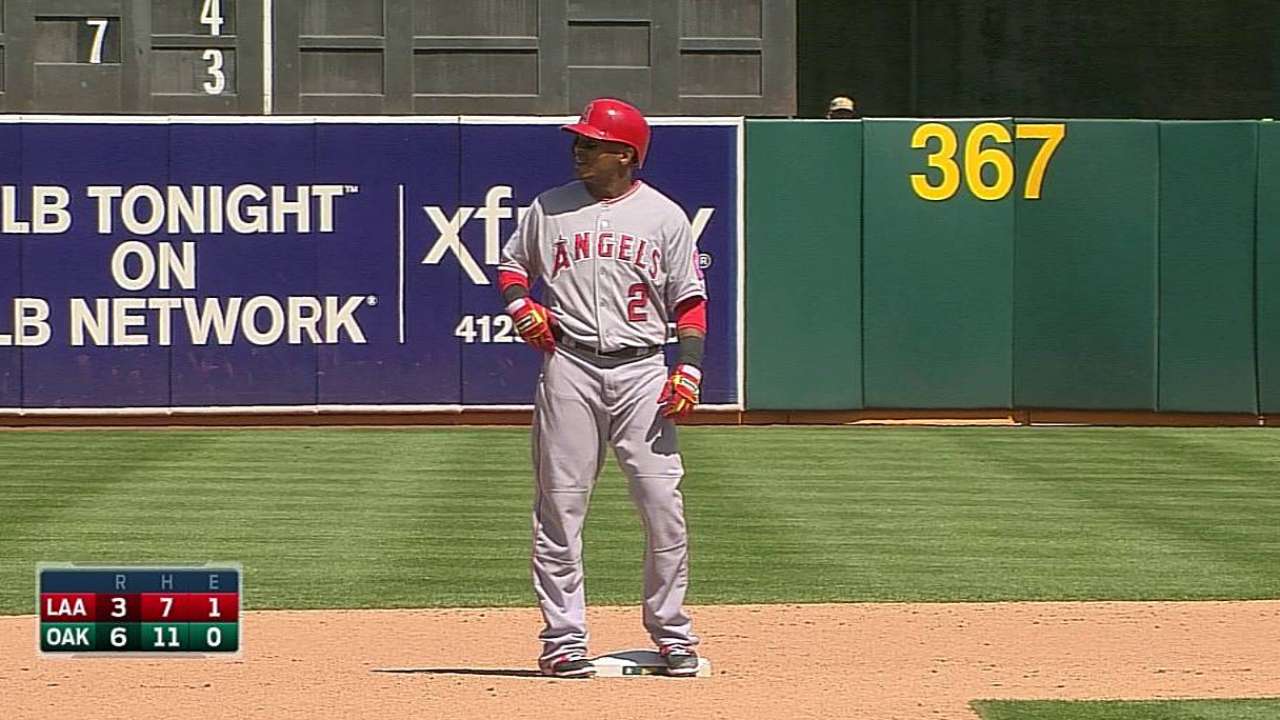 OAKLAND -- Somewhere amid the rumbling of a dispirited clubhouse, and shortly after a disheartening weekend against an A's team that's dominating the American League West in a way his Angels once did, Jered Weaver was able to muster up some encouragement.
"We'll see these guys again," the ace right-hander said, "and I think they'll see a different team than they saw this weekend."
The Angels had just been swept in a three-game series at O.co Coliseum for the first time since 2004, losing the finale, 6-3, and getting outscored by 15 in the 27-inning stretch. They entered Friday night with a chance to move into first place in the division and left Sunday afternoon trailing by 4 1/2 games.
Then they tried their best to maintain perspective.
"We have many veteran guys around," Angels first baseman Albert Pujols said. "We still have a lot of time left, and a lot of series against these guys. They played us tough."
Garrett Richards gave up five runs in the first inning Friday, five pitchers combined to spoil a two-run lead by surrendering 10 runs in the seventh and eighth Saturday and Weaver was outpitched by Sonny Gray on Sunday, as the Angels (30-26) fell to 1-5 against the A's (35-22) this season.
Weaver entered with a 0.87 ERA in his last 11 starts against the A's, giving up just eight runs in 82 1/3 innings against them from 2011-13 -- then gave up half that amount in the third inning alone.
"I've been around long enough to know this isn't the deciding factor in the season," said Weaver, who went on to be charged with six runs (five earned) on 11 hits and a walk in six innings. "Obviously we wish we could've played a little bit better. As a pitching staff, we know we're a lot better than what we showed this weekend. Next time we see these guys, I'm pretty sure they're going to see a different team."
The finale was pretty much lost in the third, when Weaver gave up an RBI double to Coco Crisp, walked John Jaso to load the bases, served up a two-run single to Josh Donaldson and gave up an RBI single to Jed Lowrie two batters later, putting his team in a four-run hole against a guy who had given up more than four runs just once in 21 career starts.
But the Angels hurt themselves in several other ways during the three-game set.
On Friday, they gradually chipped away at an early deficit but could never sustain any momentum, with Donaldson homering twice with his bat and taking away a run with his glove. On Saturday, their momentum was halted from the start, when they stranded the bases loaded with none out in the first and watched Yoenis Cespedes record two outfield assists in the second -- five innings before he won the game with a two-run triple.
On Sunday, lingering back stiffness forced Mike Trout out of the lineup for a second straight day and the Angels did little right.
In the first, Kole Calhoun made the third out at third base trying to advance on a ground ball to the left side. In the second, the offense didn't score despite putting a man on second with less than two outs for the second straight inning. In the sixth, Hank Conger picked Alberto Callaspo off at second base, but the rundown took too long and Craig Gentry advanced to second, which ultimately allowed him to score when C.J. Cron dropped a throw from Howie Kendrick.
And overall, the Angels went 1-for-6 with runners in scoring position, making them 6-for-23 during the three-game series.
The A's went 10-for-25.
"It seemed like throughout the series they definitely had opportunities to get that big hit and drive in some runs and our pitchers executed and got out of it," A's manager Bob Melvin said. "And on the flip side, we had some opportunities to score some runs and we were able to come through. That's what baseball's about."
The Angels will take this one on the chin and try not to let it sour them on the 14-6 record they carried in the 20 games that led up to this series. Mike Scioscia believes his team is "still evolving," because they're waiting on Josh Hamilton to finally return Tuesday, because three-fifths of their rotation is very young and because they're still waiting to establish that bullpen depth that continues to elude them.
At some point, though, they'll have to figure out a way to beat the A's.
"There were some things that got away from us on the field that definitely are things we need to do better, and we will," said Scioscia, whose team is off Monday before wrapping up a 10-game road trip with three in Houston. "We're not going to get down. We know the challenge in front of us. Part of it is getting our team where it needs to be, getting the pieces where we need them and playing good baseball."
Alden Gonzalez is a reporter for MLB.com. Read his blog, Gonzo and "The Show", and follow him on Twitter @Alden_Gonzalez. This story was not subject to the approval of Major League Baseball or its clubs.