Balanced A's attack sweeps away Angels
Four-run third inning enough to back Gray's solid effort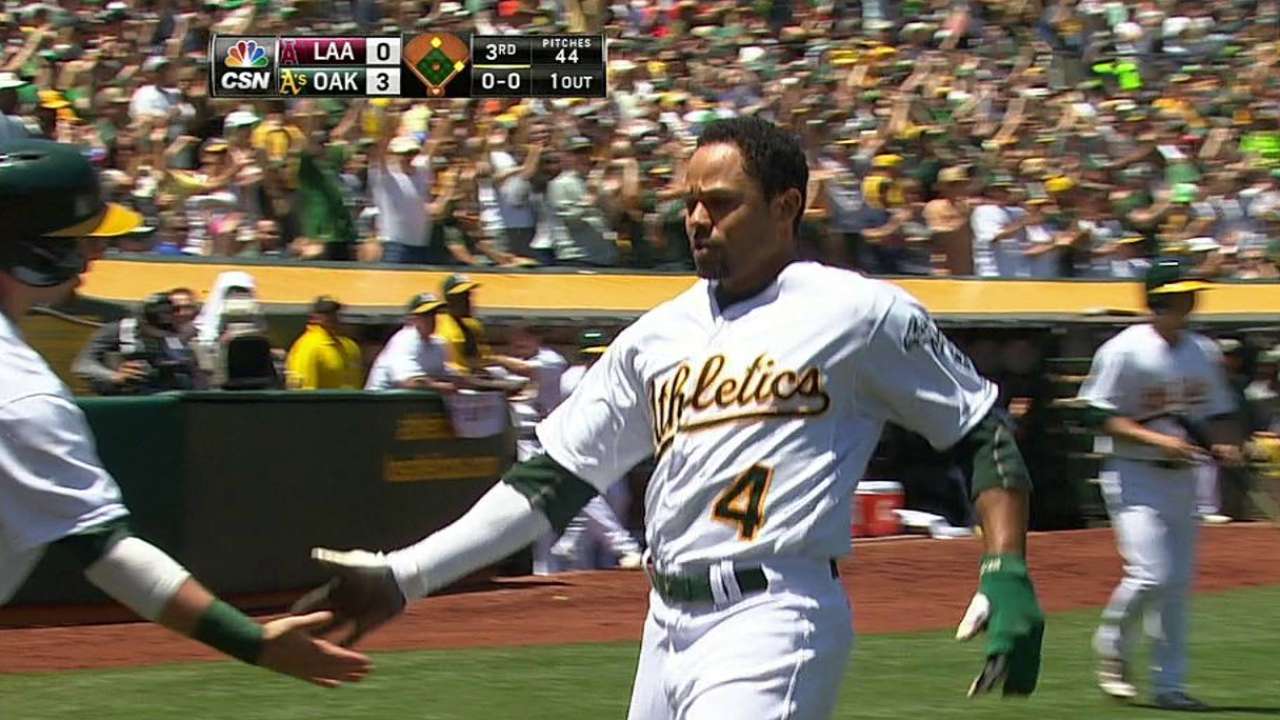 OAKLAND -- When the A's and Angels began a three-game series at O.co Coliseum on Friday, the Angels were breathing down Oakland's neck in the American League West.
By the time the series was over, the A's had pushed Los Angeles into the rear-view mirror.
Oakland scored four times in the third inning en route to a 6-3 win Sunday, completing a sweep of its division rivals and expanding its lead in the standings to 4 1/2 games.
"We'll take a sweep," manager Bob Melvin said after the A's finished a 5-2 homestand against the Angels and Tigers. "We beat them in different fashions. The first time we swung it pretty good, and then we come back the next night and really added on runs, where at times we have trouble with that. Today was just kind of a clean, well-played baseball game."
Facing Los Angeles ace Jered Weaver, the A's batted around in the third, getting RBI hits from Coco Crisp, Josh Donaldson and Jed Lowrie. By the time the right-hander left the game after six innings, the A's had tagged him for six runs (five earned) on 11 hits.
"I think he just left some pitches up," said Donaldson, who leads Oakland with 48 RBIs and has driven in 24 over his last 21 games. "For him, he tries to execute up at times, but there was times when he left some offspeed pitches up, and that gives us a chance to definitely hit the ball a little bit harder."
Sonny Gray nursed the A's 4-0 lead, limiting the Angels to three runs over 6 2/3 innings while throwing a season-high 113 pitches. He improved to 6-1 on the year, posting his 11th quality start in 12 tries.
"I've felt really good the last couple times out," Gray said. "I was figuring some things out a little later in the game with my breaking ball, and it got better. I expect to move forward with that and just get better the next time out."
"You always feel good when he takes the mound," said Melvin. "They did nick him up a little bit at the end, but even when [they] get guys on base and score some runs, he always seems [to find] a way to limit the damage."
Calling the shots for Gray behind the plate was Stephen Vogt, who arrived at the ballpark less than an hour before gametime after being called up from Triple-A Sacramento on Sunday.
Despite going 0-for-4, Vogt was thrilled to be back with the big league club for the first time since the 2013 playoffs -- and he was impressed with what he saw from Gray.
"He's a different pitcher than he was the last time I caught him," Vogt said. "His pitches are moving a little different, he's [got] good command, and he's more mature than he was in the fall. ... He's something special, he still is. Just a good reminder for me today of how special he is."
Vogt was called up in part because Brandon Moss (strained right calf) and Josh Reddick (hyperextended right knee) are hurting, and with two of their regulars on the bench, the A's received strong production from the bottom third of their lineup.
Alberto Callaspo and Eric Sogard contributed three singles apiece, and Craig Gentry scored twice. After hitting .158 in May, Sogard put together his first three-hit effort since April 6. Callaspo, meanwhile, has four hits in his last two games after batting .194 in May.
"Those guys can hit," Melvin said. "Like anybody, you're going to go through some tough periods, and they have. But Callo for a few days here has been swinging it better ... [and] it's good to see Sogie square up some balls."
Lowrie also broke out of a 4-for-30 skid, reaching base three times and launching a 3-0 fastball from Weaver over the right-field wall in the fifth for a solo home run, his fourth of the year.
Gray departed with the A's leading, 6-3, in the seventh, and Dan Otero, Luke Gregerson and Sean Doolittle combined to throw 2 1/3 no-hit innings to seal the win.
Oakland outscored the Angels 26-11 in the series, earning their Major League-leading sixth sweep of the year.
"You have to play pretty much perfect baseball against them," Weaver said. "They have speed, guys who do the little things, bunting, guys who take pitches. They're having a great year. Showed they're for real this weekend."
Aaron Leibowitz is an associate reporter for MLB.com. This story was not subject to the approval of Major League Baseball or its clubs.