Miggy homers, Smyly exits early in loss to Mariners
Lefty throws 105 pitches over four innings; Cabrera hits solo shot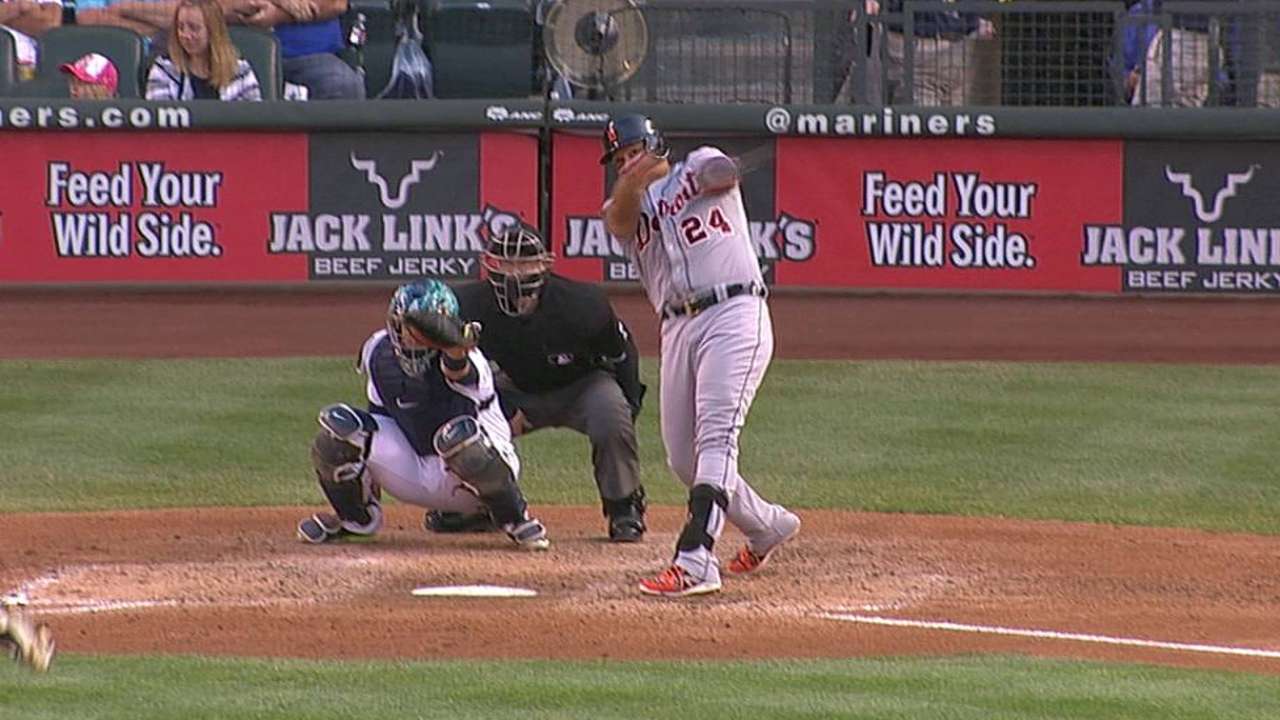 SEATTLE -- Ian Kinsler came within feet of becoming the latest Tiger with a game-changing home run. An inning later, Victor Martinez nearly had his second go-ahead homer in as many nights. Unlike Friday, though, the Tigers' chances Saturday night died at the outfield fence.
Even after all the struggles they survived to stay in this game, the 3-2 loss to the Mariners on Saturday night at Safeco Field was a tough one on a quiet Tigers clubhouse.
After Torii Hunter compared the long-armed delivery of 6-foot-10 Chris Young to a pitcher slapping the hitter in the face due to his reach, it was Kinsler's ball to the fence in the seventh and Martinez's line drive in the eighth that served as punches to the gut.
"We had a couple big hits," manager Brad Ausmus said, "and we had balls that we hit hard."
The latter were the hits they needed.
The Tigers survived a four-inning, 105-pitch start from Drew Smyly, whose follow-up to his four-homer loss at Oakland earlier in the week showed vastly different struggles. He was one big hit away from the game escaping his control, and he was in that spot for at least two of his four innings.
It wasn't just the traffic on the basepaths, but the clutter in the counts. Smyly went to 3-2 pitches on nine of the 20 hitters he faced, yet only gave up one walk. He became the first Tigers pitcher since Edwin Jackson five years ago to throw at least 105 pitches over four innings and allow one walk or less.
"Every time he'd get ahead, it just seemed like they'd work their way back into 3-2 counts," Ausmus said. "He had to throw a bunch of pitches early. After a hundred pitches, it was time to get him out."
For Ausmus, it was a matter of command. For Smyly, it was the lack of a finishing pitch.
"I think most of the time I put myself in pretty good counts," he said. "I threw some bad breaking balls, but they took, I thought, good breaking balls. Usually you get swings, and they were spitting on it. That would put them back in hitters' counts and they would get foul ball, foul ball. Just not an efficient outing."
The Tigers bullpen, relatively well rested after Justin Verlander's gem Friday night, tossed four scoreless innings to keep it a 3-1 game.
On the flip side, the Tigers survived six-plus quality innings from Young, whose long-armed delivery perplexed most of the Tigers despite a Miguel Cabrera solo home run in the fourth inning and two doubles to the fence against him.
The last time the Tigers saw Young, he was a hard-throwing youngster with the Texas Rangers in 2005, before arm troubles sapped his strength and stalled his career. Just five current Tigers had faced him in their careers.
The unfamiliarity seemed evident. When the Tigers connected, they hit the ball either to the fence or over it, including Cabrera's 375th career home run. Young, who had put Cabrera in an 0-2 count with sliders in the strike zone, tried to finish him off with an 89-mph fastball just off the plate and paid for it with a no-doubt drive off the mini scoreboard in the left-field corner.
When they didn't connect well, it was a frustrating night.
"I've seen more of those guys than some of the teams I've faced," Young said. "Hunter, Kinsler, Cabrera, Martinez, I've seen some of them. But ultimately it just comes down to making good pitches."
The second of the doubles, an Austin Jackson drive that one-hopped the fence in left, chased Young from the game and started the first of the fateful Tigers rallies in the seventh. Jackson eventually scored on a Dominic Leone wild pitch to whittle the score to 3-2.
The wild pitch was also ball four to Nick Castellanos, putting the potential tying run on base with one out. After Andrew Romine flew out to left, Rajai Davis' infield single moved Castellanos into scoring position and put the go-ahead run on.
Kinsler nearly scored them all, sending a Leone fastball soaring toward the left-field corner. Gillespie retreated quickly enough to go crashing into the fence as he corralled the ball, leaving Kinsler slamming his helmet while rounding first base in frustration.
"I thought I hit it well enough," Kinsler said.
Ausmus wasn't quite so confident, given the cool evening in the Pacific Northwest, but he was hoping.
"I think another three feet and it probably goes over his glove and it's a different ballgame," Ausmus said. "But sometimes that's how it goes. We didn't play poorly. We just didn't come up with big hits. And when we did hit it hard, they seemed to catch it.
"I thought it had a chance. The ball doesn't carry very well to left here, so I was dubious that it would go out. I was hoping it would be off the wall or over the reach of the outfielder."
Cabrera's one-out single up the middle started the process again in the eighth Yoervis Medina, whose 96-mph fastball got enough of the plate for Martinez to pull on a line toward the right-field fence.
Martinez, whose go-ahead three-run homer powered Detroit to victory Friday night, watched Endy Chavez run down the ball on the warning track, his back to the fence.
Chavez's catch carried the game to Fernando Rodney to try to convert the save against his old squad. After a leadoff walk to Alex Avila and a bloop single from Don Kelly, the Tigers had one last shot.
In this case, Ausmus said, they were not going to play for one run. Had Kelly's ball not fallen in, Ausmus said, he probably would've brought on power-hitting pinch-hitter J.D. Martinez to take his swings. Once Kelly reached, Ausmus wanted both runners to be in scoring position, one hit away from a changed game.
"We're not deep enough right now in the 'pen that we can play for a tie game," he said. "We were playing for the win."
Though Romine tried twice to bunt, Rodney's wildness gave him a tougher time laying anything down, eventually falling into a two-strike count and setting up Rodney's strikeout. He fanned Davis for the second out before Kinsler hit into a game-ending fielder's choice.
"Sometimes we take a little bit of emotion, but that's part of the game," Rodney said of facing his old squad. "Sometimes you try to show too much and try to do things too quickly. That happens sometimes too, but I have confidence in myself. I know it's a one run ballgame and I just say, pick it up Rodney. Let's go Rodney. Make good pitches."
Jason Beck is a reporter for MLB.com. Read Beck's Blog and follow him on Twitter @beckjason. This story was not subject to the approval of Major League Baseball or its clubs.