Davis brings new approach to No. 5 spot in order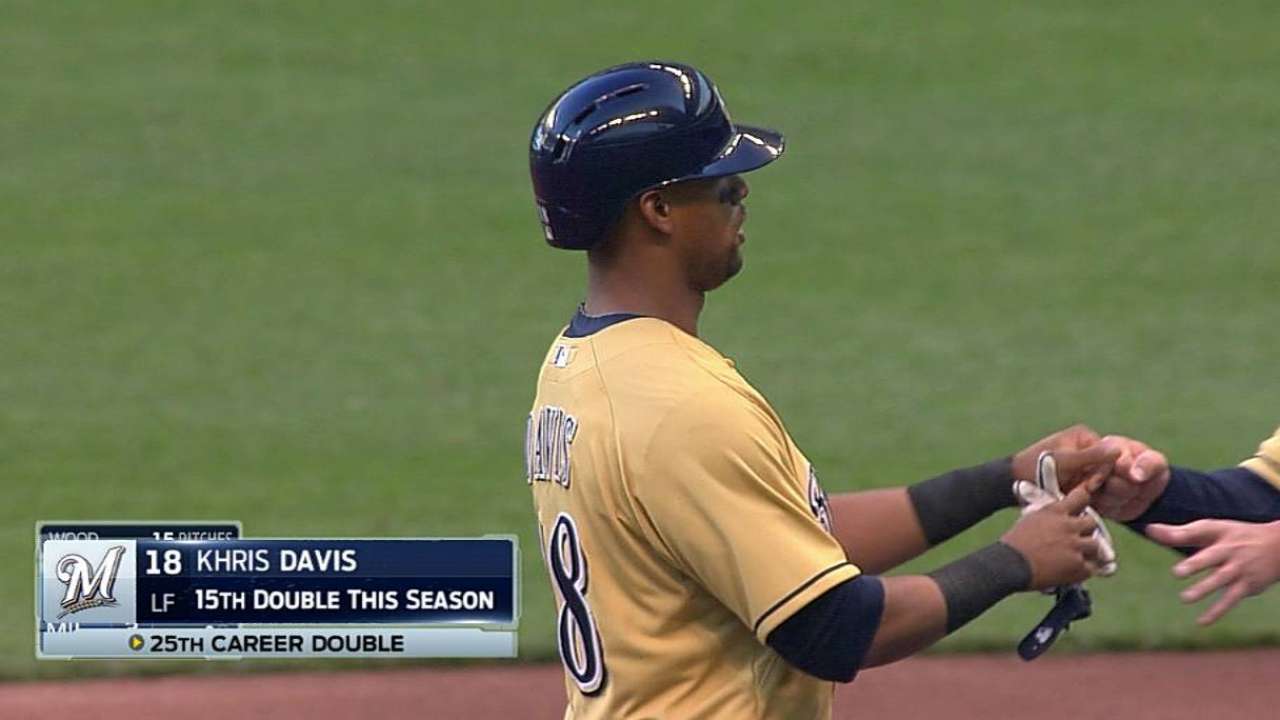 MILWAUKEE -- The mechanical adjustment behind Brewers left fielder Khris Davis' recent surge was minor in nature, but it has made a big difference. It was a matter of eliminating some trouble with his timing.
"I've just been getting set up on time and trusting my hands," he said Friday shortly before he started a game in the five-hole for the first time since May 5. "Earlier in the year, I felt like I was catching stuff out in front, which makes me pull-happy. I'm never working to pull as a hitter. As far as my timing, I've been catching [the baseball] deeper."
The result is better power to right field.
"My whole life, I've always used the opposite field," he said.
"We talked about it a lot," Brewers manager Ron Roenicke said. "He has made some changes, and I can see it and the results are great. Any time you have a guy change a little bit and you see results, it's always nice because then they feel like somebody is helping them, and when things go bad again, they'll be more apt to listen."
The 26-year-old Davis homered in all three games of the Brewers' just-completed series against the Orioles, and he entered play Friday on a seven-game hitting streak during which he batted .444 (12-for-27) with four home runs.
His most recent home run was a big one. Davis' eighth-inning, three-run shot on Wednesday gave the Brewers breathing room in an 8-3 victory.
He's feeling more confident at the plate.
"It's more of a mentality thing as far as confidence-wise," Davis said. "Like I said, I just found something I believe in, and I'm going to hold onto it as long as it works. … It was only a matter of time before I found something in my swing. It's a roller coaster of a ride when you go through those struggles, but it feels comfortable now."
Of moving up to the five-hole, Davis said: "I'm going to take my AB's the same way, really. My approach is still the same. I'm still going to be working on what I want as far as my timing, working that right-center field gap."
In his first at-bat in Friday evening's series opener against the Cubs, Davis hit a run-scoring double.
Adam McCalvy is a reporter for MLB.com. Read his blog, Brew Beat, and follow him on Twitter at @AdamMcCalvy. This story was not subject to the approval of Major League Baseball or its clubs.