Wolever discusses No. 7 pick, 'no agent' rule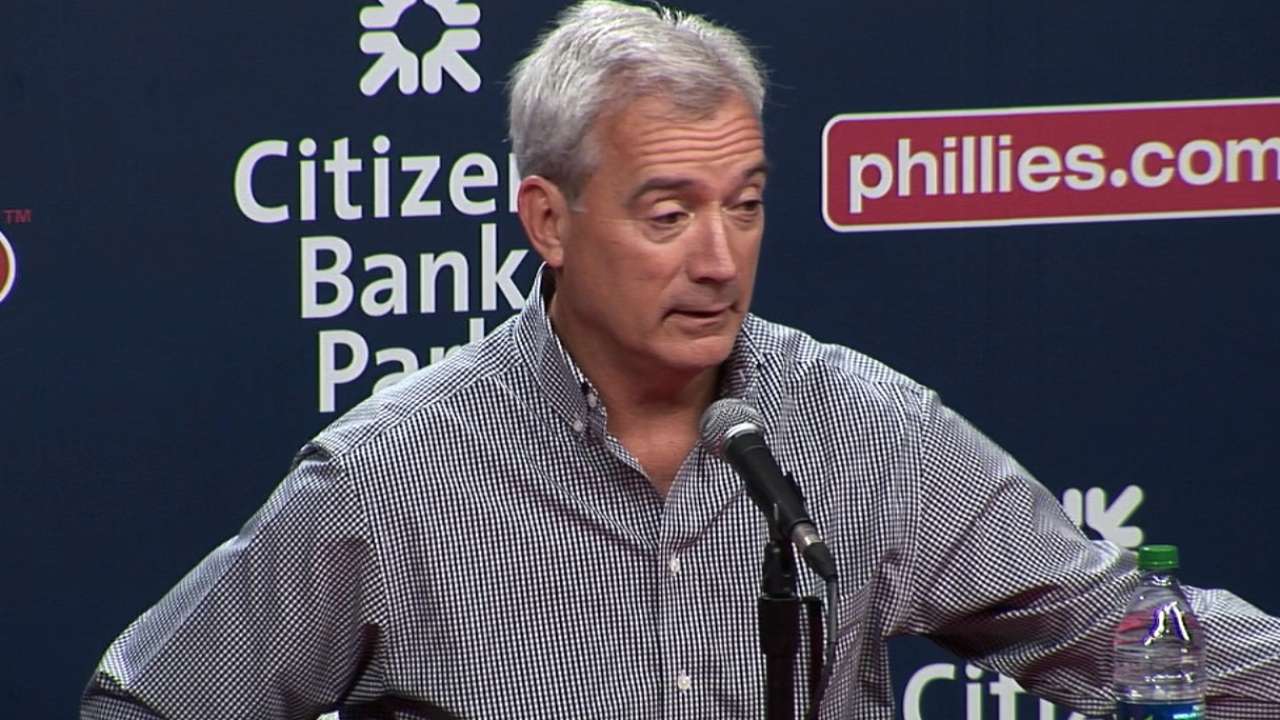 PHILADELPHIA -- The Phillies have the seventh overall pick in next Thursday's First-Year Player Draft, and it's a big one.
Past No. 7 picks include Clayton Kershaw (2006), Troy Tulowitzki ('05), Nick Markakis ('03), Prince Fielder ('02) and Frank Thomas ('89). Of course, there are numerous No. 7 picks who never made the big leagues, but after missing on several first-round picks in recent years, the Phillies hope to hit big here.
Phillies assistant general manager of amateur scouting Marti Wolever spoke about that topic Thursday at Citizens Bank Park, but he also visited a lingering issue the Phillies declined to discuss when news broke in February: The Phillies reported to Major League Baseball that Oregon State pitcher Ben Wetzler and Washington State outfielder Jason Monda violated the NCAA's "no agent" rule during negotiations. The Phillies drafted them in the fifth and sixth rounds, respectively, but neither signed.
The NCAA suspended Wetzler 11 games.
"We probably could have handled things a little bit better," Phillies general manager Ruben Amaro Jr. said on radio station 94WIP in March.
Wolever said Thursday he had no regrets.
"The only regret I have is taking players that had no intent of signing," Wolever said. "That's the only regret I have."
But both Amaro and Wolever said this week they expect no blowback from potential Draft picks or agents who might be representing them.
"I have had plenty of discussions and talks with agents and I have not heard about that being an issue at all," Amaro said.
"You wouldn't believe the number of people in professional baseball who have come up to me and our group over the course of the year and say, 'Thank you for what you did,'" Wolever said. "You guys aren't the bad guys in this situation. ... It has not hurt us a lick, because each guy is an individual, every player is different, as it is in the Major Leagues. We've had nothing but good responses."
Interestingly, the NCAA's investigations into Wetzler and Monda, who was cleared of wrongdoing, centered on the "no-agent" rule, but Wolever said the agents representing both players performed admirably.
"In this situation, both of the agents and advisors did a tremendous job. Both of them did their job," he said. "We were led to believe, prior to the Draft, that both of these gentlemen, according to their agents, would sign. Subsequently, that's why we took them. We offered what we offered and both accepted and then decided against it after that. Again, my only regret is we could have taken other players who would be in this organization. All I ask for is for people to be honest and upfront. It's very plain and simple. If you don't want to sign, tell us. If you do, let's try to reach an agreement and let's move forward. Plain and simple."
Erik Bacharach is an associate reporter for MLB.com. Todd Zolecki is a reporter for MLB.com. This story was not subject to the approval of Major League Baseball or its clubs.