Tigers topped late after Anibal's terrific outing
Nathan tagged with game-ending homer after Sanchez departs in ninth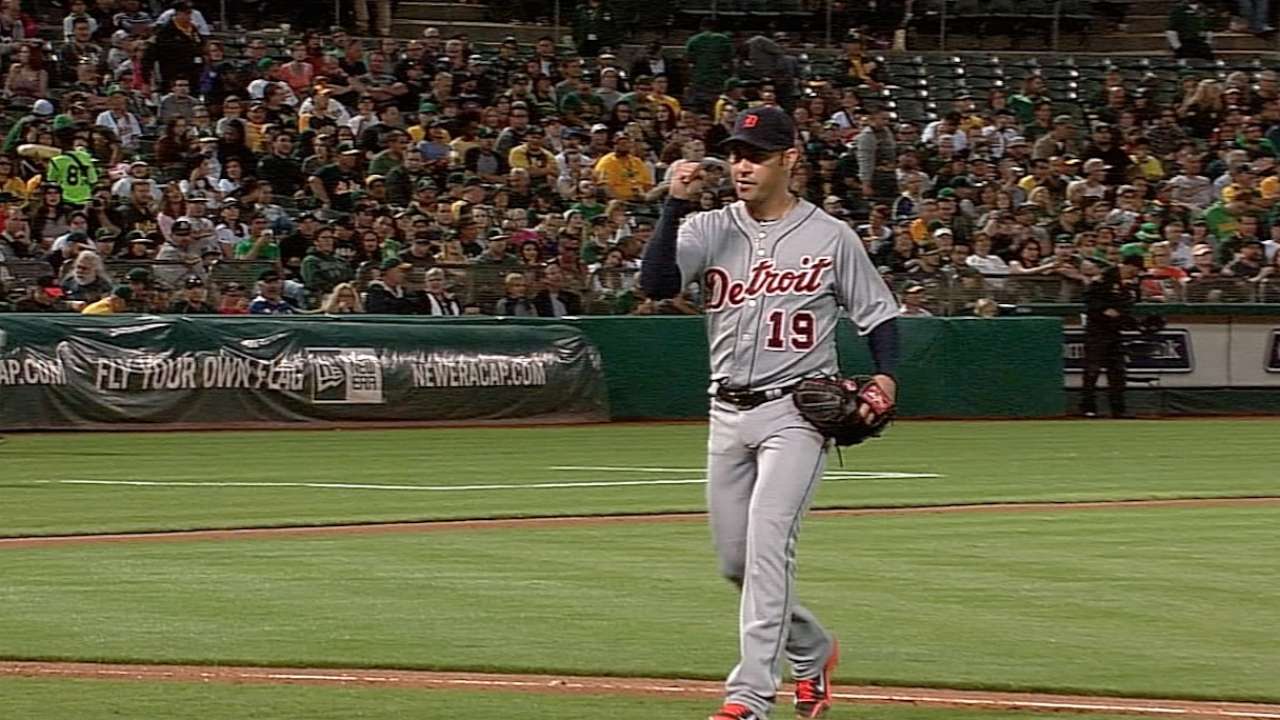 OAKLAND -- John Jaso's single with one out in the bottom of the ninth inning became the point of contention for closer Joe Nathan. He gets Jaso and the approach against Josh Donaldson is a very different one.
Instead, Donaldson drilled a three-run home run on the first pitch to give the Oakland Athletics a stunning 3-1 victory over the Detroit Tigers on Wednesday night.
Anibal Sanchez gave the Tigers their best pitching performance of the season. He allowed three hits over 8 1/3 innings but was tagged with a no-decision when Donaldson connected on Nathan's first pitch.
"The big at-bat was Jaso," Nathan said. "I get him and it changes everything. It changes my approach to Donaldson and gives me a chance to play with him. I didn't get Jaso and that puts you in a tough spot. It forces you to go after one of their better hitters. Jaso is the one I wanted."
The Tigers have lost eight of their last 10 and haven't put together any kind of winning streak since winning six straight in Baltimore and Boston over 10 days ago.
"That was a tough spot to bring Joe in," Detroit manager Brad Ausmus said. "He had no margin for error. Sanchez pitched outstanding, but his pitch count got a little high. He said he felt good to start the ninth, and he's one of our horses and deserves the chance to finish the game."
Ausmus acknowledged that any baserunner would have ended the night for Sanchez, who threw a season-high 111 pitches.
"We were down in the bullpen rooting for him to finish nine and get it down," Nathan said. "He did an outstanding job. I just wish we could have finished it for him. What a job he did."
Torii Hunter, who had two hits in the contest, supplied the only offense for Detroit with a fourth-inning home run, his eighth of the season. He hit Scott Kazmir's 3-2 pitch over the wall in right-center field.
Kazmir (6-2) didn't make another mistake all night.
"He had all his pitches going," Tigers third baseman Nick Castellanos said. "He hit his spots and he never gave us the same look. It sucks because we really wanted to win this one for Sanchez. That was definitely the best performance of the season. He pitched perfectly. To not win it for him was unfortunate. He was effective with every one of his pitches."
Castellanos came close to grabbing Jaso's hit. The ball was tailing away from him and caught the tip of his glove.
"It was moving a little bit," Castellanos said. "It was definitely a catchable ball."
That set the stage for Donaldson, who produced his second career walk-off home run. The first came last year against the Tigers.
"He threw me a slider," Donaldson said. "Just kind of missed in the area where I could hit it. Thankfully I didn't miss it. I've had a few at bats off Joe Nathan. In that situation right there, being first and third, he's looking for a double play or a strikeout, and I was just trying to hit something in the air. I was sitting on the slider and was able to put a good swing on it."
Sanchez battled pinch-hitter Alberto Callaspo in a nine-pitch at bat before inducing him to ground out to second to open the ninth.
Coco Crisp sliced a double down the left-field line, prompting the move to Nathan.
Rajai Davis singled and doubled before leaving the game with a left shoulder contusion. Davis made a diving catch on a ball hit by Yoenis Cespedes in the second inning but continued to play until Austin Jackson replaced him in the bottom of the seventh.
"He just landed on his shoulder when he dove for the ball," Ausmus said. "We don't think it's anything long term."
Sanchez retired 14 of the final 16 batters he faced before giving way to Nathan, who gave up his first ever home run in Oakland.
"I tried to keep the ball down, nothing too crazy," Sanchez said. "I got a lot of ground balls and went deep in the game."
Nathan had allowed two earned runs in his previous 18 2/3 innings, spanning 19 appearances in Oakland. It was his fourth blown save of the season.
Rick Eymer is contributor to MLB.com. This story was not subject to the approval of Major League Baseball or its clubs.