Orioles lose in 10 on walk-off double by Gallardo
Britton allows tying run in 9th after Pearce's HR erases five-run deficit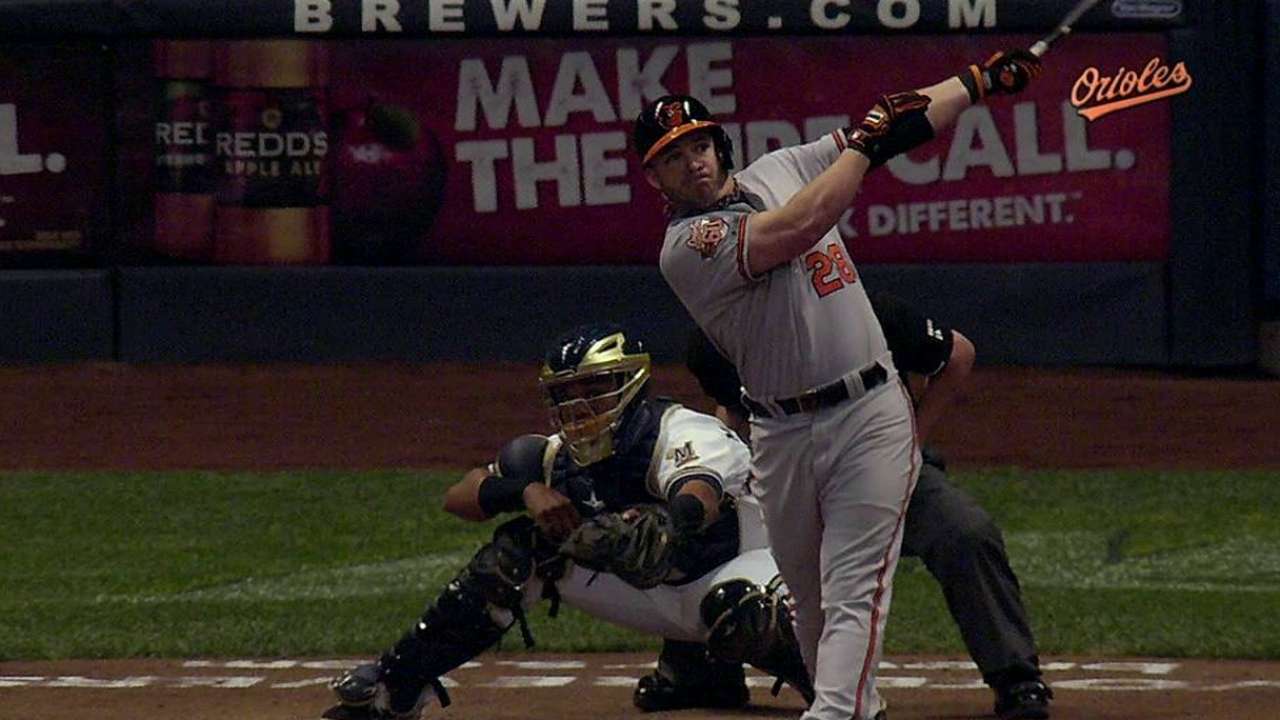 MILWAUKEE -- The Orioles saw right-handed pitcher Yovani Gallardo a day early. And it wasn't a welcome sight.
Wednesday's scheduled starter for the Brewers, Gallardo recorded the first pinch-hit of his career, a double into center field off lefty T.J. McFarland that handed the Orioles a 7-6 walk-off loss in 10 innings at Miller Park.
"We were well aware Gallardo was one of their better hitters," manager Buck Showalter said of the righty, a .202 hitter who has 12 career homers. "Didn't get off to a very good start this year, but we got a ball where we didn't want to get it. I was hoping he had gone home to get ready for tomorrow. We knew he was over there."
The defeat, which also featured lefty Zach Britton's first blown save, squandered a three-run homer from pinch-hitter Steve Pearce and Nelson Cruz's Major League-leading 17th blast. After Showalter called for a two-out intentional walk to Mark Reynolds in the 10th, Brewers manager Ron Roenicke, out of position players, countered by sending Gallardo to the plate.
"The pitch I threw was not a good pitch to any hitter," McFarland said of the fateful offering to Gallardo, which marked the first game-winning pinch-hit by a pitcher since April 19, 2003. "I got behind him 2-0 and threw a fastball he could hit."
And the O's watched a six-run rally wasted as a result, a disappointing end to a nearly four-hour game that saw a few bad breaks give the Brewers just what they needed.
Britton, promoted to the closer role after Tommy Hunter's struggles, watched a two-out infield single in the ninth from Jonathan Lucroy hand him his first blown save in four opportunities. Things got started with Lyle Overbay's leadoff single and pinch-runner Elian Herrera moving to second on a sacrifice bunt, then to third on Ryan Braun's groundout.
Lucroy's dribbler was fielded by a hustling Manny Machado, but his throw was wide and the speedy Lucroy eluded Chris Davis' lunging attempt at a tag for a hit.
"The right pitch, the right execution, just an unlikely bounce," Britton said of the play. "If Manny can't make that play, there's nobody that can make that play.
"I try to find something negative, something to be frustrated with, but if I was to go back out there, I'd throw the same pitch, same location and hope maybe he hits the ball a little harder. That's about the only thing that could have happened. He hits the ball a little harder, Manny gets there a little quicker. That's just about it, but that's not the way it was today."
Machado wasn't sure if he would have gotten Lucroy even if he had made a perfect throw, and the tying run set the stage for Gallardo to give the Brewers their third extra-inning win this season.
"I kind of made eye contact with Yo and said, 'Let's go, man,'" Reynolds said after McFarland walked him. "He's a good hitter. He threw a fastball and Yo put a good swing on it and it was fun."
Fun wasn't exactly the word to describe the bottom of the 10th inning from the Orioles' dugout, although Pearce provided some upside with a two-out, seventh-inning shot off Brewers starter Matt Garza to give Baltimore its first lead.
Things got started when Cruz worked a leadoff walk and, one out later, Nick Hundley reached on shortstop Jean Segura's error. After Garza got Jonathan Schoop to ground out, Pearce sent a 3-1 pitch just inside of the left-field foul pole to put the Orioles on top, 6-5.
"They know we don't forget that," Showalter said of the positives in Tuesday's loss. "That was a lot like [Monday], we could have pulled the sand around us. But these guys won't do that. It was frustrating for them to be one out away. Manny spoiled us at such a high level of play. We did some good things tonight and I'll dwell on that."
Pearce is certainly one of them. Since rejoining the team after he was designated for assignment and rejected a waiver claim, Pearce is batting .339 (19-for-56) with three doubles, four homers and 11 RBIs. His homer was followed by Nick Markakis' single, which chased Garza from the game in favor of reliever Will Smith.
The O's pen, after scoreless innings from Preston Guilmet and Ryan Webb, held off another attempt in the eighth after the Brewers loaded the bases off right-hander Darren O'Day. Lucroy delivered a leadoff double down the first-base line, and one out later, O'Day intentionally walked Rickie Weeks. He followed that with a walk to Khris Davis, loading the bases for Reynolds.
Reynolds, who homered previously off Orioles starter Wei-Yin Chen, lined out sharply to Machado for the second out, bringing on lefty Brian Matusz, who got pinch-hitter Irving Falu to ground out to second to quash the threat.
The Orioles were dominated by Garza early, mustering up just one hit over four innings and falling behind 5-0, before Cruz extended his Major League lead in homers with his 17th, a leadoff shot in the fifth. The O's kept chipping away, scoring a pair of runs in the sixth on Markakis' double and Adam Jones' sacrifice fly to stay within striking distance.
"A lot of give and take in those games," Showalter said. "Very talented guys…there's such a fine line, sometimes it's the way a ball bounces. One more bounce. But if you stay true to it, you keep grinding the odds will go in your favor. I'm sure it was enjoyable. It should have ended differently that's for sure."
Chen surrendered a season-high three home runs in giving up five runs over five innings. It was his first multi-homer game since September 18, 2013, as the lefty entered the game having allowed just four homers over 53 innings this season.
"I think probably because my breaking ball didn't break as good as before," Chen said, through his interpreter, of the reason for his struggles. "I think it's also because I failed to get the first strike for most of the time, so I fall behind for most of the time, so they don't have to worry about my breaking balls."
Carlos Gomez was the first to strike, sending Chen's 1-0 offering over the left-center-field fence to score a trio of runs on a one-out first-inning blast. Reynolds followed, delivering his 12th homer of the year on a leadoff shot in the second inning.
After pitching around a leadoff double in the third, Chen surrendered another leadoff homer -- this time to Davis -- in the bottom of the fourth. It was the fifth and final run he allowed in the 76-pitch outing.
"It's a tough loss," McFarland said. "We battled all the way back. Our guys showed a lot of heart with all that, to give it up the way that we did it stings a little bit more, but we've got a game tomorrow. We're all going to come back here tomorrow and we're gonna try and win the series."
Brittany Ghiroli is a reporter for MLB.com. Read her blog, Britt's Bird Watch, and follow her on Twitter @britt_ghiroli. This story was not subject to the approval of Major League Baseball or its clubs.