White Sox put together total package in holiday win
Viciedo hits three-run HR; Gillaspie goes 4-for-4 with three doubles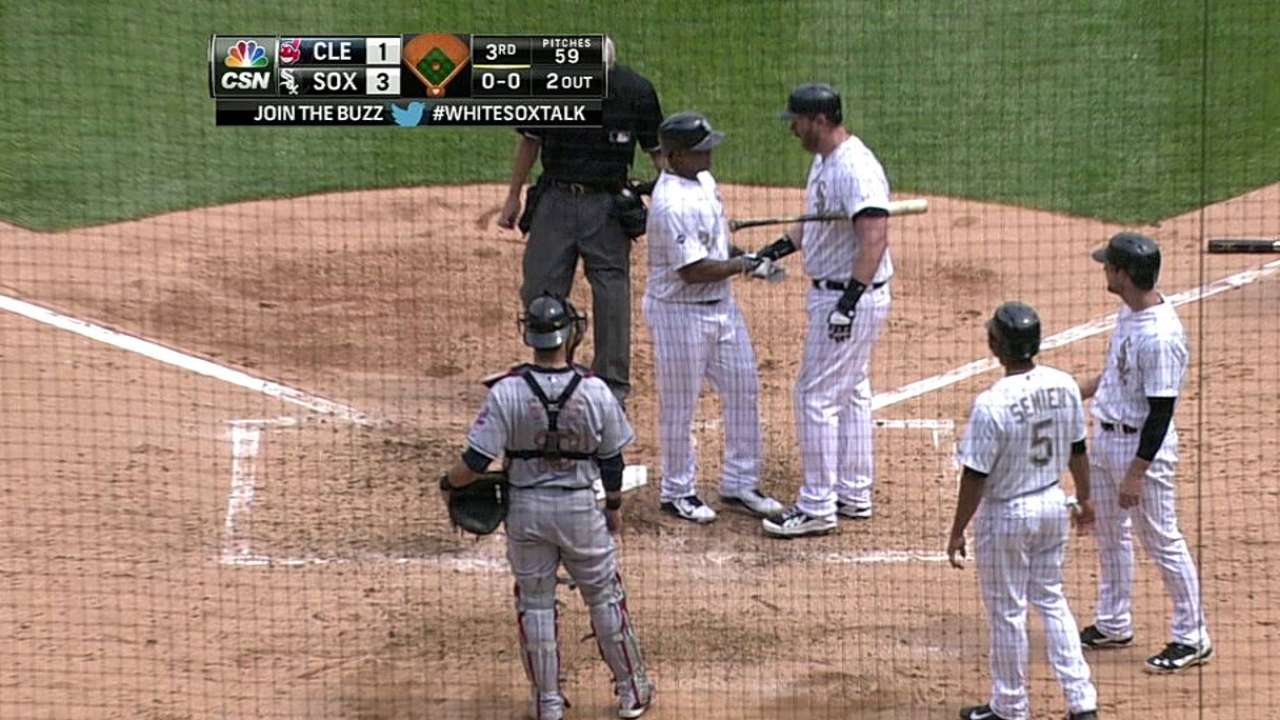 CHICAGO -- Give Jose Quintana four or five runs of support, and there's a pretty good chance he'll pitch well enough to help the White Sox gain a victory.
That exact scenario played out Monday afternoon at U.S. Cellular Field, as the White Sox claimed a 6-2 win over the Indians behind Quintana's ninth quality start of the season. But the Memorial Day victory actually featured a little bit of everything.
Quintana (3-4) improved to 3-0 lifetime against the Indians in nine appearances and seven starts by allowing just two runs on five hits over six innings. He struck out five and walked two, and for once, Quintana didn't have to worry after yielding a run in the third via Michael Brantley's single to give Cleveland a 1-0 advantage.
Career no-decision No. 32 was not on the agenda for this afternoon.
"Q just goes out and pitches. He doesn't sit there and complain that he doesn't get runs," said White Sox manager Robin Ventura of Quintana, who had received 37 runs of total support, but 13 came in one game. "The way he was pitching today, he had a high pitch count early and seemed to battle through it and just get to the spot where we needed him. He just needs to be more efficient and go deeper."
Dayan Viciedo erased that 1-0 lead in the bottom of the third with a three-run blast to left off of Cleveland starter Josh Tomlin (3-2). All three runs were unearned, with Marcus Semien reaching via a two-out Lonnie Chisenhall error and Conor Gillaspie singling.
Ventura is very familiar with extra outs and giving away runs, based on last season's shortcomings. Not only did the White Sox take advantage of the third-inning mistake in this instance, but they turned in stellar defense later in the game.
Semien made two outstanding plays at second to take away base hits from Chisenhall, while Moises Sierra made a diving catch in right to rob Yan Gomes of extra bases.
"Anytime a team gives you an extra out, we saw it all last year, we were giving everybody extra outs, and you pay for it," Ventura said. "In this league, more often than not, you're going to pay for it."
Viciedo's homer was his fifth, coming on a 1-2 hanging curve. There should be more power to come for the White Sox outfielder, who has gone deep as many as 25 times in a single season. But through the first 53 games of '14, Viciedo simply looks to be a more complete hitter.
"First of all, it's a credit to the work. It doesn't happen just like that," said Viciedo through interpreter and White Sox manager of cultural development Lino Diaz. "We've been working a lot and I feel like the biggest thing is to make the adjustment. When you don't do good in one at-bat, then you come back and fix the problem. Concentration is one of the biggest things at-bat to at-bat, and having a plan."
What pleased Ventura as much as Viciedo's three-run blast was that his team added on after the homer. The White Sox scored two in the sixth on run-scoring singles by Alexei Ramirez and Alejandro De Aza, and another run in the seventh on Gillaspie's double.
Gillaspie set the pace offensively, courtesy of a career-high four hits, three of which were doubles. He raised his average to .529 (9-for-17) against the Indians this season and to .352 overall in 122 at-bats.
"A couple of times, they threw it right in the spot I was looking and it's just the way it goes," Gillaspie said. "Against the Yankees, they threw some good pitches and I kind of got behind in the count a few times with some of those guys. It's a good team win and I think everybody was excited to be out there. It was nice and warm and humid. It was a good day to play."
Tyler Flowers wasn't around for the entire game, as home-plate umpire Ron Kulpa ejected him in the fourth. Flowers took a called third strike, flipped his bat toward third and was immediately tossed. In the previous at-bat involving De Aza, it was Flowers and Ventura who ushered De Aza to the dugout after De Aza vociferously argued a called third strike.
Cleveland loaded the bases with two outs in the eighth against Zach Putnam, but Scott Downs struck out pinch-hitter David Murphy to end the threat. Downs walked a batter in the ninth before recording the save, his first since July 23, 2012, against Kansas City as a member of the Angels.
Timely hitting, including a three-run homer. Airtight defense. Quality starting pitching and relief work. As Gillaspie said, it was a good day for the White Sox.
It was an especially good day for Quintana with the run support behind him.
"I'm so happy with the support of runs," Quintana said. "It was a close game, no more runs for them. A win for us."
"He might give up a hit per inning, but he always keeps you in a game," said Cleveland manager Terry Francona of Quintana. "I know he went through that period where he had a lot of no-decisions, but he always stays out there and gives them a chance to win."
The victory marked the fifth for the White Sox (26-27) in eight games against the Indians (24-28), after the South Siders managed two meager victories in 19 matchups during the '13 campaign.
Scott Merkin is a reporter for MLB.com. Read his blog, Merk's Works, and follow him on Twitter @scottmerkin. This story was not subject to the approval of Major League Baseball or its clubs.