Given big lead, Santana stumbles in loss to Red Sox
Righty allows five runs in fifth; reliever Thomas' wildness costly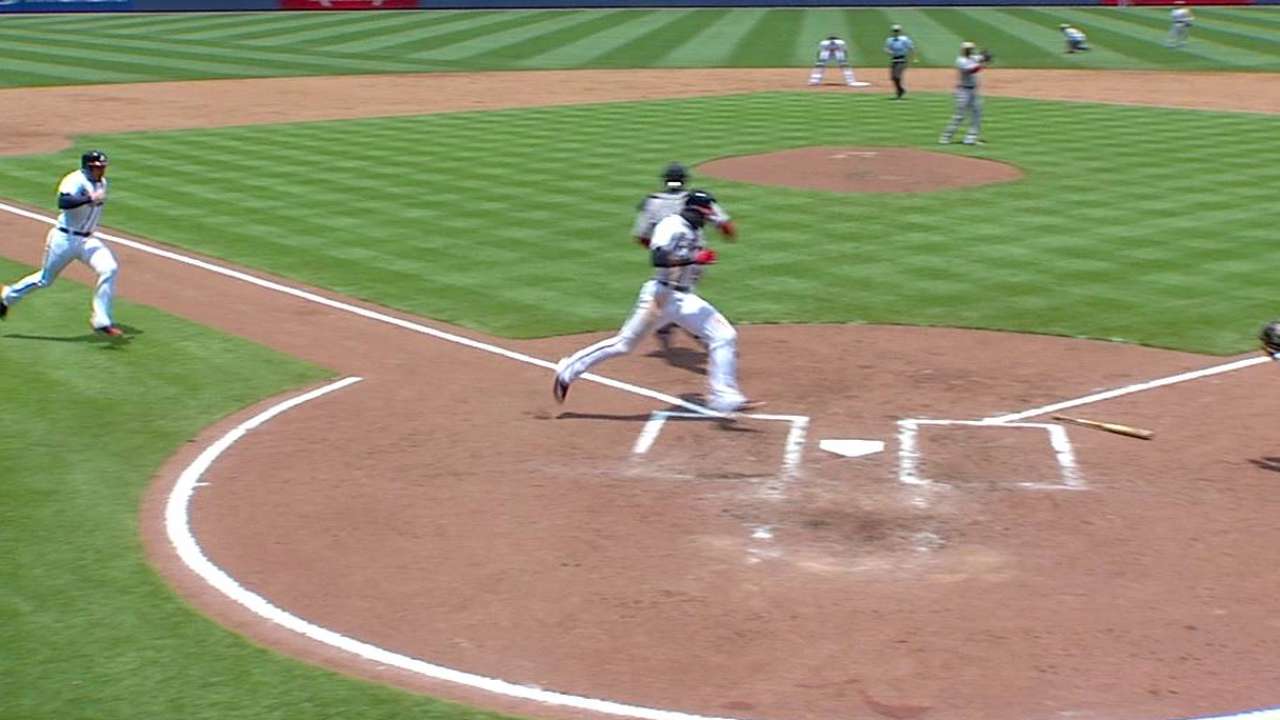 ATLANTA -- As the Red Sox came to town in the midst of a 10-game losing streak, the Braves knew the defending World Series champions would soon escape their recent struggles. But they did not envision it happening in this manner.
After squandering a five-run fifth-inning lead at Turner Field on Monday afternoon, the Braves waited through a long rain delay, then suffered an 8-6 loss to the Red Sox, who took advantage of Ian Thomas' inexperience during a decisive two-run seventh.
"I wouldn't say it's a bad defeat," Atlanta third baseman Chris Johnson said. "It's just a loss. It's just one game."
It was a game the Braves certainly seemed to have in hand when they built a 6-1 lead with assistance from the eight walks Red Sox starter Clay Buchholz issued in just three-plus innings. But in the end, they paid for the costly walks Ervin Santana and Thomas issued to provide opportunities for David Ortiz to enjoy a four-RBI performance.
While the Red Sox hadn't scored six runs since last claiming victory on May 14, the Braves hadn't lost any of the previous 10 games in which they had tallied at least six runs.
"The way we've been pitching, when you score six runs, you think it's going to be enough," catcher Gerald Laird said. "But it's one of those things where it was a weird game today. We left a couple pitches up in the zone and that two-out walk really hurt us."
The tide was altered when pinch-hitter Daniel Nava fell behind with an 0-2 count and then drew an eight-pitch walk to spark Boston's game-tying, five-run fifth, which was highlighted by Ortiz's three-run home run off Santana.
Braves manager Fredi Gonzalez decided to stick with Santana through the fifth because the pitcher's spot was due up first in the bottom half of the inning. But his decision to begin the seventh with Thomas proved baffling as the inning unfolded.
Alex Wood's availability was erased when he completed a scoreless sixth just ahead of a one hour, 26-minute rain delay. Anthony Varvaro was also unavailable because he pitched two innings Sunday. With the game tied and the pitcher's spot due up third in the bottom half, David Hale was not available to pitch the seventh because he was being saved for a potential multi-inning appearance.
Still it seemed right-hander David Carpenter or left-hander Luis Avilan, who was warming up before Ortiz homered in the fifth, seemed to be better available options than Thomas, who had made 14 previous career appearances, none of which were completed in front of a raucous sold-out crowd that included a multitude of Red Sox supporters.
"[We] even thought about using Carp," Gonzalez said. "With the way where we ended up in our lineup, we would have to pinch-hit and you couldn't double switch to get him in the game."
Thomas made the mistake of not covering first base on Brock Holt's one-out grounder. The rookie southpaw then issued consecutive walks to a pair of right-handed hitters -- Xander Bogaerts and Dustin Pedroia -- before Ortiz hit what proved to be a decisive sacrifice fly to right field. A.J. Pierzynski followed with a broken-bat RBI single to end Thomas' outing.
"We get the first guy out and then we're late covering first base and then we're walking the next two right-handers and then you've got to face Ortiz there in that situation," Gonzalez said.
Three of the first six batters the Red Sox sent to the plate were left-handed. But Ortiz would not have come to the plate had the two right-handed hitters that preceded him been retired.
Such could be said in reference to the key walk drawn by Nava. Holt followed with a double and Bogaerts walked. Pedroia then lined a bases-loaded single to set the stage for Ortiz, who belted a flat 1-0 slider over the left-center-field wall for a game-tying, three-run home run.
Gonzalez had Avilan warming up, but opted to stick with Santana, who has seen Ortiz hit .375 (12-for-32) with four homers and three doubles against him.
"It's the fifth inning and you try to give him an opportunity to win the game," Gonzalez said. "Yeah, of course, all those things cross your mind, but he's a guy that's been pretty darn good for you. You try to give him the chance to get the win there. And he's a veteran guy that you would think [would] know how to wiggle through a lineup, but that inning just unraveled on him a little bit."
Unfortunately for the Braves, Santana has not recently been the same guy who compiled a 1.99 ERA through his first six starts. He has allowed 17 runs in 17 innings during the three outings that have followed.
"[Two-out walks are] the main issue right now, so I just have to correct that," Santana said.
While the Braves relinquished a sizeable lead, the Red Sox bullpen proved impressive as it limited the day's damage incurred by Buchholz. Jason Heyward and Freddie Freeman both walked in each of their first three plate appearances and a pair of Justin Upton doubles accounted for half of the six runs allowed by the Red Sox starter.
"With a big deficit like that, it's tough for anyone to come back," Heyward said. "I've been on the winning side of those. So you never count it out as a baseball player. They always seem to fight and make the most of their extra at-bats. That's what they did today."
Mark Bowman is a reporter for MLB.com. This story was not subject to the approval of Major League Baseball or its clubs.