Spot-starter Dice-K aids Mets' win in Game 2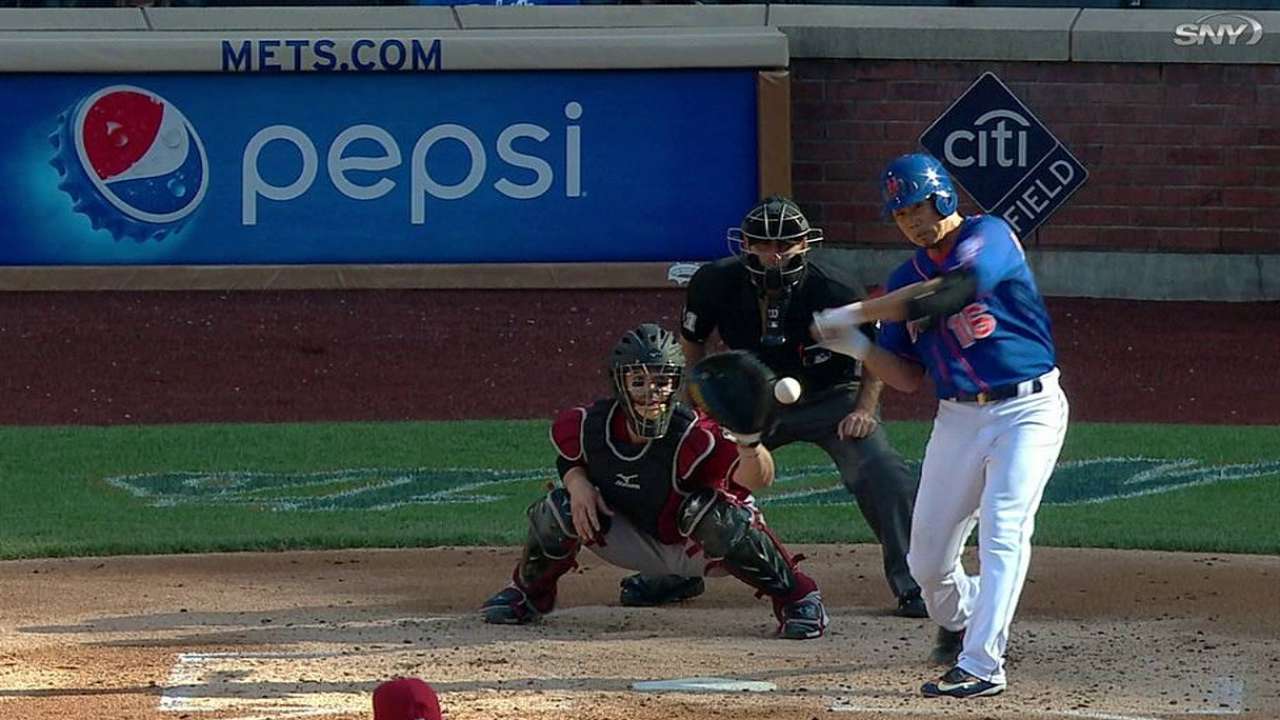 NEW YORK -- After most Mets losses, the players would shower, get dressed, fulfill whatever media obligations might be present, then go on their separate ways for the night. It's been a somewhat common routine in Queens so far this spring for a team that started the day five games below .500 at Citi Field.
But Sunday was different. Mother Nature presented the Mets with an immediate opportunity for redemption after a loss in Game 1, and they obliged to avoid the weekend sweep. New York beat Arizona, 4-2, in the nightcap of their doubleheader, which made up for Friday's rainout.
Spot-starter Daisuke Matsuzaka provided the Mets with just about everything they could have asked -- especially since it was his first Major League start since last September -- with six innings of two-run ball. He limited the D-backs to three hits and a walk while fanning six. He even contributed an RBI single in the second to score Wilmer Flores from second -- about an hour after the team wrapped up a 1-for-13 effort with runners in scoring position during the first game of the day.
"We all know he wanted to pitch, he wanted to start, and to have him come in and do the job he did when he has not been lengthened out basically at all, it shows the kind of heart he's got," manager Terry Collins said. "If there's one guy I'm not worried about on the mound, it's him."
"I'm pretty confident in my hitting, so I just wanted to get ahead and get a run in," Matsuzaka joked, through a translator.
Matsuzaka's hit, a bloop that barely escaped the outstretched glove of shortstop Chris Owings before dunking into left field, was an early sign that this wasn't like many other recent Mets games. Things were actually going their way.
It was a departure from the series' first two games, both one-run contests won by the D-backs in a span of about 24 hours. The Mets rebounded somewhat from going 3-for-21 with runners in scoring position in the first two with a 4-for-13 mark on Sunday night. That upward trend continued into the middle innings. As Matsuzaka efficiently put down the D-backs bats, the other strings Collins pulled -- Bobby Abreu starting in right field, Anthony Recker behind the plate -- paid dividends.
Abreu, in just his fourth start of the month and sixth of the season, doubled to left, scoring Curtis Granderson (walk) from first base in the fifth inning. Recker came around as the go-ahead run in the sixth when pinch-hitter Ruben Tejada -- he of the .195 average -- singled.
Moments prior, Recker doubled for one of his career-high four hits.
"When you can win a game and get a big hit -- Ruben got a tremendous, big hit for us -- it's a lift," Collins said.
The Mets' first three runs came off of Arizona's own spot-starter, righty Zeke Spruill. He tossed 5 1/3 innings while scattering 10 hits and two walks.
"He threw the ball well for us," D-backs manager Kirk Gibson said. "We gave him no offense at all."
Arizona scored both of its runs during one three-batter sequence in the second, highlighted by Martin Prado's RBI triple. Matsuzaka allowed one hit in his next five innings.
Jenrry Mejia finished the Met bullpen's three innings of two-hit relief with a scoreless ninth, just hours after throwing 21 pitches and absorbing a tough-luck loss in Game 1. Mejia seemed plenty pleased with the increased workload, however, and said he could even be available on Monday against Pittsburgh.
"It's my first time pitching twice [in one day]," Mejia said. "It's unbelievable."
Pittsburgh is the next task, and it comes quickly. The Monday matinee will be the Mets' fourth game in about 48 hours, so it doesn't hurt to have a little momentum heading into the short night.
"We played those first two games really tough. So did they," Recker said. "I feel like we could've definitely come away with three wins in this series … We got the last one, which is big. We're going to take that into the next series."
Tim Healey is an associate reporter for MLB.com. This story was not subject to the approval of Major League Baseball or its clubs.