Colabello, Herrmann sent down to Triple-A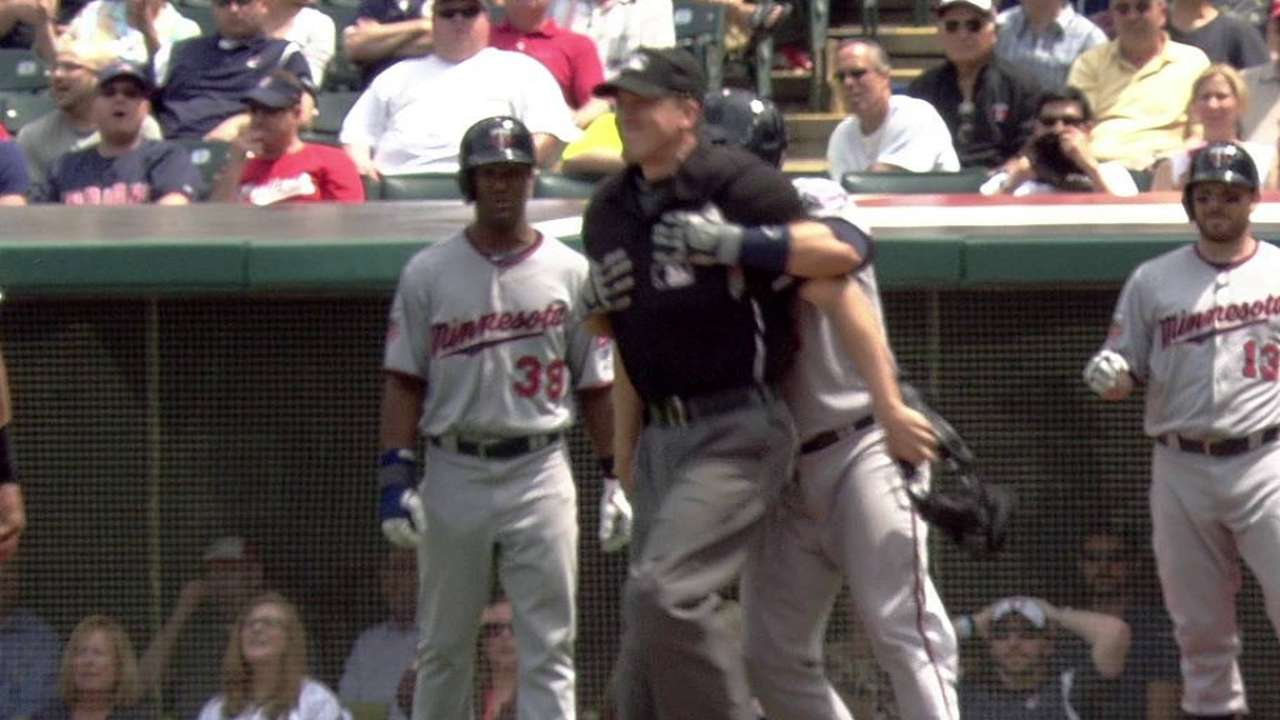 SAN FRANCISCO -- Chris Colabello took the baseball world by storm with a strong April, but he was demoted to Triple-A Rochester following Sunday's 8-1 loss to the Giants. Along with Colabello, outfielder Chris Herrmann was also sent down to make room for outfielders Josh Willingham and Oswaldo Arcia, who have both been rehabbing wrist injuries lately.
It's not often that you see a team demote its RBI leader, but that's the case with Colabello, who is tops on Minnesota with 30 driven in this year.
"He's been struggling for a while here," Twins manager Ron Gardenhire said of Colabello. "Tough one there after his start and what he did. Not easy to do, but I think we can all see he needs some swings right now."
Colabello, 30, seemingly came out of nowhere and batted .295/.343/.484 with three homers and 27 RBIs in April. But he's gone hitless in his last 22 at-bats, in a month when he's hitting .125/.169/.196 with a homer, three RBIs and 24 strikeouts against just three walks.
He was out of the starting lineup for the fifth straight game on Sunday and had just one at-bat since May 17, coming in a pinch-hit appearance on Friday night. While Gardenhire said the league might have figured out Colabello and attacked him differently in recent weeks, the outfielder put the blame solely on his own shoulders.
"Lack of execution," Colabello said. "I fouled a lot of balls back. I was dealing with some stuff and let it get to me a little bit, but started feeling better here the past couple of weeks. Obviously, just not a lot of opportunity."
Willingham is expected to reclaim his role as the team's everyday left fielder while Arcia showed some nice pop with 14 homers in 97 games last year and will be added to the outfield rotation. Going forward, Gardenhire said Aaron Hicks will continue to get the bulk of the playing time in center field.
Though Colabello was disappointed to be sent back to Triple-A, he is looking forward to playing every day again as he tries to come back to the big leagues.
"I haven't had any [doubts] for a long time," Colabello said. "Remove the doubts? I think there will always be people that doubt you. If there weren't that wouldn't be life. I believe in my ability and that's why I stayed here this year. I think I can play at this level."
Herrmann, 26, was batting .122 with no extra-base hits in 41 at-bats with Minnesota at the time of his demotion.
Alex Espinoza is a contributor to MLB.com. This story was not subject to the approval of Major League Baseball or its clubs.