CarGo back in lineup with troubled finger 'good to go'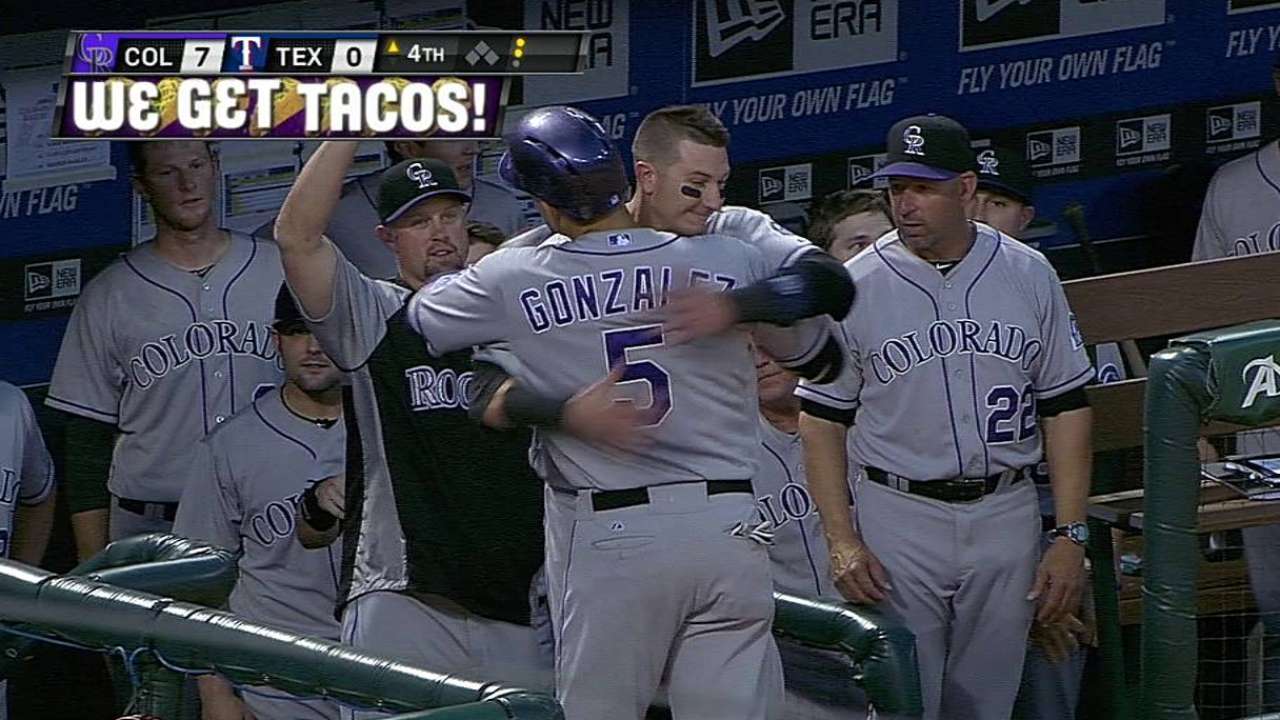 ATLANTA -- Carlos Gonzalez returned to the Rockies lineup on Sunday after missing three games due to swelling in his left index finger. He started in left field and was slotted into the cleanup spot.
"It's good," Gonzalez said. "Actually, yesterday I took [batting practice], and it was feeling good. They just decided to give me an extra day, and I feel good to go."
Colorado manager Walt Weiss said the club will continue to monitor the condition of Gonzalez's finger.
"This thing's popped up," Weiss said. "It popped up last year and then again this year, so we'll absolutely keep an eye on him. I feel comfortable that he's ready to go out there and take four or five at-bats."
Rockies third baseman Nolan Arenado is scheduled to meet with orthopedic surgeon Thomas Graham when Colorado travels to Cleveland at the end of the month after he suffered a mallet fracture in his left middle finger on Friday night at Turner Field.
Gonzalez will also meet with Graham, but he said the visit is "just a normal check-up, nothing big." Gonzalez believes the issue with his finger might be a result of changing his grip on the bat during the offseason.
Weiss made Gonzalez available as a pinch-hitter the past two days, even sending him out to the on-deck circle in Friday night's loss. But the club wanted to be cautious, not giving Gonzalez a full game of at-bats until his finger was ready to handle that workload.
"These injuries happen," Gonzalez said. "It's nothing major. It's just one of those things that hurts, but something that you have to deal [with] and try to fix it with treatment and stuff, but it's nothing major, which is good."
With Arenado now sidelined for at least a month, Gonzalez hopes he can give the Colorado offense a lift. He has hit safely in 15 of his past 20 games since April 28, batting .325 (26-for-80) with three homers, eight doubles and 14 RBIs during that stretch.
Despite his recent success, Gonzalez feels he has yet to get into a groove with the bat in his hands.
"I haven't gotten to the point where I get a lot of hits and do a lot of damage for that long of a period, but that's how this game is," Gonzalez said. "I just continue to work and I know that's going to happen soon.
"I'm not worried about it. I don't even really think about it because I haven't done it [worried] in the past, so why should I do it now? That's how baseball is. Sometimes, it treats you right. Sometimes, it treats you bad."
Joe Morgan is an associate reporter for MLB.com. This story was not subject to the approval of Major League Baseball or its clubs.