Verlander adds to tough week for Tigers starters
Detroit ace ties career high with nine runs allowed in 5 1/3 innings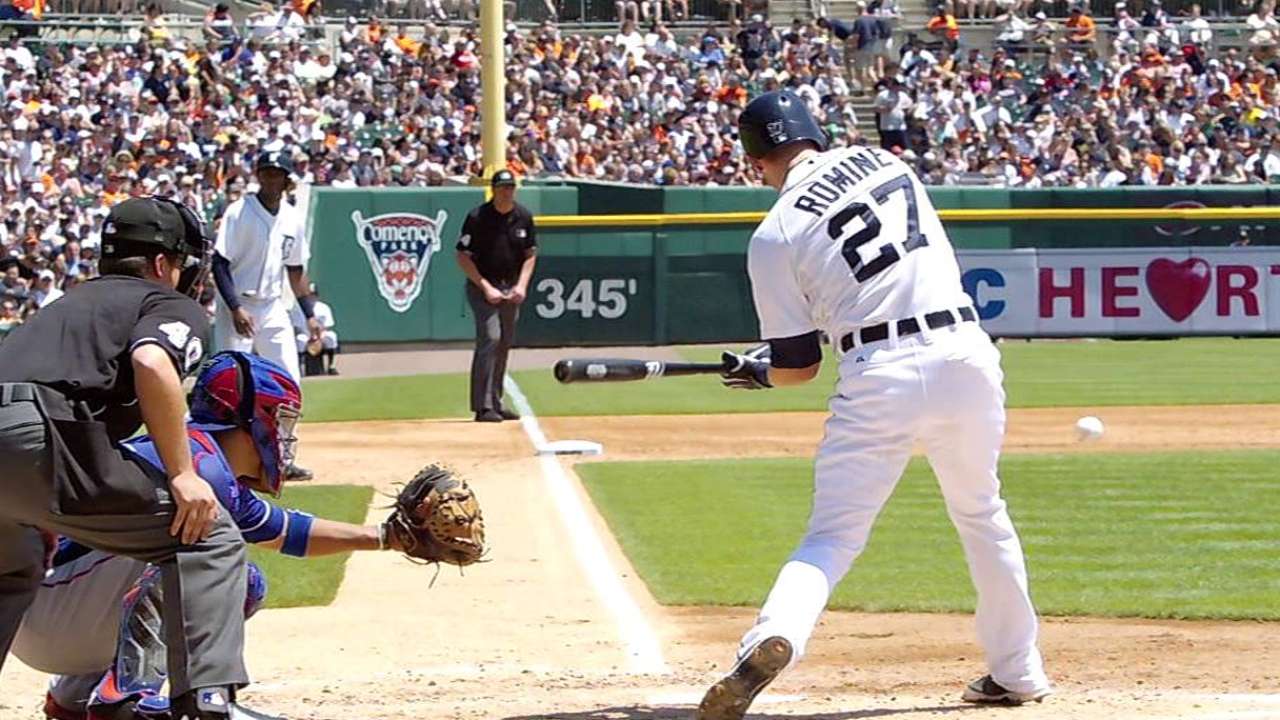 DETROIT -- Justin Verlander seemed to be nitpicking earlier in the week when he talked about making adjustments after seven quality starts in his first eight outings. Five days later, the Texas Rangers gave him a reason to worry and adjust.
It wasn't just a career high in runs that he tied in Sunday's 12-4 loss to the Rangers, or the fact that he gave up double-digit hits in back-to-back starts for the first time in his career. It was a lack of command that included four 3-0 counts, all of which led to runners on base, compared with just a pair of 0-2 counts. It was the lone strikeout he recorded in 5 1/3 innings, the first one-strikeout performance for him since 2008.
In general, it was the sense that on a day when the Tigers badly needed a strong outing from Verlander, he had some of the biggest struggles he has had for a while, closing out a week that Detroit's starting rotation would like to forget.
"I'm trying to find the right pieces to fit and make it be right," Verlander said afterward. "I'm not questioning everything, no. It's just a matter of finding something that clicks. I've got the past. I've got the mental fortitude. It's only looking forward and finding it. There's no doubt in my mind I will."
He's trying to find his old form, and he's looking hard enough that he went with an overhead delivery for the first few innings Sunday. It was an adjustment made with encouragement from pitching coach Jeff Jones, trying to get him to stay back in his delivery longer.
It went badly enough that he went back to his old form about midway through.
"It felt pretty good in the bullpen. It just didn't quite translate into the game," Verlander said. "I'm not going to sit there and continue to throw balls all over the place. I've got to be able to try to throw deep into the ballgame."
The way things have been going, somebody needed a deep start. With the exception of Anibal Sanchez, nobody did. For the week, Detroit starters allowed 41 runs on 67 hits over 39 innings, walking 19 and striking out 25.
It was a long enough week that catcher Alex Avila, normally with a sharp memory for individual pitches, had to be reminded of a particular play.
"I've caught so many pitches over the last few days," Avila said, apologizing.
For the four-game series, the Rangers outscored the Tigers by a 35-15 margin, with 24 runs allowed the last two games.
"It was obviously not a good series for us," manager Brad Ausmus said. "Our starters had a little bit of a rough series with the exception of Sanchie. You wouldn't expect that would be the case with our starters, but every team goes through it. It was a rough patch. We're obviously not happy about it, but it's over, so we're going to move on."
Fourteen of those runs, 11 earned, came in two starts against Verlander, who has given up 16 earned runs in his last 13 1/3 innings since the Orioles' five-run fifth inning off him May 14 in Baltimore.
After Verlander's start in Cleveland on Tuesday, he said he had been working on an adjustment in his delivery to hide the ball better while also gaining some velocity. That was different than the overhead move.
Sunday's results were much the same. His struggles to command his fastball allowed the Rangers to wait for him to have to throw a strike.
"He was all over the place today -- missing quite a bit, behind in the count, a lot of the same issues we've been dealing with this week," Avila said. "More times than not, that's going to hurt you."
In both cases, he was shaky from the start. Five days after the Indians scored four runs on six hits the first time through the lineup, Verlander saw the Rangers take advantage of four hits for three runs. One of those hits was a broken-bat single leading off the game, putting Shin-Soo Choo on base to score on an Alex Rios dribbler to third. Another, however, was Michael Choice's home run to left on the first pitch of the second inning.
"Perfect example," Verlander said. "I'm trying to throw a fastball down and away. If it's down and away, he probably rolls over or swings through it. It runs back to the middle of the plate and he was charging fastball and hit a home run. There are many examples like that. I wasn't quite able to throw my offspeed for strikes the way I would like. A lot of stuff was kind of running back towards the middle."
The next hitter, Robinson Chirinos, was a good example of his struggles falling behind. With a 3-0 count, he swung and sent a double to the left-field fence. Verlander's next hard fastball was a throw to first base, skipping past Miguel Cabrera for a throwing error and a 3-1 Rangers lead.
Verlander (5-4) settled down the second time through the Texas lineup, allowing a lone single -- again on a 3-0 pitch -- but retiring five in a row. The next time the Rangers got to the top of the order, five straight baserunners set up Verlander's demise.
The exclamation point actually came on a pitch Verlander executed. He threw a 94-mph fastball at the knees to Rios, who sent it to the fence in left-center field at a similarly high velocity.
"It kind of seems like fuel to the fire when you make a good pitch and they get a hit," Avila said, "but you're kind of backing yourself into a wall before that point anyways."
Verlander left following back-to-back doubles and a walk to Adrian Beltre with one out in the sixth. His nine runs allowed matched his career high from April 6, 2008, against the White Sox.
Statistically, that was Verlander's lost year, taking 17 losses on a last-place team while searching for his old form. He took lessons from that season which help him to this day.
This stretch isn't anywhere near that point. It's also not where he wants it, either.
"I'm not going to stay where I'm at," Verlander said. "I'm determined and I've got the mental confidence to turn the page. I know how good I am, and I'm not going to dwell on past starts. It's not me and it's never been me. Look forward to the next one and go out and give us a chance to win."
Jason Beck is a reporter for MLB.com. Read Beck's Blog and follow him on Twitter @beckjason. This story was not subject to the approval of Major League Baseball or its clubs.