Reyes, Gose add speed dimension to attack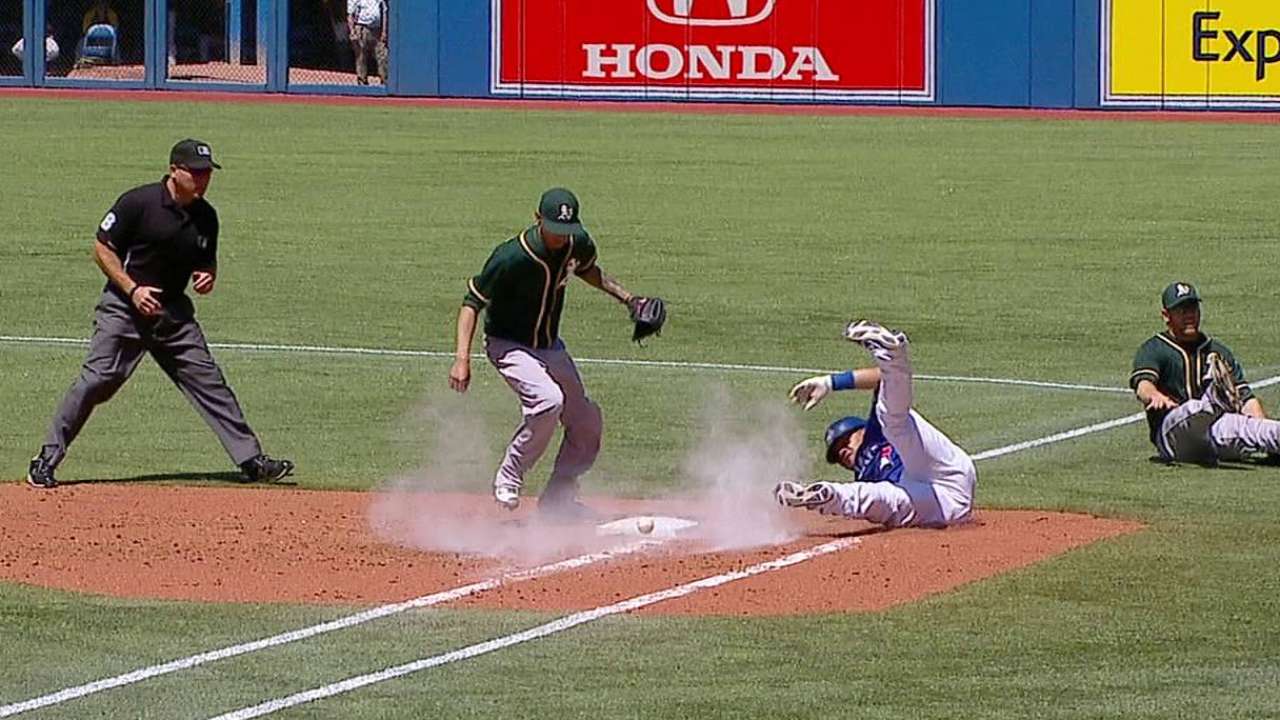 TORONTO -- For all that's been made of their heavy hitters, it was the Blue Jays' speed on the basepaths that provided the offensive spark in their 5-2 win over the A's on Saturday afternoon.
Jose Reyes and Anthony Gose scored four of the team's five runs, showing that it's not only the big bats that can get the job done for the American League East's best team.
"It makes a big difference," manager John Gibbons said of his fleet-footed No. 1 and No. 9 hitters. "It's the old saying that speed never goes on slumps. It makes things happen. Reyes has been around a long time, and he's always done that. Gose is on his way up, trying to make a name for himself. That's what he does."
The proof was in the pudding on Saturday, as both men showed swiftness and smarts on the bases. Gose demonstrated his wheels when he scored from first on a shallow Melky Cabrera single to left field after Craig Gentry misplayed it. Reyes, meanwhile, twice scored from second base on infield grounders.
"That's the game I play, stealing bases, sliding all over the place," said Reyes, who's seemingly in top form and running the bases like the Reyes of old.
Reyes had seven stolen bases entering Sunday, all of which have come in the month of May, and he added one in the first inning of the series finale. The shortstop missed the first three weeks of 2014 after sustaining a hamstring injury on Opening Day, and it took him a while to find his stride.
"When I'm pain free, I'm able to do that stuff," Reyes said.
Gose's speed is another known quantity. The 23-year-old was recalled by the Blue Jays on May 15 after center fielder Colby Rasmus went down with a hamstring injury, and he has since impressed with his ability to run down balls and make difficult plays in the outfield seem routine.
Gose has shown he's capable of laying down a bunt for a base hit, and his history of stealing bases in the Minor Leagues means it's likely only a matter of time before he starts swiping more bases at the big league level. He stole 21 bases through 120 career games with the Blue Jays.
"He's got a lot of speed there," Reyes said. "He's been unbelievable for us. Playing good defense. He can run every ball down. That's what we need."
Jamie Ross is an associate reporter for MLB.com. This story was not subject to the approval of Major League Baseball or its clubs.