Bauer can't escape fifth in loss to Orioles
Right-hander allows pair of homers in inning; Chisenhall adds RBI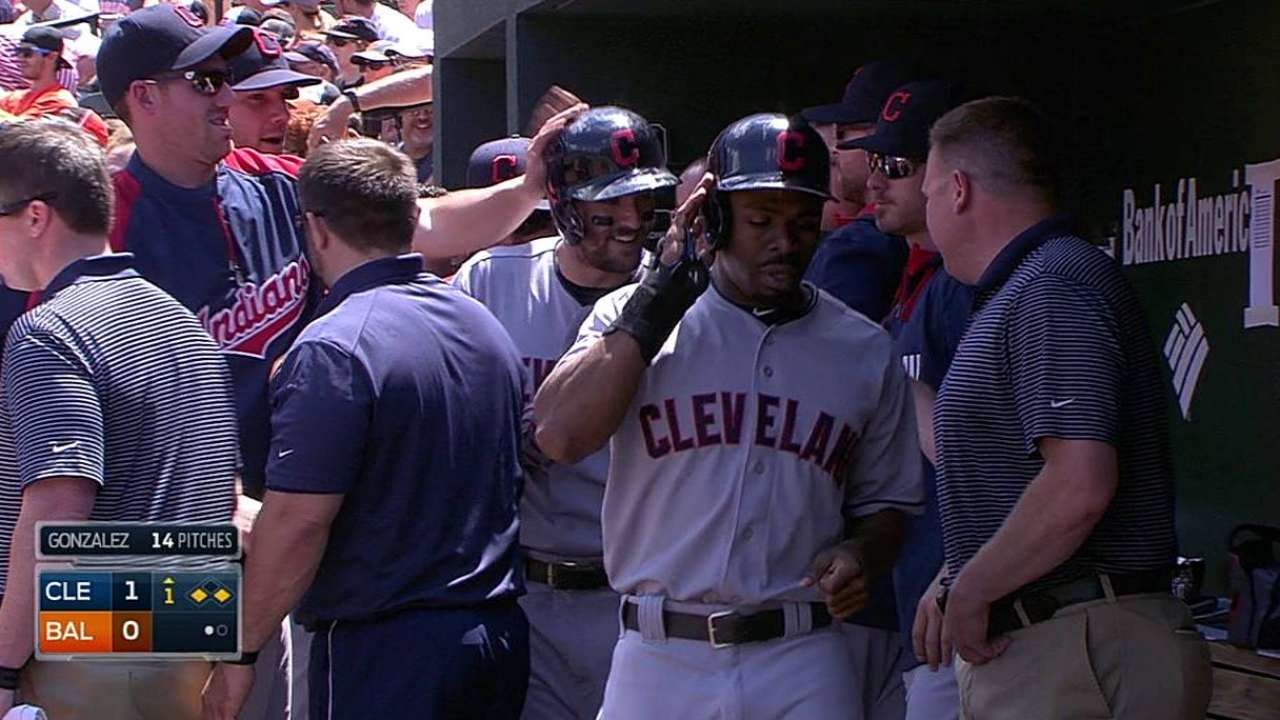 BALTIMORE -- Before Trevor Bauer even took the mound on Sunday for the finale of a four-game series with the Orioles, his teammates had already spotted him a two-run lead.
The Indians loaded the bases before plating a pair of runs in the opening frame and with Bauer, who was just five days removed from outdueling Justin Verlander for his first win of the year, on the mound with momentum, Cleveland had a chance to cap the weekend with another victory.
Bauer was strong at first, but manager Terry Francona could already tell something was wrong.
"Right from the get-go, he was having a tough time commanding his fastball. You saw a lot of deep counts," Francona said. "Stuff was good, just a lot of it was elevated."
By the end of the third inning, Bauer had surrendered his two-run cushion. And in the fifth, the O's pulled away for good with a pair of home runs in a 4-2 victory that salvaged a split for the home team in front of 37,649 fans at Oriole Park at Camden Yards.
Bauer finished with eight strikeouts, but he could not get out of the fifth inning after allowing home runs to third baseman Manny Machado and Nelson Cruz, taking his second loss of the season.
Baltimore starting pitcher Miguel Gonzalez bounced back from a difficult first inning to shut out the Indians on just two hits over the next five innings to earn the victory.
Bauer headed into the fateful fifth inning having already thrown 90 pitches, but he felt he was finally starting to pitch better. He stopped leaving his fastball up and threw first-pitch strikes to two of the three batters he faced in the fifth. All it took, though, was one mistake.
Carlos Santana set up inside on Machado, but Bauer's fastball ended up at the third baseman's shoulders and out of the zone. Machado turned on it and blasted an opposite-field home run in his return from a two-game absence.
"I felt good all day, I just couldn't throw the fastball where I wanted to," Bauer said. "I was trying to go in with it and it was up and away -- that's what happens."
Two batters later, Bauer jumped ahead 0-2 on Cruz, but the outfielder fought back to a full count. Bauer threw a slider, but he had to leave it over the plate to avoid a walk and Cruz crushed his Major League-leading 16th home run.
"When you throw that many pitches and get that many deep counts to very dangerous hitters, then you have to make an even better pitch to get them out," Francona said. "He left some balls out over the plate that they hit for the home runs."
At times, Bauer was overpowering.
He regularly touched 95 mph with his fastball in the first two innings. In the fourth, he threw a devastating curveball to freeze outfielder Nick Markakis for a strikeout to end the inning.
"He's made great pitches. He's a great pitcher," Machado said. "We stayed on top of some balls and we got lucky with those two home runs and [that] gave us a lead there."
As the game wore on, though, the O's were able to take advantage of his mistakes.
Bauer threw a first-pitch ball just once in the first inning and twice in the second. The third brought three first-pitch balls and in the fourth he fell behind all four hitters he faced, including a four-pitch walk to light-hitting outfielder David Lough.
"It might have been something I ate yesterday or it might have been my mechanics. Maybe the weather was too perfect," Bauer said. "I don't know. I guess I'll figure that out."
His day ended abruptly after the two home runs, but he never pitched Cleveland out of a chance to win.
After the Tribe jumped on Gonzalez for a pair of runs in the first inning, the righty flummoxed the Indians. Only once more did Cleveland get a runner past first base.
Outfielder Michael Bourn was the only Indian with multiple hits and the Tribe's most effective offensive player was Santana, who went 0-for-1 and walked three times against Gonzalez.
"To his credit he took a little off, he cut it a little better and he pitched aggressive to the guys he should," Francona said. "Obviously he has a pretty good feel for pitching and it showed."
David Wilson is an associate reporter for MLB.com. This story was not subject to the approval of Major League Baseball or its clubs.