Few easy answers as gaffes cost Crew a run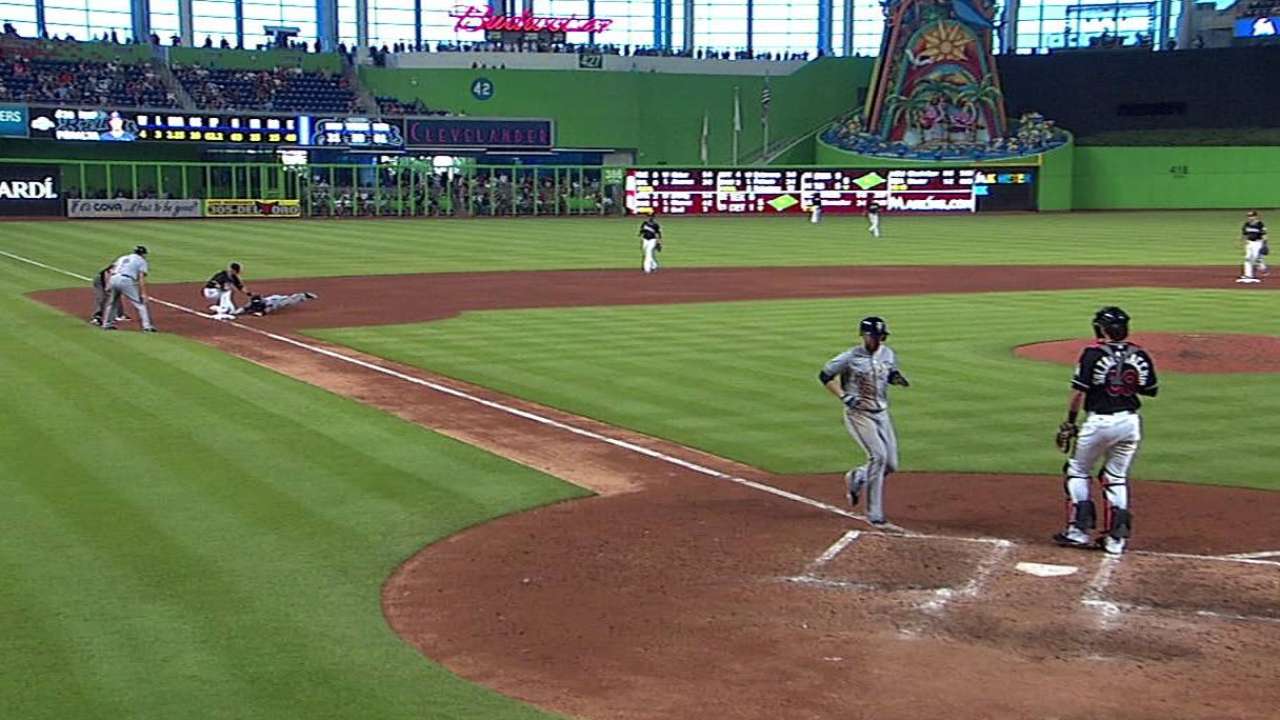 MIAMI -- Brewers manager Ron Roenicke replayed video of Saturday's 2-1 loss to the Marlins in an effort to make sense of a game-changing moment in the sixth inning.
With runners at first and second and two outs, Carlos Gomez tried going first to third on a Mark Reynolds single to left. Instead of throwing home, where he knew he had no play, Christian Yelich went to third, where Casey McGehee tagged out Gomez.
Ryan Braun, who was the lead runner at second, did not cross home plate before that happened, meaning the run did not count and a 1-0 score remained in Miami's favor.
"If you watch the replays, we were a long way's off from scoring that run," Roenicke said. "I didn't know. I never know. If I'm watching Carlos, I'm not paying attention to Braun at home. I saw the replays on it. Brauny's not going to score. If he goes 100 percent, it's probably going to be a little closer at home plate, but he was quite a way's away."
Roenicke used his challenge on the play, prompting a review of 40 seconds. Home-plate umpire Brian O'Nora confirmed the call.
In Roenicke's analysis, a few factors went into the play's result: Yelich made a good throw from shallow left. Roenicke then wondered whether Braun had slowed down because the on-deck batter held up his hands to stop him from sliding. Replays show Braun didn't, and he even ran into O'Nora.
"I watched it all, and in fact there was a still shot that showed Carlos being tagged and Brauny six to eight feet away from home," Roenicke said. "It was easy. I didn't know that at the time. I was a little surprised, but it makes sense when you only have a throw from short left field to third base. That play's going to happen way quicker than getting that ball all the way to home. You're talking an extra 10 feet or something. To make that play at third so close, that guy's probably not going to score if you're trying to make it from left field."
Roenicke said he knew how tough such a play it could be for both the runner and third-base coach.
If a player is coming full speed, he is most likely staring at third rather than the coach's instructions. Roenicke was not even certain whether Gomez could have been able to stop had he seen Ed Sedar.
"If you think you're going to be safe, you want to go," Roenicke said. "I know when I was coaching third base that play happens, and when you think that this guy may not score, there's a time when you step straight up and you tell that guy to stop. You don't even let him get to third. As he's coming to third, you try to flip back and forth and you put up your hands and tell him to stop."
Following the game, Gomez said he would not have done anything differently on the play. He takes pride in his aggressiveness on the basepaths.
"I make the decision to go to third because that's how you make things happen," Gomez said. "They got me this time. I wish it can happen again. I'll go again. That's how we play the game."
Christina De Nicola is a contributor to MLB.com. This story was not subject to the approval of Major League Baseball or its clubs.