Bats come alive to back Fister's strong outing
Desmond drives in a pair to lead offense, help end losing streak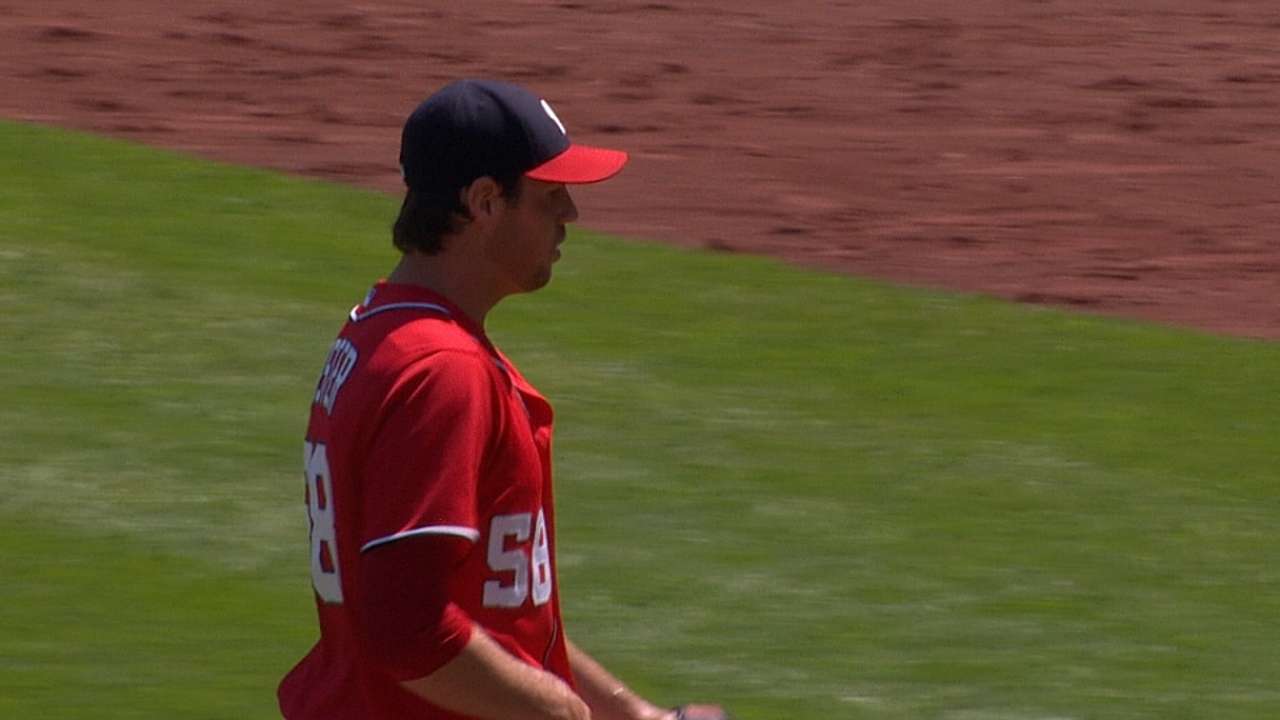 PITTSBURGH -- For one day, anyway, one can call right-hander Doug Fister a stopper. He was solid for 5 1/3 innings and helped the Nationals defeat the Pirates, 5-2, at PNC Park on Sunday afternoon. Washington broke a four-game losing streak and finds itself back at the .500 mark with a 25-25 record.
In Fister's second victory of the season, Washington salvaged the final game of the four-game series. Fister started off by retiring nine out of the first 10 hitters he faced. His only blemish was a solo home run to Josh Harrison in the sixth inning.
"I felt good today" Fister said. "What it comes down to is executing and getting ground balls. We did that well today -- guys are running balls down and turning a couple of double plays. That was huge. That's the kind of defense we want there every day."
Pirates manager Clint Hurdle was impressed by what he saw from Fister.
"He throws a lot of pitches that look like balls, initially, that get back in the zone," Hurdle said. "Basically, he controlled bat speed. We started to stretch him out a little bit late, but didn't have a knockout blow. And we had the guys up that you like to have up in those situations."
Fister downplayed the fact that he stopped Washington's losing streak.
"It's a quality day for us. We get some momentum going back into the homestand and get rolling," he said.
At the rate he was going, it looked like Fister could go into the late innings, but manager Matt Williams noticed his pitches were up in the zone and the Pirates were taking advantage of the situation in the sixth. After Harrison's homer, Fister walked Neil Walker. Two batters later, Fister allowed a single to Ike Davis to put runners on first and second with one out.
Williams then took Fister out in favor of Craig Stammen, who got Starling Marte to hit into an inning-ending double play on one pitch.
"It was nice, it was one pitch," Stammen said. "I don't know if you could call it easy. I just had to execute a pitch, trying to go inside on [Marte]. He likes to get extended and go the other way. My best pitch is my sinker down there. That's what I threw him. Luckily, he hit it at somebody standing right there."
Stammen ran out of gas in the eighth inning and gave way to Aaron Barrett and Rafael Soriano, who saved his 11th game of the season.
As for Fister's counterpart, Francisco Liriano, this was a guy who blanked the Nationals for 7 2/3 innings last September at Nationals Park. It was a different story on Sunday starting in the first inning. Denard Span scored the first run on a wild pitch, while Anthony Rendon scored on a single by Ian Desmond.
In the fifth, Rendon gave the Nationals another run as he tripled to center field, scoring Span. Liriano threw another wild pitch, scoring Rendon to make it a 4-0 game.
"He has tremendous stuff, he just couldn't find the strike zone too much today during my at-bats. Last year, he diced us up pretty good. It just feels good to get him back." Rendon said about Liriano.
The Nationals scored their final run in the seventh inning. With runners on first and third, one out and right-hander Vin Mazzaro on the mound, Desmond hit a fly ball to Harrison in right and he appeared to make a spectacular diving catch. Jayson Werth came around to score on the play.
Williams then went to first-base umpire Tim Welke and requested to challenge the catch. After 3 minutes and 5 seconds, the play was overturned and Desmond was credited with a single.
Williams admitted that he didn't see the play from where he was standing. He saw the catch, but didn't see the ball come out of Harrison's glove. Runners were placed on first and second.
"We called up our replay guy and he said to challenge it," Williams said.
The Nationals not only won the challenge, but the game. It was a victory they sorely needed as they go back home and play a three-game series against the Marlins at Nationals Park starting Monday afternoon.
Bill Ladson is a reporter for MLB.com and writes an MLBlog, All Nats All the time. He also can be found on Twitter @WashingNats. This story was not subject to the approval of Major League Baseball or its clubs.