Finale one to forget as Phils get no-hit by Beckett
Dodgers right-hander uses 128 pitches to enter history books in Philly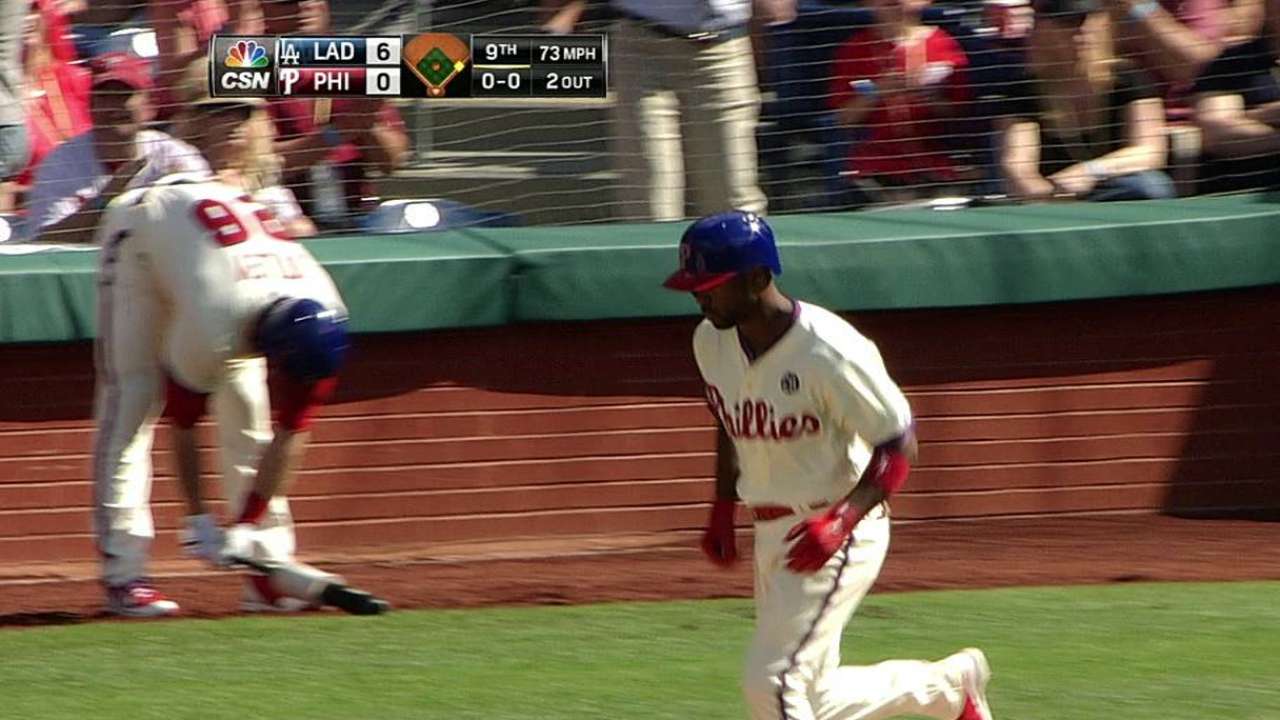 PHILADELPHIA -- Chase Utley is typically one of the last players to leave the Phillies clubhouse, as his postgame routine involves a trip to the video room. But he left Citizens Bank Park quickly and quietly on Sunday afternoon.
Perhaps he could have offered some insight into Dodgers right-hander Josh Beckett's 6-0, no-hit victory against the Phillies, the first no-hitter against them since Cardinals right-hander Bob Forsch threw one at Busch Stadium on April 16, 1978. Or maybe he could have discussed the final plate appearance of the afternoon against Beckett, who struck him out looking on a 94-mph fastball on a 3-2 count to end the game.
Utley thought he had worked a five-pitch walk on the previous pitch.
"He was good," Phillies shortstop Jimmy Rollins said about Beckett before leaving the clubhouse. "There's no more to be said."
Good point. What is there to say, really?
The Phillies have suffered five shutout losses in their last 10 games at home, six shutout losses in their last 18 games overall and seven shutout losses in 45 games this season. That is the second-most in baseball this season.
Beckett's dominance on Sunday only underlined those struggles with a few broad strokes of permanent marker as the Phillies fell to 21-26.
"We have to figure that out," Marlon Byrd said about the offensive struggles at home. "We had chances against [Clayton] Kershaw [on Friday], but he made some pitches. Beckett today had no-hit stuff -- and used it and showed it. The other shutout and struggles, I have no clue. We keep coming [to the ballpark] every single day trying to figure it out. When it doesn't happen, we try to come out the next day and figure it out. We're not getting there. Not here, not at home. I don't know. I have no answers."
It was the first regular-season no-hitter in Citizens Bank Park history, with Roy Halladay no-hitting the Reds in Game 1 of the 2010 National League Division Series. Beckett's gem was the first regular-season no-hitter in Philadelphia since Kevin Millwood threw one on April 27, 2003, against the Giants at Veterans Stadium. And it was the first time an opponent no-hit the Phillies in Philadelphia since Expos right-hander Bill Stoneman threw one on April 17, 1969, at Connie Mack Stadium.
"I played Pine Valley two days ago, too," Beckett said of the top-ranked golf course that's a 30-minute drive across the Walt Whitman Bridge in New Jersey. "I wonder if I'm the first guy to play the No. 1 golf course in the country and then throw a no-hitter. I probably am."
Beckett walked three, struck out six and threw a career-high 128 pitches.
He did not survive an afternoon of hard-hit balls with spectacular defensive plays. His afternoon offered mostly routine plays. The hardest-hit ball came in the bottom of the fifth inning, when Domonic Brown flied out to the warning track in left-center field.
Carl Crawford made the catch without a hint of stress involved.
"I thought he crushed that ball," Beckett said. "It sounded good off the bat, that's for sure."
Otherwise, Beckett cruised.
He faced pinch-hitter Tony Gwynn Jr., Ben Revere, Rollins and Utley in the ninth inning. Gwynn popped out to shortstop Erisbel Arruebarrena and Revere grounded out to first baseman Adrian Gonzalez, who flipped the ball to Beckett at first for the second out.
Rollins worked a six-pitch walk, at one point fouling off a 2-1 fastball.
"I think I got away with one to Jimmy," Beckett said. "I threw one, pretty much down the middle, and he fouled it off. He got a good swing on it."
Rollins stood at first when Utley came to the plate. He has been one of the best hitters in baseball this season, and he was the Phillies' best and final chance to break Beckett's no-hit bid.
"I was thinking about Chase Utley coming up -- and how good of a baseball player he's been the last 15 years," Beckett said. "I think I just kind of composed myself and figured out what I wanted to do with Chase."
Utley thought a 3-1 curveball was outside the strike zone, and he started to make his way to first. But home-plate umpire Brian Knight thought differently.
Beckett thought differently, too.
"I think that me and Chase -- and me and a lot of hitters -- would probably disagree on a lot of strikes and balls," he said.
Beckett's afternoon certainly made Phillies right-hander A.J. Burnett's performance inconsequential. Burnett allowed 11 hits, six runs (four earned runs), one walk and struck out three over seven innings. He has a 6.26 ERA (16 earned runs in 23 innings) in his last four starts, after posting a 2.06 ERA through his first seven.
But Burnett could have allowed one run and it wouldn't have mattered, as the Phillies' offense was saddled with another shutout loss.
"It [stinks]," Revere said. "First time I've ever been part of it. Definitely not a good feeling."
Todd Zolecki is a reporter for MLB.com. He writes a blog, called The Zo Zone. This story was not subject to the approval of Major League Baseball or its clubs.