Rays sweep Red Sox on Rodriguez's pinch-hit HR
Benches clear, three ejected; Maddon wins No. 700 with Tampa Bay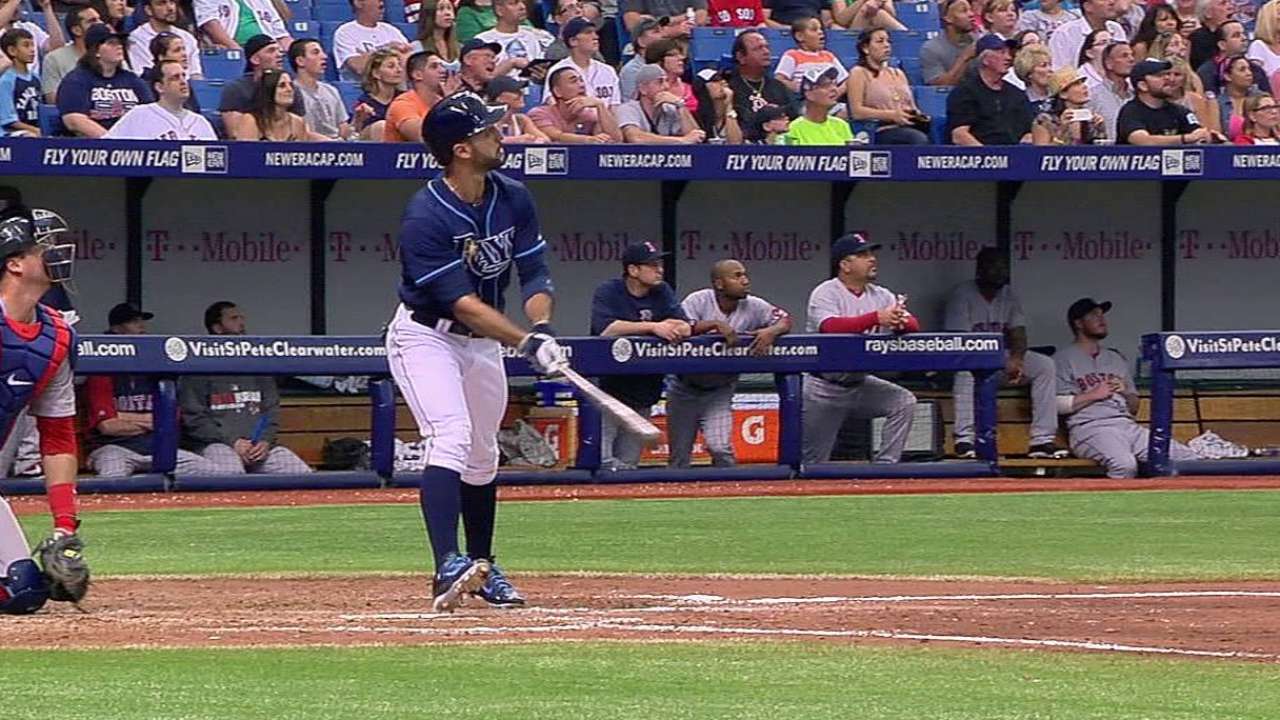 ST. PETERSBURG -- A benches-clearing incident between rivals. Multiple ejections. A sweep of a divisional opponent. A 10-game losing streak for the Red Sox. Pinch-hit home runs in consecutive half-innings. A slump-busting performance from a star player. A record-setting relief appearance. Joe Maddon's 700th win as Rays manager.
What didn't Sunday's series finale between the Rays and Red Sox -- an 8-5 Tampa Bay win -- have?
Well … a walk-off.
The rare occurrence that had become routine for the Rays over the past few days made its exit, and spilling through the Tropicana Field entranceways were happenings at least as eventful.
Sean Rodriguez hit his second game-deciding three-run home run in four days, a pinch-hit shot in the seventh inning, as the Rays swept reeling Boston. And that was only the beginning.
For the first time in four games, this win wasn't a walk-off, unlike Rodriguez's homer in the 11th inning against the A's on Thursday. But it did give the Rays (23-28) their fourth straight win and continued the skid for last-place Boston (20-29).
After Rodriguez's homer broke a 3-3 tie, Yunel Escobar -- who had tacked on two more runs with a double to left -- took third base on defensive indifference. That appeared to anger the Boston bench, which started to exchange words with Escobar.
"He can take the bag all he wants, but yell in my dugout and point in my dugout and take your helmet off and basically challenge our whole dugout, I'll have a problem with that," Boston outfielder Jonny Gomes said.
Escobar started toward the Red Sox bench, players started to come out of both dugouts and Gomes ran in from left field, at which point both benches cleared. During the scrum, Gomes, Escobar and Rodriguez were ejected.
"They're five feet from their dugout -- you put them in their dugout, we'll go back. We're just coming out because they're screaming at our one player, who's five feet from them. We're just going out to defend our teammate," Rodriguez said.
Asked about the umbrage Boston took to Escobar's baserunning, Rodriguez didn't even wait for the reporter to finish his question.
"Five runs? In a big league game? Five runs?" Rodriguez said incredulously, shaking his head.
Maddon wasn't happy with Boston's reaction to Escobar's taking third, either -- to say the least.
"What was the score? 8-3. It was a five-run lead in the seventh inning. So that's not even nearly as egregious as last year in the playoffs," Maddon said
Maddon was referring to Game 1 of the 2013 American League Division Series between Boston and Tampa Bay. The Red Sox were leading, 8-2, in the eighth inning when Jacoby Ellsbury led off with a single and stole second base. The Red Sox went on to win,12-2.
Tampa Bay's skipper continued.
"And while we're on the subject, I want to take this moment, please, regarding this crazy stuff about leads and teams trying to not score runs. I didn't take any exception when they stole on us last year in the eighth inning, in a Division Series. 8-2 lead. Ellsbury on, they steal. I didn't take any," Maddon said.
"Because our goal is to not permit them to score runs. Their goal is to score runs -- the whole game. That's always been the goal within the game of baseball. Apparently some of the guys on their bench did not like that. I really wish they would roll back the tape and look at that more specifically.
"Before you start screaming regarding any of that, just understand what happened just last year, and also understand in this ballpark, 5-0 leads can evaporate very quickly."
Maddon wasn't done. He went on to say that he thought umpiring crew chief Larry Vanover was right to eject Gomes, but wrong to eject Rodriguez -- and even Escobar.
"He kicked out Gomes appropriately," Maddon said. "I don't even think Yunie ... I mean, he was on third base after he stole a bag, and the onslaught comes from the dugout."
There was, of course, some baseball played around the altercation. Rodriguez's homer was the big blow, putting the Rays ahead to stay after Gomes had tied the game with a pinch-hit home run of his own in the top half of the inning.
Gomes hit his homer, a two-run shot, off Joel Peralta, who had entered the game to protect a 3-1 lead. It was Peralta's 251st relief appearance, setting a franchise record, but it was far from his best.
Before the fireworks in the seventh, the game was routine, especially compared to the past few.
The Red Sox struck first, as they had Saturday, but Rays starter Jake Odorizzi limited them. Odorizzi was sharp, throwing six innings of one-run ball. Then a two-pitch sequence in the fourth pulled the Rays even.
With Red Sox on first and second and two outs in the fourth, A.J. Pierzynski roped a sinking liner up the middle. Rays second baseman Logan Forsythe made a diving catch moving to his right, with the ball just off the turf, to end the inning and save a run.
On the next pitch -- Boston starter Brandon Workman's first offering of the bottom of the inning -- Evan Longoria cracked an opposite-field homer into the front of the right-center field seats to tie the game at 1.
Longoria finished 3-for-5 with the home run for his third straight multihit game, after a 4-for-34 slump that spanned the 10 games before the Boston series. But he busted out against the Red Sox, going 8-for-16 in the series. He was locked in.
Longoria's hot streak, though, was overshadowed by hotter tempers and the seventh-inning flareup.
Yet, Escobar, the man at the center of it all, had only this to say after the game:
"As far as I'm concerned, it's over."
That remains to be seen.
David Adler is an associate reporter for MLB.com. This story was not subject to the approval of Major League Baseball or its clubs.