Vogelsong turns in stellar start to down Twins
Sandoval homers, hits sac fly to support righty's scoreless outing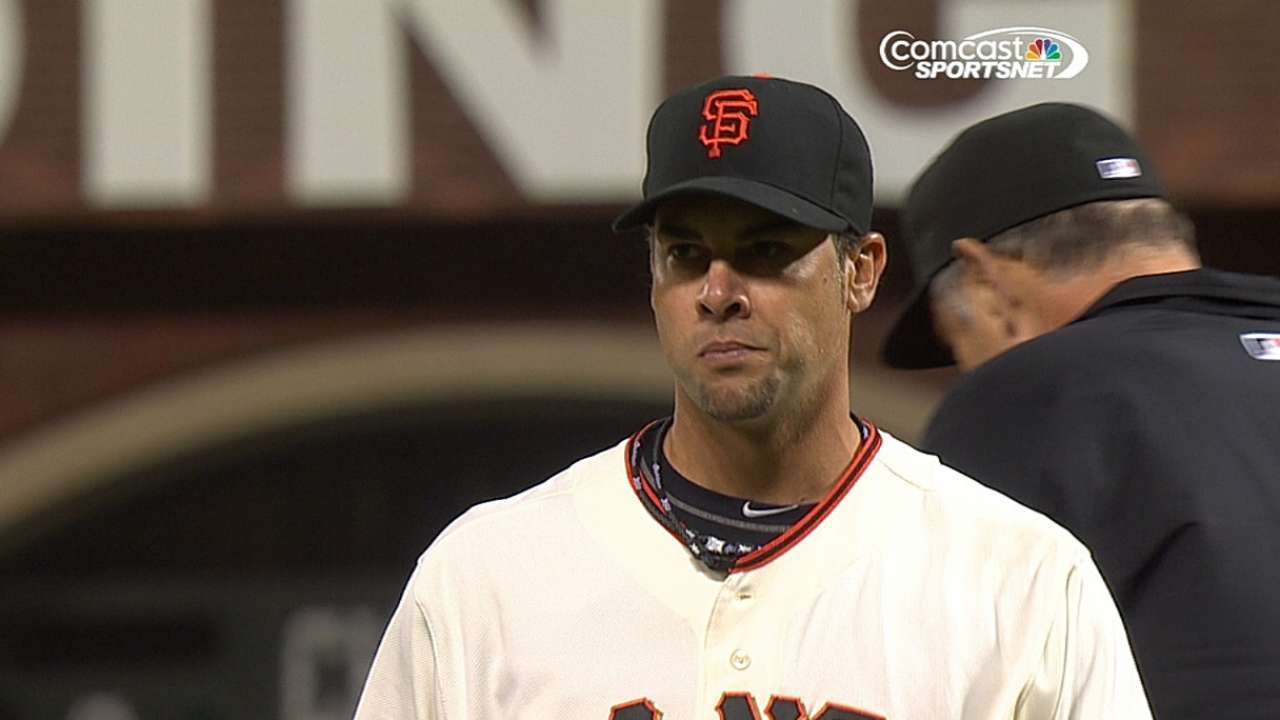 SAN FRANCISCO -- Ryan Vogelsong left Saturday night's game working on a shutout with two outs and a runner on first because of his throwing error, and he received a standing ovation from the AT&T Park crowd.
It felt like when Vogelsong made the 2011 All-Star team. Reliever Juan Gutierrez induced an inning-ending groundout for the Giants' 2-1 win over the Twins.
It felt like they had the best record in the Majors --- because, after 49 games, they do.
The club's record "tells me we've been clicking," manager Bruce Bochy said.
Especially Vogelsong.
Vogelsong, in All-Star form this month, pitched 6 2/3 scoreless innings, backed by Pablo Sandoval's two RBIs.
It was Vogelsong's second consecutive scoreless outing, his month filled with five starts and only six runs allowed, and his season ERA at 3.20 -- far from the 9.00 ERA he carried after his first start of the season.
"I feel like when I'm out there I can throw anything at any count," Vogelsong said, "and that's a great feeling. It's not always like that. The last couple of games it's felt like that."
The victory for San Francisco clinched a three-game series win against Minnesota (23-23) with the finale Sunday.
Vogelsong (three hits, one walk, seven strikeouts) moved to 3-2 for the season, while Twins starter Samuel Deduno dropped to 1-3 despite a solid outing (5 2/3 innings, two runs, four hits, three walks) outside of the damage done by Sandoval.
In the second inning, Sandoval turned on an 0-2 fastball for a home run, a liner just over the left-center-field wall for a 1-0 lead. It was his fourth homer in his last six games.
Angel Pagan led off the sixth with a single, then Hunter Pence walked. With one out, Sandoval reached down for a curveball and scored Pagan from third with a sacrifice fly.
Said Sandoval, who had just 19 hits in his first 114 at-bats this season: "I feel great right now at the plate. I'm trying to use the whole field, use the gaps. ... [With two strikes,] I just try to put the bat on the ball. I don't try to choke up or anything. I fight off pitches with two strikes and try to get a good pitch to hit."
Sergio Romo allowed Josmil Pinto's homer leading off the ninth before finishing off his 16th save of the season.
The Twins were 0-for-6 with runners in scoring position.
"The way we play, we always feel like we have a chance," Twins skipper Ron Gardenhire said. "I don't get a bad feeling at all. Keep finding a way to put people on base and you'll find a way to score. Just didn't do it tonight."
The Giants are 5-1 in Vogelsong's last six starts and 5-0 in Interleague Play this season.
The team's record in his starts is more important than his individual mark, Vogelsong said.
"Absolutely," he said. "That means, more times than not, you're keeping your guys in the game to win it. As a starting pitcher, that's first and foremost the most important thing."
Willie Bans is a contributor to MLB.com. This story was not subject to the approval of Major League Baseball or its clubs.